Prospect Q&A: Glasnow geared up for 2017
Dissatisfied with past season, top Pirates prospect anxious for spring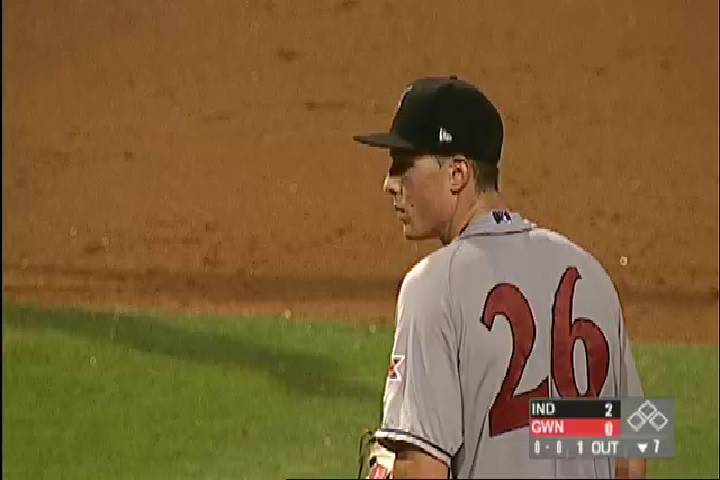 By Alex Kraft / MiLB.com | January 11, 2017 10:00 AM ET
Deeming Tyler Glasnow's 2016 season a total success would be tempting, given the fact that he made the Majors for the first time and once again posted some eye-popping numbers at the Minors' highest levels.
The Pirates' top prospect went 8-3 with a 1.93 ERA and 144 strikeouts over 116 2/3 frames between Double-A Altoona and Triple-A Indianapolis, earning MLB Pipeline Pitcher of the Year accolades for the second time in three seasons and a spot among Pittsburgh's Organization All-Stars for the fourth straight year.
In some ways, however, the 2016 season was one of the most difficult in Glasnow's five-year career. Control was once again an issue as the hard-throwing 23-year-old posted a career-worst 5.2 walks per nine innings in the Minors. Meanwhile, his big league numbers -- 0-2 with a 4.24 ERA and 24 strikeouts against 13 walks over 23 1/3 frames -- were pedestrian, especially in comparison to his Minor League stats.
We caught up with Glasnow to talk about his 2016 season and what lies ahead for MLB.com's No. 8 overall prospect.
MiLB.com: Now that you've had a chance to reflect on this past season, what moments stand out the most?
Glasnow: Probably my [big league] debut [July 7 in St. Louis]. I mean, you wait your whole life to do that. My last game also stands out [Sept. 30 in St. Louis]. That's when I started to make some adjustments, settle in and feel a little better.
MiLB.com: What do you remember most about that first Major League start?
Glasnow: I think that was probably my biggest learning experience, going up there and throwing in that first game. Just realizing that I was playing the Cardinals and that's a really good team and they've got a good lineup. Going up and realizing that even though it is a good lineup, it's still the same game. The hitters are a little better, but there's really not a huge difference from Triple-A to the big leagues if you execute your pitches and you have your stuff. I kind of just realized pitch execution and getting the job done really does work at every level.
MiLB.com: Dean Treanor, your manager in Indianapolis, said at times he felt you were too focused on overpowering hitters in Triple-A, which led to a lot of walks. But then he said once you got to the Majors, you appeared more relaxed and in control. Did you feel that was the case?
Glasnow: I think all of Triple-A, it was me trying to find what I had done before. I had fallen into some bad habits. I think the entire Triple-A season was, "Ok, I'm going to dedicate this to trying to get back so when I get to the Major Leagues I'll have my A+ stuff that I usually have." I kind of took Triple-A almost as practice, so when I did get to the big leagues everything would click. But then I got there and realized you're not just going to fix it all in one day and then have your best stuff. I got to the big leagues and realized that it's all about winning here and I can't just go out there and try to get back to what I'm doing. I just need to compete with what I have. So I think he's right on that part.
---
"I'd say it was probably one of my worst seasons. I don't look at [2016] and cringe or anything ... because if I didn't have any of that, I wouldn't know what I know now."
-- Tyler Glasnow
---
MiLB.com: What adjustments did you make before that last start of the season?
Glasnow: I think my biggest advantage and my biggest problem is my length [at 6-foot-8]. Even looking back at the stats, my extension rate was eight inches higher than everyone else. It didn't used to be like that. I like having a good extension rate, but part of the problem with that is it is so much harder to control because I'm letting it go so much farther. I looked back at video and everything was so long and I wasn't bringing my foot back to get a front side. I wasn't stable. I was going heel, to rolling over, to foot, and I said, "This is weird," but it wasn't something I could just change. Then I remember my throwing program the day before our last game and I kind of [got a feel for it] in practice and thought, "Hey, that felt nice." That last game it still felt kind of long, but as I kept throwing after the season and started to have that feel for it, I started to get that stable front-side feeling. It's a simple adjustment, but it was huge for me.
MiLB.com: With that, along with all your accolades, do you look at this season as a success?
Glasnow: I don't think so. I'd say it was probably one of my worst seasons, for sure. I don't look at it and cringe or anything, but I take it as a learning experience because if I didn't have any of that, I wouldn't know what I know now. Looking at the year as a whole, we didn't win as many games as a big league team and our Triple-A team didn't win as many games. So not my most memorable season, but it definitely drives you more for 2017.
MiLB.com: In your Minor League career, you have two hits in 26 at-bats. However, you got your first big league hit in just your second plate appearance, and against an accomplished veteran in Adam Wainwright. What was that moment like?
Glasnow: Hitting is kind of different when you're a pitcher. I guess it's not as many nerves because everyone kind of expects you to suck. So you get up there and you're just a little bit more relaxed. I consider myself a pretty decent hitter. I guess that 2-for-26 in the Minor Leagues would beg to differ, but going up to the big leagues and getting in the box and being like, "This is cool, I'm hitting against Adam Wainwright," it just gives you that confidence. I know he throws strikes, so you know you're going to get something to hit and he has never seen me before so I don't think he is going to try and overpower me. I was just waiting for something over the outside part of the plate and he threw it right where I was expecting it and I just took it the other way.
MiLB.com: For the first time you are coming into Spring Training with big league experience and expectations of competing for a rotation spot. How does that change the way you prepare yourself for 2017?
Glasnow: I prepare the same way I have previous off-seasons. I have a different lifting program and everything like that, but everything as far as throwing and the routine is the same. I'm going to go in and treat it like every other Spring Training. I have a newfound confidence, and I am a lot more comfortable with mechanics right now. I think this season I feel by far the best I have any other off-season.
MiLB.com: There was a video on Twitter a few weeks back where you threw down an impressive between-the-legs dunk. Ever considered taking your talents to the hardwood?
Glasnow: [laughs] I played basketball when I was younger and it was one of my favorite sports, but I kind of stopped in the eighth grade. In my lifting program we had max squats, and then you would have to go and do box jumps or a heavy vertical jump. My trainer was like, "Well there's a gym, just go try and get as high as you can and dunk." I hadn't tried that in a long time. I tried it the first time and didn't get it and then I ran up the second time and hit it. I don't know, maybe if I worked on my dunk game a little more, but I guess that doesn't really translate to baseball.
Due to my eligibility status I have decided to pursue my dream playing division 4 basketball in Mozambique ???? pic.twitter.com/1kLyvsV8nH

- Tyler Glasnow (@TGlasnow) November 30, 2016
MiLB.com: Did you have any Major Leaguers you idolized growing up?
Glasnow: I really liked Randy Johnson. I read a book about him when I was younger and it said he had control problems and threw hard and I was like, "Yep, this is my guy." Plus he's tall. I also liked Alfonso Soriano a lot for some reason. I just liked watching him play. Him and Randy Johnson were definitely my favorite players.
MiLB.com: Pittsburgh is a pretty big sports town. Have you had a chance to check out either of the other teams in town?
Glasnow: Not yet. I'm a fan of every team in Pittsburgh, obviously. I think when you play there you kind of have to be. You just kind of feel it in the city. I've never even been a huge hockey or football fan. I definitely am now for Pittsburgh. Call me a band-wagoner, but I definitely want to go to some games.
MiLB.com: What are you most looking forward to in 2017?
Glasnow: Getting into a game again. You go to the big leagues and you have these amazing experiences, and then the season ends. [The break] is nice for about a week and then you start to want it again. I only had a taste of it. I really want to compete in innings again -- I really miss that a lot. I've been watching a lot of repeat games on TV -- not mine, just random MLB games. And I'm thinking, this is the year. Usually in the off-season I can let it go and not think about it, but I really want to get back out there and pitch again. It's refreshing.
Alex Kraft is a contributor to MiLB.com. Follow and chat with him on Twitter @Alex_Kraft21. This story was not subject to the approval of the National Association of Professional Baseball Leagues or its clubs.
View More