Rainiers' Peterson collects five more hits
Mariners' No. 8 prospect races to inside-the-park homer, plates three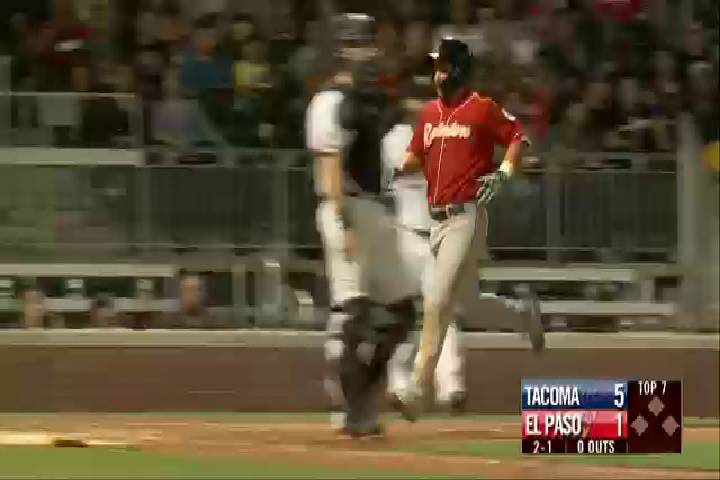 By Tyler Maun / MiLB.com | August 4, 2016 12:49 AM ET
D.J. Peterson crushed a deep drive to center field, but when he looked up, the ball was headed toward the right field corner. He didn't know why, he just kept running.
The Mariners' eighth-ranked prospect legged out an inside-the-park homer as the fourth hit on his career-best 5-for-5 night Wednesday, driving in three runs and continuing a power-packed stretch at the plate as Triple-A Tacoma pounded El Paso, 9-2.
"I was in a positive count, so I was just kind of sitting on something up in the zone, fastball, breaking ball, just trying to get a good pitch to drive," Peterson said of his leadoff at-bat in the seventh. "I got a fastball middle-away and felt like I put a good swing on it, and I guess their center fielder jumped up for it and couldn't quite get it. It hit the brick wall and I'm not sure if it hit off him, but it took a funny bounce and went all the way to right field. That's what it took to get a chance to get me all the way home."
On replay, the ball appeared to hit El Paso center fielder Auston Bousfield in the head after it ricocheted off the wall. Bousfield left the game after the play.
"Honestly, I had no idea what was going on," Peterson said. "I just saw my third base coach waving me around, so I just kept flying. No one was saying anything, so I was just like, 'I better kick in the gears and keep going.'"
Peterson's night already was a productive one before the unconventional roundtripper. He singled to right leading off the second and doubled to left with one out in the fourth. The 24-year-old first baseman notched his first two RBIs with a single to right in the fifth.
"The key has been just trying to get into positive counts, trying to lay off some pitchers' pitches and allowing myself to see some good pitches that I'm able to drive rather than trying to do too much and go get things that I can't drive," he said.
Tacoma manager Pat Listach offered a similar assessment of his slugging corner infielder.
"What he's really done the last three days is gotten good pitches to hit and hasn't chased out of the zone," Listach said. "When he's struggling, he chases out of the zone; when he's hot, he lays off those pitches and gives himself a chance to get in a good hitting count."
Peterson singled in his final trip to the plate leading off the eighth.
"He's had a good stretch of probably 225-250 at-bats between Double-A and Triple-A, and he's put himself on the radar at the big league level," Listach said. "Obviously, we all know he was a big prospect, first-round pick and everything, but he had a couple of bad years there. He's put himself back in the mix where we think he can help us in Seattle."
Peterson, who doubled and homered in Monday's win over Albuquerque, boosted his average back over .300 with his five-hit showing and boasts a .306/.368/.532 slash line in 32 Pacific Coast League games. The turnaround comes after Peterson batted .223/.287/.344 last season with Double-A Jackson.
"This game is all about confidence," Listach said. "It's easy when things are going good for you and you think you've got the world by the hands. When things don't go well, you really find out the true character of a person. Things haven't gone well for him for two years.
"He's driving the ball to all fields now. He's put himself back on the map, like I said, as far as the Mariners are concerned. It's fun to watch him have fun and have success."
Tacoma scored all its runs between the fourth and seventh innings, and Rainiers pitchers made sure they stood up. Peterson credited starter Sam Gaviglio with energizing his offense as he limited the Chihuahuas to one run on five hits over six innings.
"He's had two great outings against El Paso, back-to-back outings against them," the slugger said. "He had a good sinker working. His off-speed was going. He was spotting up, threw a lot of strikes, commanded the zone. He's had two back-to-back outings where he's been lights-out. For an offense, that makes you want to get after it and help that guy who's competing for you on the mound."
Padres No. 20 prospect Carlos Asuaje doubled, singled and scored a run for the Chihuahuas.
Tyler Maun is a contributor to MiLB.com. Follow him on Twitter @TylerMaun. This story was not subject to the approval of the National Association of Professional Baseball Leagues or its clubs.
View More