Ramirez lights up the night in Stars' win
Brewers prospect goes yard twice, drives in career-high six runs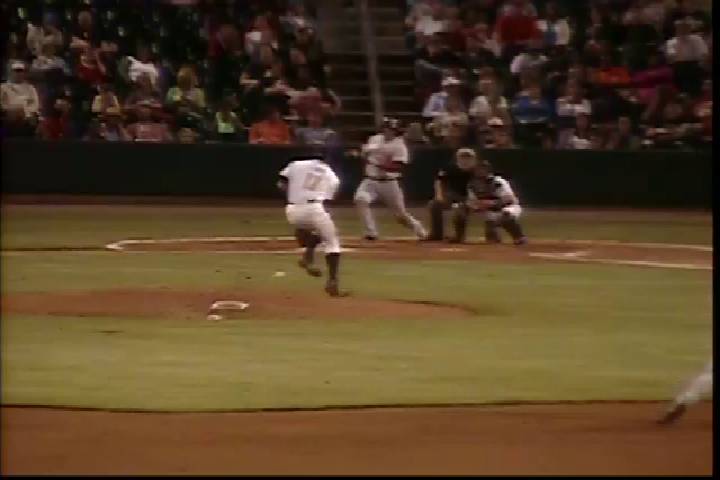 By Josh Jackson / MiLB.com | June 21, 2014 1:49 AM ET
Nick Ramirez and his teammates had an abbreviated pregame workout on Friday, but that worked out just fine for the power-hitting first baseman.
"We actually didn't take BP," he said. "I had two rounds in the cage, and that was it."
Considering the results, he might want to stick with the shorter routine.
"I wouldn't have a problem with that, I guess," Ramirez joked.
The Brewers prospect swatted two homers, doubled and collected a career-high six RBIs to power Double-A Huntsville to an 11-1 romp over Pensacola at Pensacola Bayfront Stadium.
"That just felt good," he said. "I had a quality approach at the plate and was able to put the barrel on some balls."
Ramirez, who socked 19 homers over 134 games in the Class A Advanced Florida State League last year, had gone yard just once in June before his breakout performance against the Blue Wahoos.
"I've been feeling like I'm swinging with my entire body, so lately I've been working with my hands -- letting my hands do the work," said the Cal State-Fullerton product.
The adjustment paid off in his first at-bat, when the cleanup hitter followed Hanley Statia's RBI triple with a double over the head of center fielder and eighth-ranked Reds prospect Yorman Rodriguez.
"Especially with Statia at third with less than two outs, I was just trying to get something I could put in play," against Blue Wahoos starter Jon Moscot, Ramirez said. "He threw me a cutter in. I put a good swing on it, but it carried more than I thought it would."
Moscot struck out Ramirez in the third inning, but when they met in the fifth, Ramirez got ahead, 2-1.
"The first home run, I was just trying to get a ball up," Ramirez said. "Even then, I was still out in front of it a little bit, but I got enough barrel on it to sneak it out."
The left-handed hitter pulled a fastball over the fence in right field.
After walking in the seventh, he stepped in against reliever Jamie Walczak with the bases loaded in the eighth. Despite the inherent drama in the situation and Ramirez's earlier heroics, he didn't bring lofty ambitions into the box.
"Actually, a home run was the last thing on my mind then," he said. "The bases were loaded with less than two outs, so I'm looking at it as a free RBI with a sac fly."
Ramirez fouled off the first pitch, swung and missed at the second and took the third for a ball. Walczak made a mistake on the fourth.
"He hung a curveball. It was a curveball that he left up and I was able to recognize it early," Ramirez said.
It left the park in right-center.
Ramirez came out on a double-switch at the bottom of the inning and was satisfied with his night's work.
"It definitely felt good to get a couple innings off right there," he said.
Shawn Zarraga went 4-for-5 with a double, an RBI and a run scored for the Stars, who won the Southern League North Division first-half title.
Huntsville starter Jed Bradley (1-2) scattered five hits and four walks while striking out three over five scoreless innings for his first Double-A win.
Rodriguez homered and singled for Pensacola.
Josh Jackson is a contributor to MiLB.com. This story was not subject to the approval of the National Association of Professional Baseball Leagues or its clubs.
View More