Rays' Robertson hits first Double-A homer
No. 65 overall prospect helps Biscuits put sluggish start behind them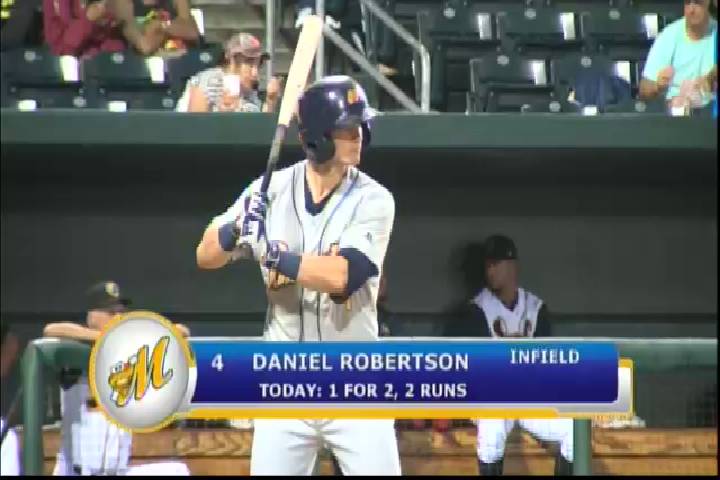 By Ashley Marshall / MiLB.com | April 18, 2015 11:49 PM ET
After defeating Chattanooga on Opening Day, Montgomery went on a six-game losing streak that included three one-run defeats.
If Friday's narrow win in Jacksonville helped restore some confidence in the locker room, Saturday's victory will have morale at an early-season high. Daniel Robertson was just happy to play his role on a big offensive night as the team busted out of its collective slump.
Batting second and playing shortstop, the Rays' No. 2 prospect slugged his first Double-A homer and went 3-for-5 with three runs scored in the Biscuits' 12-5 road win over the Suns.
The 12 runs marked a Southern League season high while the five fifth-inning runs were as many as the Biscuits had collected in any single game this spring.
"It was loose, I felt like nobody was trying to do too much," Robertson said. "It was the whole cliche of putting the token in the merry-go-round because everyone was hitting on all cylinders. It was fun to see that we're going in the right direction. Manager Brady Williams has done a great job of keeping us loose, and we'll see where this takes us."
The 2012 first-round pick beat out an infield hit in the first inning and singled to center field in the fifth. With the Biscuits up, 8-5, in the sixth, Robertson capped his night with a three-run homer to left-center field.
"It was an 0-0 count, guys on first and second," MLB.com's No. 65 overall prospect said. "I just told myself there are no outs and that I needed to get a good pitch to handle so I could move the runners over and do my job. I said if he threw a breaking ball first pitch to try and get ahead, I should jump on it. I saw it out of his hands and it was a breaking ball and I put a good swing on it."
Drafted 34th overall by the A's, Robertson was traded to the Rays in January as part of the deal that sent Ben Zobrist and Yunel Escobar to Oakland. Now he's looking to build on his big 2014 season with Class A Advanced Stockton, where he hit .310 with 15 homers and 60 RBIs and made himself such an appealing offseason trade target.
"It was very humbling and I'm thankful to the Oakland A's for giving me the opportunity they did by drafting me out of high school in 2012 like they did. To be in a deal like that ... I'm just thankful to put on a uniform every day," he said.
The 21-year-old California native was one of three Biscuits to go yard Saturday. Johnny Field was 3-for-5 with two homers, four RBIs and two runs scored and designated hitter Thomas Coyle added a two-run shot. Left fielder Tyler Goeddel added three RBIs as the Biscuits pounded out 12 runs on 14 hits.
The offensive outburst made a winner of Biscuits reliever Mikey O'Brien (1-1), who spun 4 1/3 scoreless innings.
"It reflects that we've got something going on and it just flowed throughout the whole lineup," Robertson said. "Everybody was picking each other up and something clicked. Coming to the ballpark today, I just felt like there was a different energy with everyone.
"We had excellent pitching from [starter Reinaldo] Lopez, O'Brien and [Colton] Reavis, we played good defense and we came out swinging it as a whole. Johnny Field had two home runs and everyone up and down the lineup was hitting. We had a little bit of a slow start, but we've been positive and always said once it all gets going we could do dome damage."
Ashley Marshall is a contributor to MiLB.com. Follow him on Twitter @AshMarshallMLB. This story was not subject to the approval of the National Association of Professional Baseball Leagues or its clubs.
View More