Red-hot Jones powering the Power
Pirates' No. 15 prospect homers, extends hitting streak to 17 games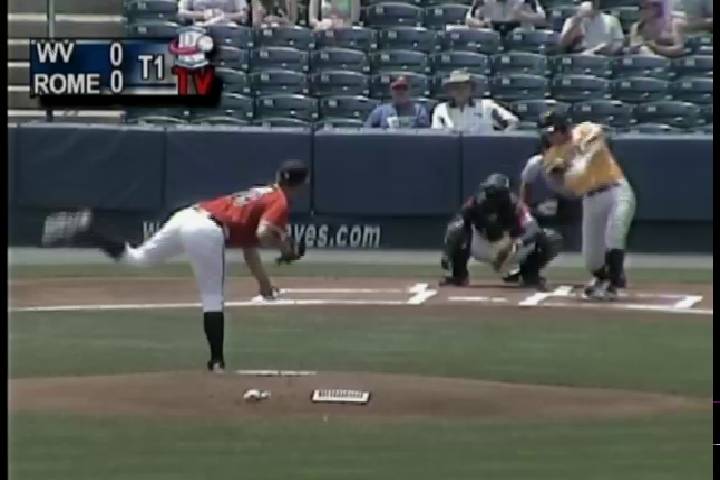 By Robert Emrich / MiLB.com | July 17, 2014 1:03 AM ET
A year ago, JaCoby Jones was on the verge of being shut down. Now he's one of the hottest hitters around.
The Pirates' No. 15 prospect homered and reached base four times as Class A West Virginia beat host Hagerstown, 6-1, on Wednesday.
Jones started off quickly, slugging a solo homer with one out in the first inning. After walking in the third, the 22-year-old shortstop singled home a run in the fifth. Jones also was hit by a pitch, putting him on base four times.
"I just try to get on base for the team and use my speed," said Jones, who scored twice. "That's what I try to do every game -- just try to hit the ball hard, use my hands and get on base for the team and put the guys behind me in a better situation."
Jones has been one of the best hitters in the Minor Leagues in July, batting .464 in 15 South Atlantic League games. Only two other players -- Wilmer Flores of Triple-A Las Vegas and Hunter Lockwood of short-season Hudson Valley -- have hit seven homers this month and no one has surpassed his hit total of 26. In addition, the Mississippi native is riding a 17-game hit streak that dates back to June 20.
"I'm just seeing the ball well, letting my hands work and working with our hitting coach Keoni [De Renne]," he said. "I kinda changed my swing a little bit, dropped my hands down a little more. I had a huge leg kick and I changed that a little bit so I can see the offspeed a little better. Hopefully I can keep it up and continue to see the ball well."
Jones, who suffered a season-ending knee injury on July 20, 2013 while playing for short-season Jamestown, is batting .300 and ranks second in the South Atlantic League with 15 homers. That's gone a long way to altering some impressions harbored by scouts who were impressed by his tools but underwhelmed by his early performance at Louisiana State University.
"I think it's good," Jones said of his first full season in the Minors. "I had a knee injury last year that I suffered, so I was out for six months. It's holding up. I was kind of worried about that at the start of Spring Training, because I've never had a serious injury. I feel good, my body feels good. I love showing up to the field every day to play. It's my job, I love it."
Edwin Espinal had two hits, including a double, and plated a pair of runs for West Virginia.
Cody Dickson improved to 5-8 after allowing a run on four hits while recording five strikeouts over six innings for the Power.
Hector Silvestre (5-7) took the loss, surrendering three runs on seven hits over five innings for the Suns.
Robert Emrich is a contributor to MiLB.com. Follow him on Twitter @RobertEmrich. This story was not subject to the approval of the National Association of Professional Baseball Leagues or its clubs.
View More