Red-hot Phegley posts six RBIs for Knights
White Sox catcher finishes triple short of cycle in 12-10 slugfest win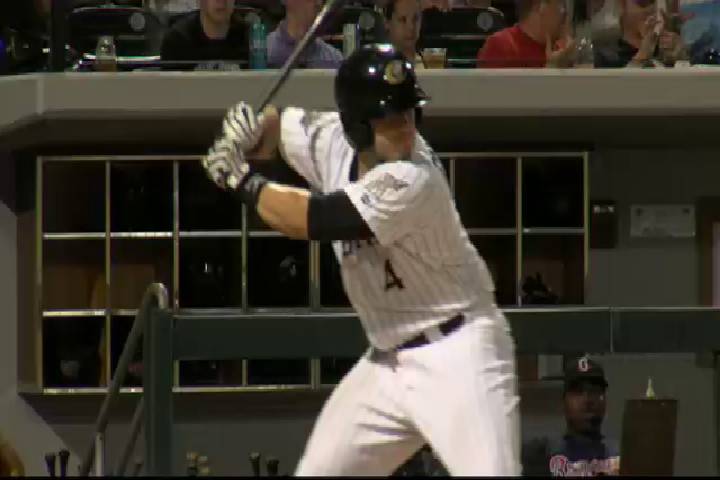 By Robert Emrich / MiLB.com | August 7, 2014 1:23 AM ET
Josh Phegley put in some time in the Majors last year. He's worked hard to put himself into a position to get back there this season. And games like Wednesday's probably will give the White Sox pause.
The 26-year-old catcher collected three hits, including a homer, and drove in a season-high six runs as Triple-A Charlotte defeated Gwinnett, 12-10.
Phegley broke a 2-2 tie in the third inning with his first hit of the game, a two-run double. An inning later, he slugged a three-run homer to give the Knights an 8-3 lead. He added an RBI single in the seventh to finish a triple short of the cycle.
"I think I swung at a ton of pitches, I didn't take too many," Phegley said. "They threw me a lot of good pitches to swing at. I was looking for a pitch in the zone and I was getting a lot of them.
"[The homer,] I think I swung and fouled off about five pitches in a row and it was 0-2. I took two fastballs down, just barely out of the zone. I think they kinda saw that I took the heaters even though they were close, and they threw me a third fastball just a little higher than the other ones. I was just trying to stay short and compact and be quick to it and put the barrel on it and hit it out to left."
An International League All-Star, Phegley has been on fire since the break, batting .368 with five homers and 23 RBIs in his last 17 games.
"I think it's just the development of a full season," the Indiana native said. "April tends to be everyone's excited and pressing to get out to a good start. May is your catchup month if you didn't get off to a good start. I think as you get through the stretch, you're going through the grind every day. You just get in that rhythm of what you have to do every day. You're not worried about numbers anymore, you're either having a good year or not."
The three-time IL All-Star and a Futures Game selection a year ago, Phegley struggled to a .206 average and a .522 OPS in 63 games for the White Sox in 2013. The struggles served to renew the Indiana University product's focus for this season.
"The time I spent in the big leagues wasn't what I thought it would be," he said. "Kind of disappointing, I hit barely over .200. The White Sox had a down year last year and we were in last place for a very long time. I think it was just getting wrapped up into that. It's a tough atmosphere to play in when everyone knows the season is kind of lost.
"You come up as a new guy and you're trying to at least show something or give them some kind of spark. If it doesn't seem to pay off, you just try harder and harder. As a rookie, that's a lot of pressure to put on yourself."
Phegley seems to have put that behind him. He's tied for third on the circuit with 18 homers and an .880 OPS and ranks fifth with 63 RBIs. The 2009 first-round pick believes he's ready for another shot in Chicago.
"My main goal for this year was just to bounce back and show them I can repeat the kind of year I had in Triple-A," Phegley said. "Maybe I was putting too much pressure on myself and that's not the kind of player I can be. I think I've gotten back to my approach and trusting my abilities. I think I've showed that I can be a Major League backstop. I earned a callup last year and I think I'm putting together the same quality year I did last year. Just continue to play hard and wait patiently for that call."
Andy Wilkins slugged his league-leading 27th homer while Michael Taylor went 3-for-3 with two RBIs. Rehabbing Avisail Garcia had two hits and scored twice for Charlotte.
Todd Cunningham, the Braves' No. 18 prospect, was 4-for-5 with three RBIs and fell a triple short of the cycle.
Robert Emrich is a contributor to MiLB.com. Follow him on Twitter @RobertEmrich. This story was not subject to the approval of the National Association of Professional Baseball Leagues or its clubs.
View More