Reds' Garrett remains on two-sport path
Southpaw splitting time between Cincinnati system, college hoops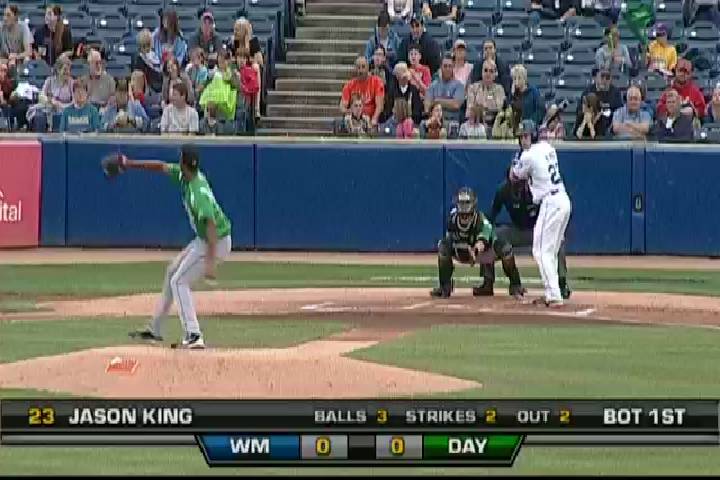 By Sam Dykstra / MiLB.com | May 15, 2014 10:00 AM
Amir Garrett doesn't know what he is yet.
It's a common problem for 22-year-olds like him. (It's a common problem for 32-year-olds, 42-year-olds, 52-year-olds unlike him, but that's a story for a different day.)
But here's what's not at all common about Garrett's particular predicament. He's living two American dreams in the same life at the same time.
Only a select few are athletic enough to play Division I college basketball, with an aim to play in the NCAA Tournament while the rest of us are left to fill out paper brackets and cross our fingers. Only a select few are athletic enough to toe the rubber of a professional baseball mound, zipping a white spheroid up to 30 mph faster than the rest of us travel on the highway.
Only a select handful have ever done both.
Garrett belongs to that middle part of the exclusive Venn diagram. At some point, he'll have to move to the outer edges and pick a side. The days of the professional two-sport star are perhaps behind us ever since Deion Sanders struck out in his final at-bat on June 14, 2001.
But right now in this moment, Garrett can't bring himself to choose.
"I definitely feel pressure from both sides," he said. "There's going to be a time when I have to make up my mind, but I don't want to focus on that. I put it in the back of my mind and keep my focus on the sport that I'm playing at the time and keep my whole focus on that."
* * *
The predicament wasn't entirely planned.
Garrett had starred in both sports -- as a 6-foot-6 wing with plenty of offensive and defensive acumen in one sport, as a tall left-hander with a fastball in the mid-90s in the other -- during his two years at Sierra Vista High School in Las Vegas and in his junior year at Leuzinger (Lawndale, California) High School, catching the radars of talent evaluators in both sports. But in June 2010, he struggled in a national baseball showcase for high schoolers, walking seven batters in just 4 1/3 innings against teams that featured future prospects Francisco Lindor, Gavin Cecchini and Jesse Winker.
He didn't pitch in a game setting for another year, choosing to transfer one more time to Findlay Prep in Henderson, Nevada. Findlay Prep isn't your normal high school, far from it. Students take classes, sure, but the main purpose is to play for the school's nationally ranked basketball team, which flies around the country to play against the rest of the nation's top talent. ("I call it a 'destination school,'" former Virginia Tech head coach Seth Greenberg told Newsweek last year.)
With that, it seemed his path had been picked. Garrett starred for the Pilots, averaging 12.3 points and 5.7 rebounds per game against some of the best competition in the country, and rocketed up NCAA recruiting rankings. ESPN tabbed him as the nation's 22nd best small forward (99th overall) for the recruiting Class of 2011, and he was recruited by Cal, Kansas, Oregon and nearby UNLV before deciding he would play his college ball at St. John's.
But come spring, there was still an itch that needed scratching.
Major League scouts hadn't forgotten Garrett's size and velocity from their observations the year before, and despite his shaky outings the previous June, they wanted to see him give baseball another go with the June Draft approaching.
At the behest of his father, Darrow, Garrett -- more ready to hit the hardwood than the diamond -- returned to the mound with some trepidation in the spring.
"It was a process," he said. "I got up there and started throwing. After a few of those workouts, my arm was killing me. My father said, 'Don't worry.' I remember thinking I didn't want to do this. I just wanted to play basketball. But I was young and didn't know any better. Once I started getting back in shape, things started to come back to me."
What scouts saw was a raw package but an impressive one. Sports Illustrated reported that Garrett had hit 96 in his first session in front of scouts on May 4 and sat in the lower-90s in two later showings. A 96 mph heater can get you far in life, but exactly how high up draft boards Garrett would go was unknown. Baseball America tabbed him as the No. 200 prospect entering the 2011 Draft -- just two spots below Carlos Rodon, the likely first pick in the upcoming 2014 Draft -- but there were concerns about his willingness to stick to basketball and the high price tag it'd take to pry him from the Red Storm.
The Reds finally took the gamble, selecting the lanky left-hander in the 22nd round at 685th overall. Negotiations went right up until the Aug. 15 deadline before the two sides settled on a $1 million signing bonus, a seven-figure deal that made him a professional pitcher but wouldn't bar him from playing college hoops.
"I'm blessed to be able to be a part of the #Reds baseball organization and still be able to play basketball at St. Johns. #God is Great," Garrett tweeted that evening.
The dilemma was back on.
* * *
Flash forward to the present. A lot has changed, but the predicament hasn't.
Garrett was forced to miss St. John's first semester in 2011 because of academic issues but eventually slotted into their rotation and starting in the team's final 14 games. He averaged 7.4 points and 4.0 rebounds in 26.9 minutes per game that season but saw his playing time cut in 2012 (20.1 minutes per game) and was used more as a booster off the bench while averaging 5.4 and 4.3.
Meanwhile in the summers, his baseball stats didn't jump off the page either. He split time between the Arizona League and Rookie-level Billings in 2012, posting a 4.05 ERA, 18 strikeouts and 13 walks in only 20 innings, and then between Billings and Class A Dayton in 2013, where he had a 5.15 ERA, 32 strikeouts, 26 walks and a .277 average-against in 57 2/3 frames.
The Reds, though, maintained that the left-hander's split duties kept him from solidifying into baseball shape or getting any momentum going on the mound.
"For us, we just want him on the field for a whole season, instead of getting cut short year after year," said Reds Minor League pitching coordinator Mark Riggins. "His time was always short. He'd go to Arizona, get his arm in shape for a few weeks, then he leaves early in August. That means he's missing time that's all key to development. It hurts year-to-year progression."
The organization finally got its wish this last winter, albeit through a different circumstance.
Garrett announced in the spring of 2013 that he was transferring from St. John's and heading back to the West Coast at Cal State Northridge, coached by two-time NBA All-Star and former Sacramento Kings coach Reggie Theus.
NCAA transfer rules dictate that he sit out the 2013-14 season, and the move did wonders -- for his baseball career.
"They supported me with everything I did," Garrett said. "At St. John's, it was more basketball first. [With Theus], he knew what it's like to be a professional in something because he played 13 seasons professionally himself. You have to take care of responsibilities that you have, and he told me to go ahead and do that with baseball. He knew I had obligations to baseball, and he was great in helping me stick to both."
Garrett still practiced with the Matadors but maintained a weightlifting routine geared toward baseball as well as his throwing program, which was overseen by his father. Come the turn of the year, he left campus -- but still took online classes -- to head to his first Spring Training with the Reds in Goodyear, Arizona, meaning he had jumped into baseball three months earlier than the previous two seasons and could receive guidance from the Reds staff at the same time as his peers. Plus, a little extra mileage on his arm might do him some good.
"We're hoping his arm will get stronger the more he throws," said Riggins. "The delivery is still raw, but we're trying to get it smoothed out this year. If he can keep throwing, throwing, throwing, it'll create that consistency."
After Spring Training, Garrett was sent to the Dayton rotation, where things have been rough early. The southpaw is 0-3 with a 6.04 ERA, 25 strikeouts, 14 walks and a .347 average-against through his first seven starts (28 1/3 innings).
"It's been a rocky start for sure," Garrett said last week. "But it's been different getting into the full swing of things this early in the season and everything.
"I'm trying to be a pitcher, not just a thrower. When I first started, I just wanted to throw hard. That's it. If I threw 95, I thought I'd be alright. Now, I'm still learning. Trying to hit my spots more. Trying to get my curveball down. Just little things. This is stuff most people already know when they pitch, but I'm coming around on it."
His latest start last Friday against Fort Wayne (5 IP, 6 H, 3 R, 2 ER, 1 BB, 6 K) was perhaps his best, however, and he still receives high marks from prospect evaluators. MLB.com has him ranked as the Reds' No. 19 prospect and gave him a 60 (above-average) grade on his fastball. (His curveball, changeup and control all came in at average to below-average.)
"He's big, he's got the size and he's got a pretty loose arm," Riggins said. "The fastball right now is big league average, and he's got some good spin on the curveball. He's still working on the changeup, but overall, he has all the physical attributes you look for in a good pitcher.
"I don't want him to fall behind. He's here now, and we applaud him for that. Hopefully, he sees the bright future he has in this game and continues on this path."
While others have had their say, Garrett is still unsettled on who he will be on the mound and continues searching for answers each time out, just as he does in the basketball vs. baseball debate.
"It's kinda difficult," he said. "I'm in between trying to find out who I am out there, if I'm a groundball pitcher, if I need to pitch to contact, those kinds of things. It's just taking it one game at a time right now."
* * *
It's still early, so Garrett has plenty of time to gather more information on his pitching style before he returns to Northridge in the fall, where he hopes his stint with the Matadors will be more fruitful than the one with the Red Storm.
Though results on the diamond haven't been there thus far, he has become a star in some circles as the guy trying to make it in two sports. With so many high schoolers and other youngsters still holding onto that dream, many turn to Garrett for his thoughts on the subject, hoping they too can follow his path.
His advice is always the same.
"There's a lot of people who send me messages, Tweets, all sorts of stuff about it. They always say, 'What you're doing is amazing,' and ask me what they should do in the same situation. I always tell them, 'Follow your heart. Whichever you feel best about is where you should go. If you're in between, try to do both as long as you can.'"
But what about Garrett himself? He has two more years of NCAA eligibility left, meaning there could be two more years of switching between baseball and basketball. For now, his answer also remains the same.
"I'm definitely in between."
Sam Dykstra is a contributor to MiLB.com. This story was not subject to the approval of the National Association of Professional Baseball Leagues or its clubs.
View More