Roberson's big night steers Drive to big win
Red Sox prospect notches career highs with seven RBIs, four doubles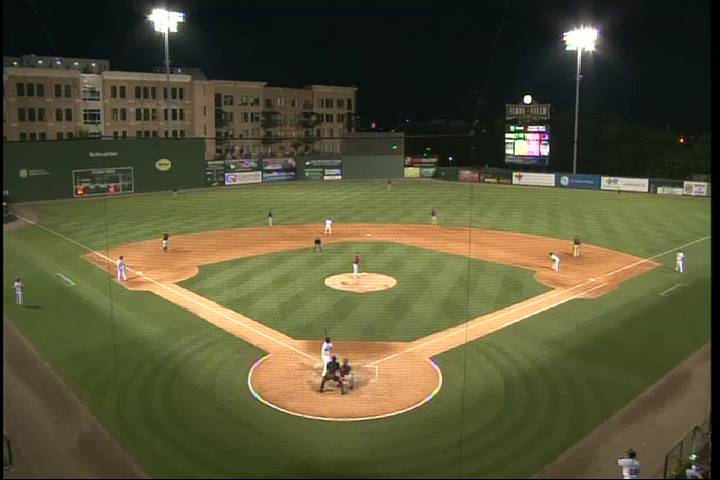 By Mark Emery / MiLB.com | June 21, 2014 12:58 AM ET
Greenville tied a franchise record with 21 runs on Friday night, and a third of them were driven in by one player.
Tim Roberson contributed more than his share to the Class A Drive's 21-1 rout of the Savannah Sand Gnats at Fluor Field, going 4-for-6 with seven RBIs, four doubles and three runs scored. All seven of the runs he batted in came with two outs.
"I was just seeing the ball well, putting good swings on it," Roberson said. "That's all you can really ask for at the plate. I was just fortunate enough to square some of them up."
The 24-year-old first baseman ripped a two-run ground-rule double to right field in the fourth inning, a two-run double to center in the fifth, a three-run double to center in the sixth and a ground-rule double to right in the eighth. He'd never collected four hits in a game before, and his RBI total topped his previous best of five, set on May 14, 2013.
It's possible that his teammates enjoyed the stellar performance more than he did.
"They were laughing along, since I'm one of the older guys on the team," Roberson said. "Our second baseman, [Wendell] Rijo, he's a young guy, he calls me the old man. So he was just laughing about it the whole entire time, making jokes. It was a really good time. It was fun to be out there with those guys."
The Florida native's fourth professional season has had its ups and downs. He began the year at Greenville but was promoted to Class A Advanced Salem after 15 games. In 40 Carolina League games, he batted .219/.276/.338 with two homers and 20 RBIs. Boston recently sent him back to Greenville, where he played the second game of his second stint on Friday.
Roberson, who signed with the Red Sox as a non-drafted free agent in June 2011, followed a similar route last year, playing 19 games with Greenville, then 17 with Salem, followed by 28 more with Greenville. Over those 64 games, he hit .284/.322/.399 with five homers and 37 RBIs.
"I like to say you've got to control the things you can control," Roberson said. "I started here, went up and started out pretty well, then slowed down a little bit, then right at the end I started swinging the bat really well, ended up coming back down. I'm just trying to keep it going here and help this team win as much as I can."
For much of the evening, the story was not Roberson but Drive starter Teddy Stankiewicz. The reigning South Atlantic League Pitcher of the Week brought a no-hitter into the sixth and ultimately allowed only two hits and an unearned run. He left with three strikeouts and two walks after turning in six innings.
"He commanded everything well," Roberson said of Stankiewicz, who hurled seven shutout innings against Charleston in his previous outing. "He did a fantastic job. For a while there, everybody kind of had it in the back of his mind after he went five with no hits. He had that kind of stuff tonight. It was fun to play behind him and watch him go after hitters."
Of course, the offense cannot be ignored. Each of the Drive's 11 batters recorded a hit and the team finished with 20, matching its victory margin, the new franchise high. The 21-run performance equaled the club's top mark, set on April 27 in a 21-6 win over Lexington.
"We kind of got out to an early lead and you see everybody kind of relax once you get out to an early lead," Roberson said. "Everybody just started having fun and getting good pitches and putting good swings on them. It was fun to be a part of."
Mark Emery is a contributor to MiLB.com. Follow him on Twitter @Mark_Emery. This story was not subject to the approval of the National Association of Professional Baseball Leagues or its clubs.
View More