Rodon learns lessons in Knights debut
Top White Sox prospect hurls three innings in first Triple-A start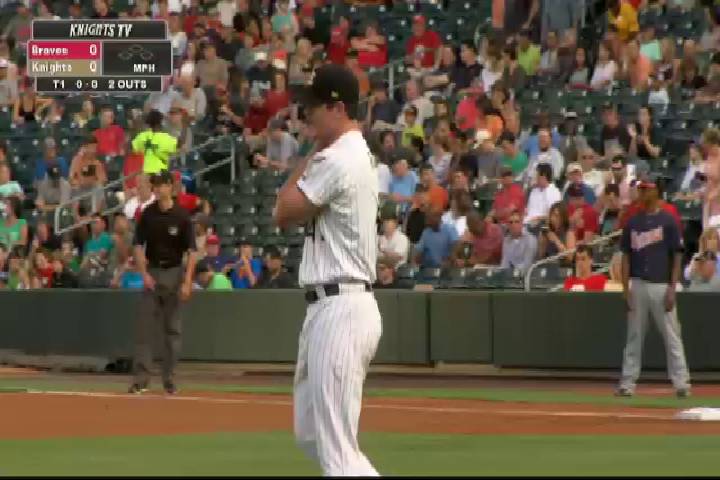 By Robert Emrich / MiLB.com | August 20, 2014 1:21 AM
Carlos Rodon got his first exposure to experienced hitters Tuesday and he learned a lot in that brief outing.
The top White Sox prospect allowed a run on one hit over three innings in his Triple-A debut as Charlotte fell to Gwinnett, 10-5, on Tuesday.
Rodon struck out three and walked three, throwing 35 of his 55 pitches for strikes.
"I felt good," he said. "I struggled with the fastball command, but I'm trying to make some adjustments. It's good to get my feet wet and it's a pleasure to be here."
The 21-year-old left-hander ran into trouble in the third inning, walking Edward Salcedo and Jose Yepez to open the frame. After Jose Costanza fouled out, Rodon gave up a single to Elmer Reyes to load the bases and Donnie Murphy followed with a sacrifice fly. Joey Terdoslavich popped out to end the inning.
"Guys are more patient, they're going to see what you have," Rodon said. "Those first couple of at-bats they're going to take pitches, trying to see the slider, see the changeup, see the fastball. They had some good at-bats in the second and third innings and got into some deep counts. You can tell they are some experienced hitters."
The third overall pick in June has moved quickly through Chicago's system, having pitched in the Rookie-level Arizona League and the Class A Advanced Carolina League before vaulting to the top level of the Minors.
"It's gone by fast," Rodon said. "Once I got into pro ball, it's been going pretty quick."
MLB.com's No. 22 prospect picked up a lot in his three-inning stint.
"You get behind, it's never a good thing," Rodon said. "You lead off with that first-pitch strike, you're always in a groove. I lost a little command of the fastball and then dug through it in that inning."
Jarrett Casey (0-2) followed Rodon and was tagged with the loss, giving up six runs -- none of them earned -- on four hits in one inning.
Matt Tuiasosopo slugged a two-run homer for the Knights.
Reyes finished with three RBIs and Terdoslavich hit a solo homer for the Braves.
Ryan Buchter improved to 3-3 after allowing one hit over two scoreless innings of relief for Gwinnett.
Robert Emrich is a contributor to MiLB.com. Follow him on Twitter @RobertEmrich. This story was not subject to the approval of the National Association of Professional Baseball Leagues or its clubs.
View More