Rodriguez continues fast start with Sea Dogs
Red Sox prospect fans season-high nine, pitches six three-hit innings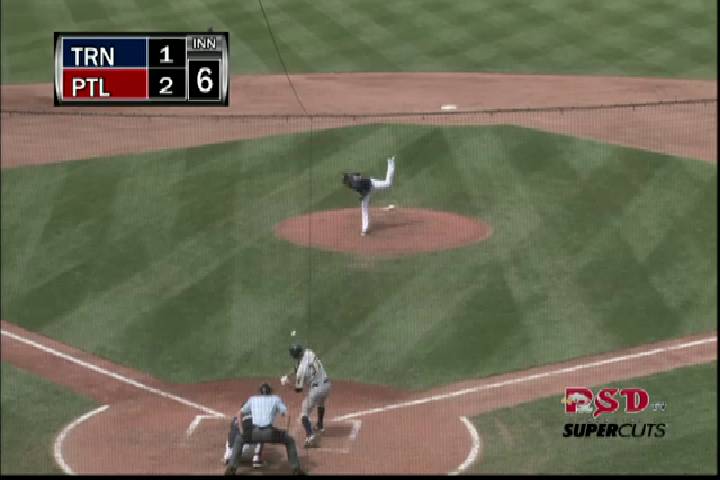 By Robert Emrich / MiLB.com | August 9, 2014 12:49 AM ET
Eduardo Rodriguez has gotten off to a fast start for the Sea Dogs. He has his changeup to thank for that.
The Red Sox's No. 10 prospect recorded a season-high nine strikeouts and gave up three hits over six scoreless innings Friday night before Double-A Portland fell at Richmond, 5-1.
Rodriguez, who did not figure in the decision, threw 66 of 100 pitches for strikes. He walked three and hit a batter in his second start for the Sea Dogs.
"We saw stuff -- command of the strike zone, pretty much the ingredients for going six scoreless with nine strikeouts," Portland pitching coach Bob Kipper said. "He went out there and used and commanded his fastball. His fastball was explosive tonight. I think his fastball was the story of the night. I would have to look at a chart, off the top of my head most of the strikeouts were a byproduct of his fastball.
"The opportunity to exploit secondary stuff was a factor. He showcased another good changeup tonight. He induced some swings and misses on that pitch, some weak groundballs."
According to Kipper, Rodriguez's best changeup of the night came in the fifth inning, when the Flying Squirrels had the bases loaded with two outs.
"He delivered a really impressive changeup [to Mario Lisson] for a swing-and-miss strike three to get off the mound," the former Major Leaguer said. "It was a huge pitch in a very pivotal situation in that ballgame. The way he managed that situation defined his night."
In two starts since being acquired at the trade deadline from the Orioles for left-hander reliever Andrew Miller, Rodriguez has allowed one run on five hits with 16 strikeouts over 11 1/3 innings.
Prior to the trade, the 21-year-old southpaw was 3-7 with a 4.79 ERA in 16 starts for Bowie. Despite the rough start to the season, Kipper thinks Rodriguez has the stuff to pitch well at higher levels.
"This guy has a chance to pitch in the big leagues and the chance to be something special," Kipper said. "He seems to be a very engaged young man, seems to love baseball, loves coming to the park every day.
"What I've tried to do with him is really get him to understand how important and how valuable his changeup is because I really like that pitch. He does a really good job of throwing his changeup off his fastball, creating that deception. He really produces late fade action when he does that. It's a very good pitch, from what I've seen."
Rodriguez exited with a 1-0 lead, but reliever Wilfredo Boscan (1-7) was tagged for five runs -- two earned -- on six hits over two innings.
Lisson slugged a three-run homer in the seventh for the Flying Squirrels and Eliezer Zambrano went 2-for-4 with an RBI and a run scored. Carlos Alvarado (1-0) pitched three innings of one-hit relief for the win.
Michael Almanzar supplied Portland's offense with a solo homer, his third, in the fifth.
Robert Emrich is a contributor to MiLB.com. Follow him on Twitter @RobertEmrich. This story was not subject to the approval of the National Association of Professional Baseball Leagues or its clubs.
View More