Roth flirts with Express' first no-no
Rangers lefty twirls 7 1/3 hitless innings en route to two-hit shutout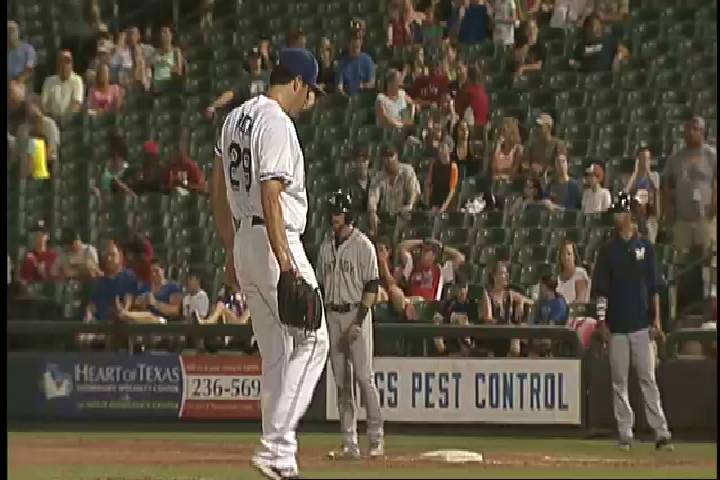 By Michael Avallone / MiLB.com | June 27, 2016 12:31 AM
It took Michael Roth less than two hours to get within five outs of the first no-hitter in Triple-A Round Rock history. It was only a matter of seconds for him to realize that history would not be on his side on Sunday night.
The Rangers southpaw took a no-hitter into the eighth inning before settling for a two-hitter and his first career shutout as the Express blanked Colorado Springs, 7-0, at Dell Diamond.
Josmil Pinto broke up the no-hit bid with a one-out triple in the eighth, despite a valiant effort by Jared Hoying, who tried to make a leaping catch while crashing into the wall in left-center.
"I knew right as I released the pitch that I had yanked a backdoor cutter back over the middle," Roth said. "I was just hoping it stayed in the park, to be honest."
Video: Colorado Spring's Pinto triples to break up no-hitter
Before the hit, Roth's only blemish came with two outs in the third when he issued his lone walk to Eric Young Jr. Brewers No. 18 prospect Michael Reed reached on an error by shortstop Hanser Alberto in the fifth, but he was quickly erased on a double play.
Reed almost ended the no-hit bid in the seventh, but his sinking liner was caught by James Jones, who made a sliding catch in right field.
"Hoying did his best to go after it and he gave everything he could," Roth said. "The defense played great all game. Jones made that great catch in the seventh inning, so, yeah, I had some help behind me."
Video: Round Rock's Jones makes sliding catch
Thanks to Jones' grab, Roth (7-3) breezed through the sixth and seventh before surrendering Pinto's triple. The 2012 ninth-round pick kept the intact by striking out Brewers No. 22 prospect Yadiel Rivera and retiring Nate Orf on a grounder to short. Jake Elmore singled with one out in the ninth for Colorado Springs' second hit, but Roth finished off his first shutout by inducing a pair of groundouts.
It was the first complete-game shutout of the season for the Express.
"I think it was either the fifth or the sixth inning that I realized what was going on," Roth said. "But you just try to put it out of your head and keep focusing on the next pitch and having fun with it. I think it's just the nature of the game.
"This game is so mental, and when you're out there, you need your head to be in the game the whole night, thinking about the right things, attacking hitters and not aiming the ball. That's part of what you battle as a pitcher. So when I learned about it, I said, 'Oh, OK,' but it didn't change my approach on the mound."
The 26-year-old struck out three and threw 63 of 102 pitches for strikes in his second nine-inning complete game. He won for the third time in his last four starts and dropped his ERA to a Pacific Coast League-leading 2.66.
"When [Pinto] got that hit in the eighth, at that point I just said, 'So what,'" Roth said. "I needed to focus on getting the next guy out to make sure that the run didn't score. Like I said, right when he hit it, I kind of knew that was it, so the focus was on doing my job and putting us in the best position to win."
Brett Nicholas staked Roth to the lead with a solo homer, his fifth, in the fourth. Alberto went 3-for-4 with a two-run blast in the eighth and two runs scored.
Major League veteran Wily Peralta (0-2) surrendered four runs on five hits and two walks with four strikeouts in four-plus innings for Colorado Springs.
Michael Avallone is a contributor to MiLB.com. Follow him on Twitter @MavalloneMiLB This story was not subject to the approval of the National Association of Professional Baseball Leagues or its clubs.
View More