Royals' Binford has best start of season
Binford helps Northwest Arkansas win 11th straight vs. Arkansas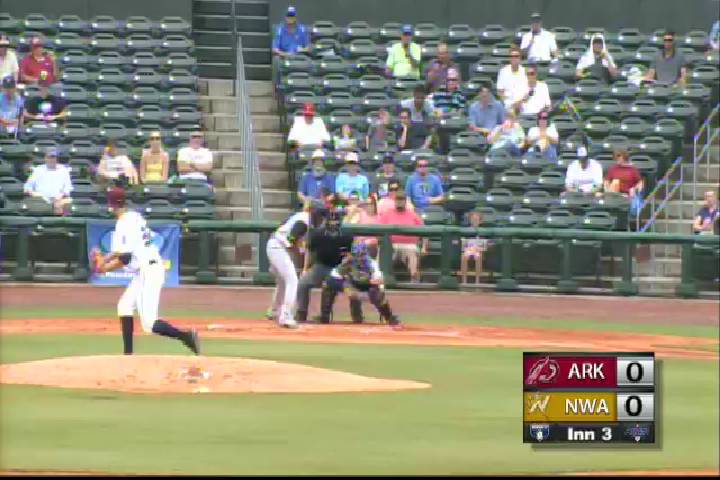 By Nelson DePasquale / MiLB.com | June 16, 2015 6:48 PM ET
Christian Binford flirted with a no-hitter before allowing a single in the fifth, but the Royals No. 11 prospect still helped Northwest Arkansas move closer to a Texas League North Division first-half title with a 5-1 victory over rival Arkansas in the opener of a doubleheader Tuesday.
It was the Naturals' 11th win in 11 games this season against the Travelers, though Arkansas finally broke through to stay mathematically alive for the division title with a Game 2, 8-1 victory.
The 6-foot-6 Binford lowered his season ERA to 5.82 with five innings of scoreless ball in which he yielded just the one hit, walked four and struck out three. It was the first time he's allowed fewer than two runs in a start since the first weekend of the season when he allowed one run over four innings for Triple-A Omaha at New Orleans on April 11.
The righty, who has walked 3.4 batters per nine innings this season, worked himself into and out of trouble in the fourth amid control issues. A streak of 11 balls out of 12 pitches in the middle of the fourth inning put two Arkansas batters on base before Binford got Wade Hinkle to ground out to second to end the inning unscathed, the 1-0 lead in tact.
Northwest Arkansas had earned that lead the previous half-inning when catcher Parker Morin hit a solo home run -- his first of the season -- off Arkansas starter Albert Suarez, who dropped to 6-5 after taking the loss.
Binford surrendered the one hit when Jared Mitchell singled on a line drive to right field in the fifth. Binford was pulled after five -- he threw 73 pitches, with just one more strike than ball. When Malcom Culver came on in relief and allowed a single run over two innings -- on a Mitchell sac fly -- he picked up his fifth save and helped Binford get his first Texas League win of the season.
Mike Bianucci and Balbino Fuenmayor gave Culver breathing room with a pair of two-run home runs in the bottom of the sixth. Bianucci's blast was his 11th of the season (putting him third in the league), and it was Fuenmayor's12th, which put him in a tie for first.
This marked Binford's 12th start this season across two levels. For Triple-A Omaha, he went 1-4 with a 5.86 ERA and struck out just nine batters while walking 15 in 27 2/3 innings. With Double-A Northwest Arkansas, the strikeout rate has increased -- he has 29 strikeouts in 32 2/3 innings -- but his ERA at the level is still just 5.79.
The Royals drafted Binford in the 30th round of the 2011 Draft, the big righty dropping that far on account of his injury history. He had undergone Tommy John surgery while in high school.
In 2014, Binford went 8-7 with a 2.88 ERA and 139 strikeouts in 140 2/3 innings across three levels before his struggles this season.
The Naturals' loss to the Travelers in the second game of the doubleheader meant the team would have to wait to clinch. Their magic number to win the North sits at two as they head to Springfield. Arkansas, meanwhile, visits Tulsa.
Nelson DePasquale is a contributor for MiLB.com. This story was not subject to the approval of the National Association of Professional Baseball Leagues or its clubs.
View More