SAL notes: Marlins' Romero stays red-hot
Second baseman contributing to Greensboro's offensive onslaught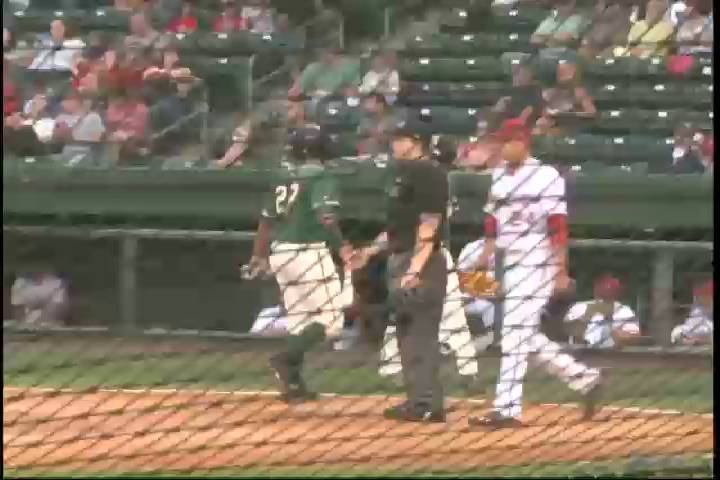 By Bill Ballew / Special to MiLB.com | July 3, 2014 10:00 AM ET
To say that Greensboro has warmed with the weather would be an understatement. The Grasshoppers won their final 10 games of the first half to catch Hagerstown with a 44-26 record and win the Northern Division by virtue of the tiebreaker. The team has continued to play well in the second half with a 9-4 mark, including victories in seven of its last eight outings. Greensboro has taken four straight decisions with run outputs of 15, 4, 20 and 16 during visits to Asheville and Lexington.
One of the key components of the Grasshoppers' lineup has been Avery Romero. The second baseman owned a seven-game hitting streak through July 1, recording 12 hits in 29 at-bats during that stretch to raise his batting average to .323, which is second on the team behind Chad Wallach. With the campaign entering its final two months, Romero says he and his teammates are hitting their strides, particularly at the plate.
"The big thing has been getting used to playing the full season," Romero said. "I'm definitely enjoying it. We have a great group of guys, which makes everything easier."
Romero was selected by the Miami Marlins in the third round of the 2012 Draft out of Pedro Menendez High School in St. Augustine, Florida. A Florida recruit, Romero was a shortstop in high school who displayed excellent lateral quickness and plus arm strength. With a thick lower half, scouts projected a move to third base or second, with some suggesting the possibility of shifting to catcher. However, with the organization lacking depth at second, the Marlins saw an ideal fit with Romero after giving him a taste of the hot corner.
"My first year playing second was a little bit different while getting used to the angles and turning the double play," said Romero, who saw time in the Gulf Coast and New York-Penn leagues in 2012 before spending most of last year with Batavia in the NYPL. "The coaches did a great job of working with me, and I feel really comfortable playing there. My first year I played about 20 games at third, but I've been at second ever since. It feels like home now, and as long as I get to hit, I'm happy."
While his solid skill set allowed him to remain on the infield dirt, Romero's strength has always centered on his hitting. Displaying excellent hand-eye coordination and hand strength, Romero generates line drives with his short, compact swing, which is what he has done best since he began playing the game at a young age.
"Growing up and for as long as I can remember my favorite part of the game has always been hitting," Romero said. "When I was little I always liked watching Manny Ramirez. I liked his leg-kick and his two-strike approach. He also had a beautiful swing.
"To me, that's what hitting is all about. I love the one-on-one confrontation and going after it. I've always seen myself as a gap-to-gap hitter instead of a guy who puts up a lot of power numbers. I feel my strength comes as a high on-base type of player who can put the ball in play on a consistent basis."
In addition to posting a slash line of .323/.366/.434 through his first 251 at-bats this season, Romero also recorded 16 doubles, a triple and four home runs. He makes steady contact, as evidenced by his low total of 33 strikeouts, and will need to be a little more selective to improve on his 15 walks as he climbs the ladder in the Miami farm system.
"Greensboro is a great place to play with the incredible atmosphere they generate at the ballpark," Romero said. "I'm looking forward to seeing what this team can accomplish the rest of the season. I'm also looking forward to moving up down the road and possibly playing at [Double-A] Jacksonville, which is close to home. My family and I were excited when the Marlins drafted me, and I'm looking to do what I can to make some things happen."
In brief
Rios remarkable: Lakewood's Yacksel Rios had a no-hitter with two outs in the eighth inning on July 1 before Hagerstown's Narciso Mesa recorded an infield single in the BlueClaws' 2-1 victory. Rios retired 20 straight batters and worked a career-best eight frames, with his previous high being 5 2/3 innings. The Suns scored their lone run in the first inning on a double steal after Rios hit the first batter with a pitch and walked the second batter.
Southpaws rule: Kannapolis won its seventh straight game and improved to 10-3 in the second half on July 1 when three left-handed pitchers combined for 13 strikeouts in the Intimidators' 5-2 victory over Delmarva. Andre Wheeler fanned six batters in five frames, allowing two runs -- one earned -- on three hits to notch his first win of the season. Jordan Guerrero struck out five over the next three frames while facing the minimum before 15th-rounder Ben Brewester worked around a double in the ninth to earn his first save as a professional.
Donnybrook in Savannah: Savannah scored three runs in the bottom of the ninth to pull out a 9-8 victory on July 1 after Charleston plated three runs in the top of the frame. The Sand Gnats had a 6-5 advantage when closer Akeel Morris, who had allowed one run in 36 2/3 innings, surrendered a three-run homer to RiverDogs second baseman Gosuke Katoh. The Gnats tied the contest on a play when Charleston committed a pair of throwing errors that allowed Patrick Biondi and Champ Stuart to score. The winning run crossed the plate when Victor Cruzado, who hit a home run in the second inning, drew a four-pitch bases-loaded walk.
Bill Ballew is a contributor to MiLB.com. This story was not subject to the approval of the National Association of Professional Baseball Leagues or its clubs.
View More