Scruggs homers twice, plates six in rout
Cards outfielder leads Redbirds, while Pederson goes yard for 'Topes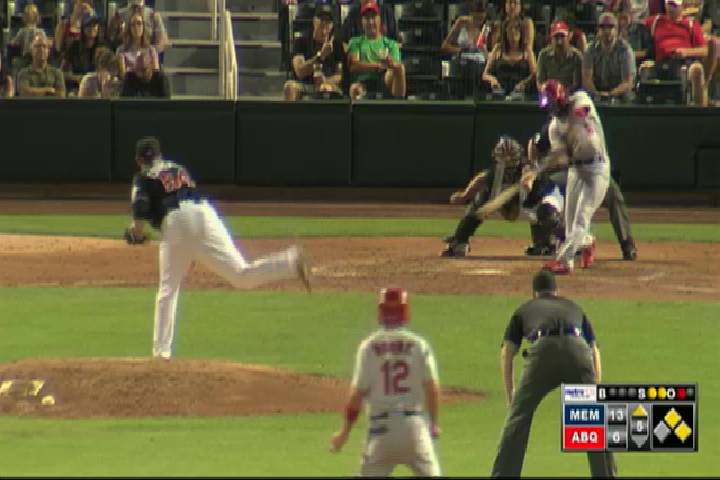 By Ashley Marshall / MiLB.com | August 15, 2014 1:49 AM ET
The middle innings of Triple-A Memphis' game with Albuquerque on Thursday night set the tone for a one-sided rout, and Xavier Scruggs was in the middle of it all.
The first baseman wants to finish the regular season strong and, with a playoff spot still up for grabs, he knows a late-season push can help extend his team's season, if only for a couple more weeks. His latest showing might be his strongest yet.
Scruggs went 4-for-6 with two homers, a double, a career-high six RBIs and four runs scored in the Redbirds' 17-7 win over the Isotopes.
It was his 13th career multi-homer game and he finished one hit shy of tying a personal best. Scruggs went 5-for-6 for Class A Quad Cities against Burlington on Aug. 9, 2009. He became only the second player on the team to score four runs in a game this season, joining outfielder Shane Robinson. His 11 total bases were the most by a Memphis player in 2014 as the Redbirds tied their season-high hit total, recording 21 for the third time this season.
"Today was a big day for us. We put up a lot of runs and our pitching was able to hold it," Scruggs said. "With this park, it's definitely easy to put up some runs and our offense was able to.
"I can always do more or do better, but my goal is to finish strong. I definitely feel like I'm doing that. When I look back at the end of the season, I'll have no regrets and know that I put it all on the line."
The 26-year-old tied the game with a two-run homer to left-center field in the second inning and his doubled to left in the third plated a run. He singled back up the middle with one out in the fourth before clubbing a three-run dinger to left-center in the fifth.
"The first home run was quite a battle with the pitcher [Chris Reed]," Scruggs said. "A 3-2 count and I fouled off a few pitches and was just telling myself to stay back and get a pitch I could drive with runners in scoring position. I think the pitcher missed his location because it was a fastball middle-in that I was able to drive over the fence.
"The second home run was a little bit different. I didn't think I was going to see a fastball from the pitcher. It surprised me, but I reacted to it quickly and got my hands and the barrel to the ball. 2-2, I was definitely looking off-speed there since I was having a decent night."
Over those four innings between the second and the fifth, Memphis scored 17 runs on 18 hits and almost turned the lineup over four full times. Ten of the 16 Pacific Coast League teams haven't scored 17 runs in a game this year.
"It was a lot of fun. It's hard to explain because everybody in the dugout is so happy and so upbeat and everybody is in good spirits," said Scruggs, selected by the Cardinals out of University of Nevada-Las Vegas in the 19th round of the 2008 Draft. "Everybody is cheering for everyone else and everyone has everyone else's back. Everybody contributed in some way. It's good being with the people you grind with, seeing them all do it together.
"Tonight was special. You find yourself looking at the batting order and thinking, 'I'm up again?' That lets you know the team has a chance to win if you're batting around like that because you're putting up some runs."
The performance extended the California native's hit streak to 10 games. Since Aug. 4, Scruggs is batting 18-for-41 (.439) with six homers and 18 RBIs.
Scruggs was one of three Cardinals farmhands to collect four hits as the Redbirds tied a season high with 21 hits. Right fielder Stephen Piscotty was 4-for-6 with a double and three runs scored and shortstop Pete Kozma went 4-for-6 with a double, four RBIs and two runs scored.
"They were outstanding," Scruggs said of Piscotty and Kozma. "They were another reason why we put up so many runs. The hitting was just contagious tonight. They had good approaches at the plate. Progressively as a team, we're hitting better than we ever have. Guys want to finish strong. This is a unique group of guys and they don't give away at-bats. They're grinding."
Scruggs and the Redbirds overcame early 2-0 and 5-3 deficits. Albuquerque center fielder Joc Pederson, the Dodgers' No. 3 prospect, hit his Pacific Coast League-leading 29th homer and his third in as many games, moving him three clear of Fresno's Adam Duvall.
Pederson features in a number of PCL offensive categories, including on-base percentage (.424, second), slugging percentage (.577, fourth), total bases (228, first) and walks (82, first). He also stands tied for third with 131 strikeouts, six off the league lead.
His 27th steal of the year leaves him one long ball and three steals of a 30-30 season. The 22-year-old prospect is looking to become the first hitter on the circuit to achieve the feat since Frank Demaree did so in 1934. There are 17 games remaining in the regular season.
MLB.com's No. 18 prospect moved into a tie for fifth place among all Minor League hitters. Triple-A Iowa's Kris Bryant leads the way with 40 and Double-A Frisco slugger Joey Gallo is second with 38. Double-A Mobile's Peter O'Brien, traded earlier in the month from the Yankees, and Class A Advanced Stockton's Matt Olson have 34 apiece, while Double-A Erie's Steven Moya and Stockton's Renato Nunez have gone deep 29 times.
Ashley Marshall is a contributor to MiLB.com. Follow him on Twitter @AshMarshallMLB. This story was not subject to the approval of the National Association of Professional Baseball Leagues or its clubs.
View More