Smokies' Bryant collects four more hits
Cubs' No. 2 prospect extends Southern League lead with 15th homer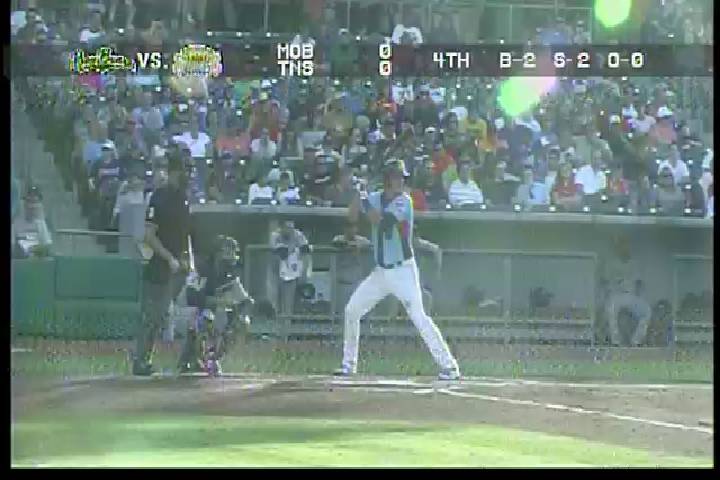 By Josh Jackson / MiLB.com | May 29, 2014 1:33 AM ET
Kris Bryant slugged his Southern League-leading 15th home run on Wednesday night, and the second-ranked Cubs prospect has gotten a rush out of each and every one of them.
"That's the best thing in baseball, I think. When you're a little kid growing up, you want to hit home runs. I still get that kid feeling in me every time I run the bases," he said. "It's a kids' game and I'm out there having fun. I've been playing well lately, but there are going to be times I struggle. Either way, I'm having fun and playing the game with a smile on my face."
Bryant also doubled, singled twice and walked in a 4-for-4 performance, but Double-A Tennessee dropped a 2-1, 11-inning loss at Huntsville. It was his second career four-hit game, both of which have come this month.
"I've been seeing it pretty well. I guess I'm getting more comfortable with Double-A pitching," said Bryant, who has 13 multi-hit games in May. "I've been seeing how they're going to try to approach me and forming a game plan. The big thing for me has been learning to swing at strikes and not chase. That's what pitchers want you to do. I've been trying to take my walks when they come and wait for my pitch."
Drafted second overall last year, Bryant singled in a seven-pitch at-bat in the first inning. He doubled on the first pitch he saw in the fourth and got his other two hits on the second pitch of those respective at-bats.
"For me, I kind of want to attack the first good pitch," said MLB.com's No. 8 overall prospect. "I had four walks yesterday, so I knew that they'd try to pitch me a little different today. I thought they would come after me. I wanted to be ready for that, and it ended up being a good day for me."
Bryant's solo homer came off Huntsville starter Brent Suter with two outs in the sixth, clearing the fence in right-center field. He wasn't sure it would go out, which he said is usually the case for him.
"I have trouble knowing if they're going over the fence or not," he said. "I run hard out of the box and once it goes over, good. But I treat every ball like it's staying in the yard because I can't tell."
The University of San Diego product also was unaware that the dinger put him within a triple of the cycle until an umpire mentioned it to him.
"I wasn't thinking about it. It's not something I'd think of," he said. "I try to give my attention to hitting the ball hard in the next at-bat."
Bryant didn't bat again until the 11th, when he saw four consecutive pitches out of the strike zone from reliever Tommy Toledo.
"I kind of figured they'd pitch around me, but I was the leadoff guy with nobody on base. I wanted to stay the course, take my walks," he said. "That's been a big part of my success lately, talking walks and trusting my teammates behind me."
In addition to leading the league in homers, Bryant tops the circuit with a .349 batting average and ranks second with 44 RBIs, one behind Mobile's David Peralta.
"I don't put too much thought into it. I don't look at stats. I couldn't tell you what I'm hitting," Bryant said. "Home runs are easier to count. I just try to the hit ball hard. Usually, if you focus on that, moreso than the results, you're going to be having good at-bats and good games. That's what I've been doing lately and what I've been trying to do since college. Things have worked out."
Pinch-hitter Adam Weisenburger delivered a two-out RBI single in the 11th to give the Stars their third straight walk-off win over the Smokies and fifth straight victory overall. Huntsville has a 9 1/2-game lead over second-place Tennessee in the first-half North Division race.
Josh Jackson is a contributor to MiLB.com. This story was not subject to the approval of the National Association of Professional Baseball Leagues or its clubs.
View More