Southern League Preview: Star turns
Smokies to feature some of Cubs' best, while Stars say goodbye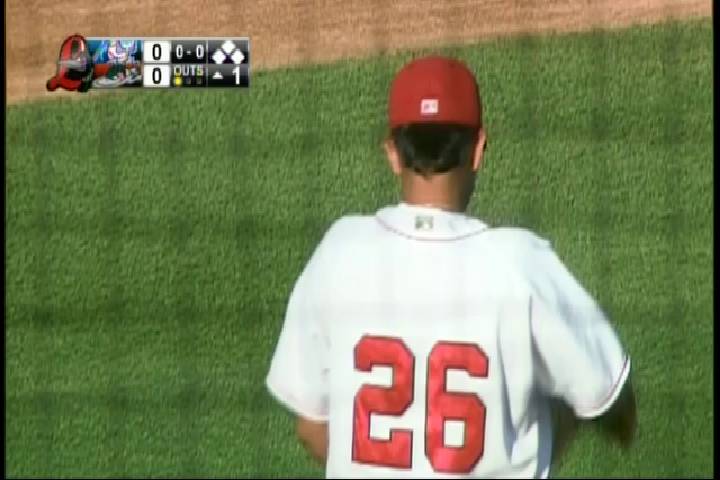 By Danny Wild / MiLB.com | April 1, 2014 11:30 AM ET
Smokies stocked for 2014
Double-A Tennessee will boast some of the Cubs' brightest talents in 2014, including third baseman and 2013 first-round pick Kris Bryant, outfielder and 2012 first-rounder Albert Almora, Cuban outfielder Jorge Soler, former Rangers right-handed prospect C.J. Edwards, 2013 first-round pick Pierce Johnson and 2012 second-rounder Dan Vogelbach.
Chicago owns a deep system, with shortstop Javier Baez having already graduated to Triple-A after hitting .294 with 20 homers at Tennessee last season. The Smokies figure to feature a rotation of Edwards, who came over in the Matt Garza deal, Johnson, and a pair of pitchers acquired via trades in Corey Black and Ivan Pineyro. Black was shipped to the Cubs in the trade that sent veteran Alfonso Soriano to New York last summer, while Pineyro joined Chicago in a trade with Washington for Scott Hairston.
Edwards, who made one big league Spring Training start on March 26, said he was looking forward to eventually reaching Wrigley.
"I feel I can be out there any time to help the club when the time comes," Edwards told MLB.com. "The guys that we have up are already doing great. We'll have our ups and downs, but we'll go out there each and every day 110 percent. When that day comes and I get the call, I feel I'll be ready to come up there."
Bryant, the reigning Arizona Fall League MVP, split his first season in the Minors between three affiliates, finishing at .336 with nine homers, 32 RBIs and a .390 on-base percentage. He's also happy about not facing Edwards:
String Bean Slinger at #42! @CEdwardsSBS has an unhittable fastball. Glad he's on my team! #MLBPipeline

- Kris Bryant (@KrisBryant_23) January 24, 2014
Almora was the No. 6 overall pick in the 2013 Draft and debuted with Class A Kane County, where he hit .329 with three homers, 23 RBIs and a .376 OBP. It's possible he may begin the year at Class A Advanced Daytona.
Soler, an outfielder who signed a nine-year Major League deal in 2012, made headlines last April for an on-field altercation that earned him a five-game suspension. He moved past the incident and hit .281 with eight homers, 35 RBIs and 13 doubles for Daytona before showing good production with 14 RBIs in 20 AFL games.
Stars play out 30th and final season in Huntsville
The Brewers' Double-A affiliate will pack up and head to Biloxi, Miss., following the 2014 season after the club was sold to an ownership group headed by Ken Young earlier this year. Biloxi held a ceremonial groundbreaking for the new stadium in January and construction is expected to be completed by Opening Day 2015.
The Stars have played at Huntsville's Joe Davis Municipal Stadium since 1985, when the club captured the Southern League crown in a venue nicknamed the "Crown Jewel of the Southern League." It's now the oldest ballpark in the circuit.
The Stars, who last won an outright league championship in 1994, ranked second to last in attendance last season, drawing 123,904 fans to 66 games. Despite the low attendance and pending departure, locals are still hopeful that baseball will return to the Alabama city in the future.
"We have talked to baseball officials and are confident the city will have opportunities to bring in a new Minor League Baseball team to Huntsville," mayor Tommy Battle said in December. "With the right ownership and community partnership, we know baseball will thrive in Huntsville."
Huntsville has planned a few notable promotions in its final year, includuing a salute to the U.S. Army, a superhero-themed night and plenty of fireworks.
"If this is our last year, then we're going out with a bang," Stars general manager Buck Rogers told MiLB.com. "We're going to talk to everyone we can -- fans, sponsors, charities -- and tell them to make it out here. This might be their last chance. We're going to do the best we can because that's all you can do."
Quick hits
Winker, Stephenson in Pensacola: Pensacola, a Reds' affiliate, should feature players like 2011 first-rounder Robert Stephenson, Phillip Ervin, Yorman Rodriguez, Jesse Winker, Jon Moscot, Ben Lively, Michael Lorenzen and Seth Mejias-Brean. Stephenson, MLB.com's No. 19 prospect, finished 2013 with the Blue Wahoos, going 7-7 with a 2.99 ERA in 22 starts between three levels. Winker, an outfielder, was the Reds' Minor League Hitter of the Year in 2013 after being drafted in the first round a year earlier. He hit .281 with 16 homers and 76 RBIs at Class A Dayton. Ervin, an outfielder and yet another first-round pick, hit .331 with nine homers and 35 RBIs in just 46 games last year.
Lookouts have young arms: Chattanooga should sooner or later have a pair of emerging starters in 17-year-old Julio Urias and 2013 first-rounder Chris Anderson. Urias surprised everyone as a then-16-year-old last year with Class A Great Lakes, going 2-0 with a 2.48 ERA and 67 strikeouts in 54 1/3 innings, while Anderson owned a 1.96 ERA in a dozen Class A starts. The Lookouts could also boast prospects like Tom Windle and Corey Seager.
Moran, Williams could lead Suns: Jacksonville fans had a chance to watch Christian Yelich and Jake Marisnick last year, so the bar is set pretty high. The Marlins will likely send another talented group to the Suns in 2014, with players like Colin Moran, Trevor Williams, Jose Urena, Justin Nicolino, Anthony DeScalfani and Colby Suggs. Moran, a first-round pick last year, hit .299 in 42 games at Class A Greensboro, while Williams, a second-rounder from last summer, owned a 2.38 ERA in a dozen starts between three clubs in 2013.
Last things last: Here's a look at some significant lasts around the Southern League.
Last season's championship: Birmingham over Mobile in five games. MiLB.com coverage »
Last back-to-back champion: Mobile BayBears, 2011-'12
Last perfect game: Chad Gaudin, Orlando vs. Jacksonville, July 15, 2003
Last no-hitter: Victor Mateo, Montgomery vs. Jacksonville, Aug. 24, 2013. MiLB.com coverage »
Last 200-strikeout pitcher: Brian Barnes (213), Jacksonville, 1990
Last cycle: Abraham Almonte, Jackson vs. Chattanooga, April 27, 2013. MiLB.com coverage »
Last three-homer game: Steven Proscia, Jackson vs. Chattanooga, Aug. 26, 2013. MiLB.com coverage »
Last 30-homer hitter: Paul Goldschmidt (30), Mobile and Neftali Soto (30), Carolina, 2011
Danny Wild is an editor for MiLB.com. Follow his MLBlog, Minoring in Twitter. This story was not subject to the approval of the National Association of Professional Baseball Leagues or its clubs.
View More