Southern notes: Smith showing flexibility
Barons catcher more comfortable following offseason yoga regimen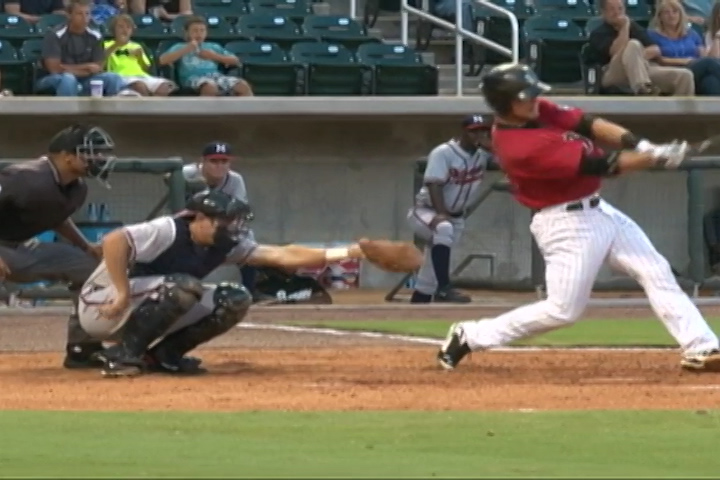 By Guy Curtright / Special to MiLB.com | July 29, 2014 10:00 AM ET
Kevan Smith looked out of place and felt uncomfortable.
"It was awkward and it really hurt afterward at first," the Birmingham Barons catcher said.
Smith stuck with his offseason yoga routine, though, and the 6-foot-4, 230-pound former University of Pittsburgh quarterback is reaping the rewards.
"I have the flexibility now I needed, and my body is holding up much better," he said. "Not as many aches and pains."
Almost 23 when taken by the Chicago White Sox in the seventh round of the 2011 Draft after first concentrating on football at Pitt, Smith had to remaster the most elementary part of catching -- squatting.
"Really, that was the hardest part," he said. "I was always confident I could hit."
Smith showed that, posting a .298 career average over his first three seasons in the Minors. But it wasn't until this year that he made it to Double-A.
"That was frustrating," Smith said. "But I think spending all last season at Winston-Salem [in the Class A Advanced Carolina League] ended up helping me. I got to really work on my catching."
That experience and a winter of yoga are evident behind the plate, and Smith has shown that he is hardly overmatched by Double-A pitching.
Smith, who turned 26 on June 28, had a .300 batting average with a .388 on-base percentage and .462 slugging mark through 79 games.
Along the way, he was named to the Southern League All-Star Game in June and enhanced his prospect status, entering at No. 20 for the White Sox in the updated MLB.com list.
"I wouldn't really call it a breakout year," Smith said. "But I knew this was a big season for me. I had something to prove, and I think I have been able to do that."
Twice a non-roster invitee to Spring Training with the White Sox, Smith must be added to the 40-man roster after this season or become eligible for the Rule 5 Draft in December.
"Hopefully the White Sox have a place for me," he said.
Smith, though, likely wouldn't have even been playing baseball if his football career had worked out better.
The native of western Pennsylvania broke the debut passing yardage record of Hall of Famer Dan Marino in his first start as a red-shirt freshman, but then slipped down the depth chart amid injuries and inconsistency.
Facing a potential position switch as a junior, Smith decided to switch sports instead despite being away from baseball for nearly four years.
"Looking back, it's crazy how things worked out," he said.
Smith picked up right where he had left off in high school at the plate, if not behind it.
The right-handed hitter had a career average of .375 with 19 homers and 123 RBIs at Pitt, winning the Big East batting title with a .396 average as a senior.
Then Smith hit a combined .355 at the Rookie level with Bristol and Great Falls to get his professional career off to an impressive start.
Still, the hulking former football player had to overcome the naysayers.
"I knew my catching needed work," he said. "Throwing wasn't really a problem, but I've had to learn how to handle pitchers and needed to get better on my receiving. I think I've made a lot of progress, especially this year."
Smith had already shown his capabilities as a hitter, coming into this year with a total of 22 homers and 156 RBIs over the past two years.
After hitting .302 during the first half with four homers and 23 RBIs in 50 games for the Barons, he had a .297 average with four homers and 19 RBIs in the first 29 games of the second half.
The White Sox have been looking for a productive regular behind the plate since A.J. Pierzynski was in his prime. Maybe Smith will someday prove to be that player.
If so, yoga will have played a role.
"It definitely will be part of my routine again this offseason," Smith said. "Once you get used to it, it's relaxing, too."
In brief
Memorable blast: The first homer by a pitcher in the three-year history of the Pensacola Blue Wahoos was a grand slam. Michael Lorenzen, Cincinnati's No. 4 prospect, connected with two outs in the third inning after an intentional walk to break a tie as Pensacola won, 9-1, over Mobile on July 25. The crowd of 5,038, which prodded Lorenzen into a curtain call, was the 100th sellout for the Blue Wahoos. The slam came off right-hander Archie Bradley, Arizona's No. 1 prospect and No. 12 in MLB.com's updated Top 100.
Homer binge: Tennessee shortstop Addison Russell followed up his second two-homer game in six days by going deep again the next game at Birmingham on July 27. He had six homers and 13 RBIs over a 10-game stretch in which he batted .333, playing 16 games overall with the Smokies since coming from Oakland as the part of the Jeff Samardzija trade. The 12th overall pick in the 2012 Draft, he is ranked No. 7 on MLB.com's updated Top 100 Prospects and No. 3 with the Cubs. Russell, 20, missed most of the first half with a hamstring injury and had played just 18 games this season before the deal.
On the shelf: Pensacola outfielder Jesse Winker, Cincinnati's No. 2 prospect, was placed on the disabled list July 24 because of a partially torn tendon in his right wrist suffered earlier in an auto accident. He could miss the rest of the season. Trying to play through the injury, the left-handed hitter and thrower batted just .208 in his first 21 games with the Blue Wahoos after tearing up the Class A Advanced California League before his promotion. Winker, the 49th overall pick in the 2012 Draft, hit .317 with 13 homers and 49 RBIs in 53 games for Bakersfield. The 20-year-old played in the All-Star Futures Game.
Guy Curtright is a contributor to MiLB.com. This story was not subject to the approval of the National Association of Professional Baseball Leagues or its clubs.
View More