Squirrels remain rich in pitching talent
Giants' Double-A arms showing signs of turnaround at midpoint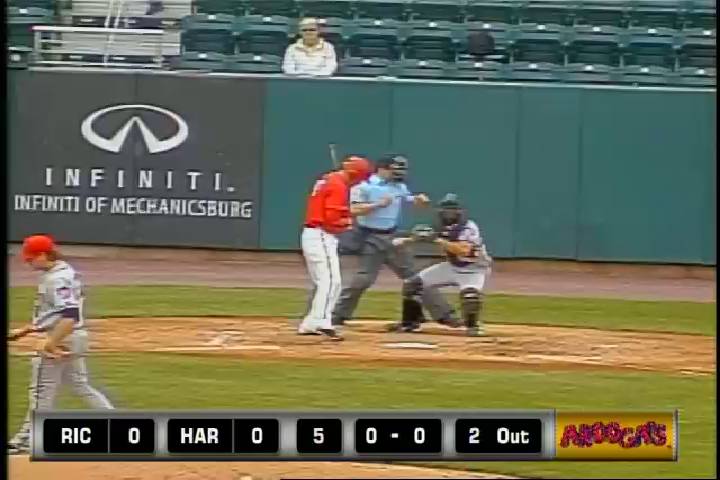 By Sam Dykstra / MiLB.com | June 19, 2014 10:00 AM ET
The Giants knew what was coming, and they prepared for it.
In 2013, the organization's best pitching came -- of all places -- at Class A Advanced San Jose in the California League, where even good pitching is often punished by homer-happy environments on the road and results have to be taken with several grains of salt.
Behind a group led by prospects Ty Blach (2.90 ERA, 1.09 WHIP, 8.08 K/9), Clayton Blackburn (3.65 ERA, 1.10 WHIP, 9.34 K/9), Adalberto Mejia (3.31 ERA, 1.13 WHIP 9.21 K/9) and Kyle Crick (1.57 ERA, 1.27 WHIP, 12.45 K/9, missed two months with oblique injury), the San Jose staff collectively led the Cal League in ERA (3.66), WHIP (1.26) and strikeouts (1,282). The squad made it to the Championship Series before being swept by Inland Empire.
The prospect community caught on. The foursome above found its way into the top 10 of several organization rankings. MLB.com placed Crick as the Giants' top prospect with teammates Mejia (No. 3), Blach (No. 6) and Blackburn (No. 8) following behind.
While championships and the rings that come with them are nice, this much was clear -- there was little left for the group to prove at the Class A Advanced level. Double-A Richmond had to be next.
So when Spring Training hit a few months ago, the organization made an odd, yet interesting, decision. They sent two pitching coaches to the Eastern League. Ross Grimsley, an 11-year Major League left-hander who has been with the Giants' Minor League system as a coach since 1999, returned to his post with the Flying Squirrels but would be joined by Jerry Cram, a former right-handed reliever with four years as a coach in the bigs and 14 with the Giants, most recently with Class A Short Season Salem-Keizer in 2013.
"Between us, we've got close to 95 years experience with pitching now," said Grimsley, who is technically listed as pitching coach while Cram's title is assistant pitching coach. "Jerry and I have gotten to know each other pretty well over the years, so when they came to us, saying 'We're going to have a lot of good prospects in Richmond; we want you both there,' we thought that's fine. We're on the same page in terms of how to get these guys goings, and it's a pleasure to work with somebody who believes in the same things you do."
The pair's philosophy is simple. Be a pitcher, not a thrower.
If you have the stuff to back it up, you can get by on being the latter in the lower levels of the Minors. That's not the case at Double-A, where Grimsley called the jump from Class A Advanced "bigger than even the one from here to the Majors."
That's a lesson some of the foursome from San Jose had to learn the hard way, at first.
Crick had battled control issues in the past at both Class A Augusta (5.4 BB/9) in 2012 and San Jose (5.1 BB/9) in 2013. But thanks to a mid-90s fastball and a promising slider, the right-hander was able to strike out more than 10 batters per nine innings in each season and kept his ERA at 2.51 or better both years.
The control chickens came home to roost during his first trip to Richmond, however. He walked 18 in his first five starts (15 2/3 innings) with the Flying Squirrels while striking out 20 and putting up a 4.60 ERA in that span. On April 19 and May 3, his pitch count reached the 80s despite not pitching more than 3 1/3 innings in either outing.
"He started the year with no breaking ball," Grimsley said. "I saw him in Augusta, and he had a really good breaking ball -- a slider -- but for some reason he's just lost it. It's like he forgot how to throw it. We've worked on changing the delivery because it was shortened on the breaking ball; his arm wasn't in the same arm slot. With no off-speed stuff, he was just a fastball guy, and that's not enough here."
Mejia stumbled out of the blocks, too. Though he didn't go through the same control problems -- he hasn't issued more than three walks in a start this season -- the 20-year-old left-hander was 2-5 with a 6.36 ERA, 1.48 WHIP and .310 opponents batting average in his first 11 starts. Again, the pairing of Grimsley and Cram noticed his delivery needed work. His arm was lower than it should be. He wasn't staying on top of the ball like he could. On top of that, he was displaying the attributes of a thrower.
"These young guys, when they get in trouble they just try to throw harder -- that's it," Grimsley said. "As long as it's over the plate, they think they can throw it past people. What they have to learn is to stick to the plan as long as they can, and if that doesn't work, change the plan on the fly. You have to make adjustments other than just throwing harder. That's the hardest thing for some young pitchers to learn."
Things have started to click for both pitchers of late, however.
In three June starts, Crick has walked only five batters in 15 1/3 innings and has posted a 3.52 ERA with 12 strikeouts. Grimsley has seen a much more consistently repeatable delivery from the 6-foot-2 hurler, and that has him more pleased than any results, which does include a four-runs-in-five-innings performance last Friday.
"When he's got his fastball, breaking ball and changeup, we don't care about the results -- those are just a bonus," he said. "As long as we can find a positive, something to build on, we're happy, and we're finding more and more of those with him.
"Once he can throw strikes with all his pitches, he won't be here long. He's already come a long way."
Mejia's transformation has taken a little longer, but it was in full bloom Sunday, when he set season highs with seven strikeouts over seven scoreless innings, allowing only four hits and one walk along the way. That helped put the young southpaw's early struggles into the proper context -- that is, those of a pitcher two steps away from the Majors and yet not even a full year into his 20s.
"Between his fastball, slurve and changeup, he's got three Major League-capable pitches," Grimsley said. "Once his delivery can become consistent, he'll do well. You have to remember he's more ahead than others his age. His upside is just tremendous. It's just about getting experience with him."
Blach, meanwhile, has been the steady ship through even the choppy waters of the season's first half. After allowing one run in five innings Tuesday, the 23-year-old left-hander owns a 2.79 ERA, 1.12 WHIP and .232 opponents batting average -- all three rank sixth in the Eastern League -- through 13 starts (67 2/3 innings) with the Squirrels. Before the season, MLB.com gave him a 60 (above-average) grade on his control, and he's lived up to that billing, issuing only 2.3 walks per nine innings, although even that is up from the 1.2 BB/9 he put up in San Jose.
In other words, though Crick and Mujica have needed refining from the get-go, Grimsley and Cram have been able to let Blach do most of the work.
"I haven't seen a left-handed pitcher as unafraid to throw inside as him in a long time," Grimsley said of the 2012 fifth-rounder out of Creighton University. "He's probably one of the more polished young starters we've seen here. He has a very good idea of what he's doing. When his delivery gets out of hand or the game speeds up, he has the ability to recognize that and change on the fly. ... That's going to go a long ways in helping him establish what I think will be a career that lasts multiple years in the Majors."
Blackburn (3.40 ERA, 1.9 BB/9) was off to a similarly solid start but hasn't pitched since May 19 due to an injury to his rib area. He's currently throwing down in Scottsdale, Arizona, at the team's Spring Training facility with a return expected in the coming weeks.
"When he gets back here, he's going to be a big help," Grimsley said.
As it stands, the Richmond pitching staff has put up a 3.84 collective ERA, despite the early struggles of Crick and Mejia. As of Wednesday -- the official midpoint of the Minor League season -- the Flying Squirrels owned a 39-29 record, putting them just a half-game behind Akron for the top spot in the Eastern League's Western Division, thanks in part to the work of Grimsley and Cram.
There's still another half-season during which the foursome of Crick, Mejia, Blach and Blackburn will have to prove themselves. And of course, Double-A numbers are great, but they aren't the end game. That sits two levels above the Eastern League, a place Grimsley and Cram both reached on their own and are now working together to help four achieve.
"Some of these guys get here and go, 'Oh, God' when they realize just throwing isn't going to work anymore," Grimsley said. "They must be pitchers. When it comes down to it, we were put here together to show these guys with big expectations how to be big leaguers, what it takes to get there and what it takes to stay there. That's what we're always thinking about."
Sam Dykstra is a contributor to MiLB.com. This story was not subject to the approval of the National Association of Professional Baseball Leagues or its clubs.
View More