Stankiewicz spins Dogs' first one-hitter
Red Sox right-hander fans seven, falls one knock shy of perfection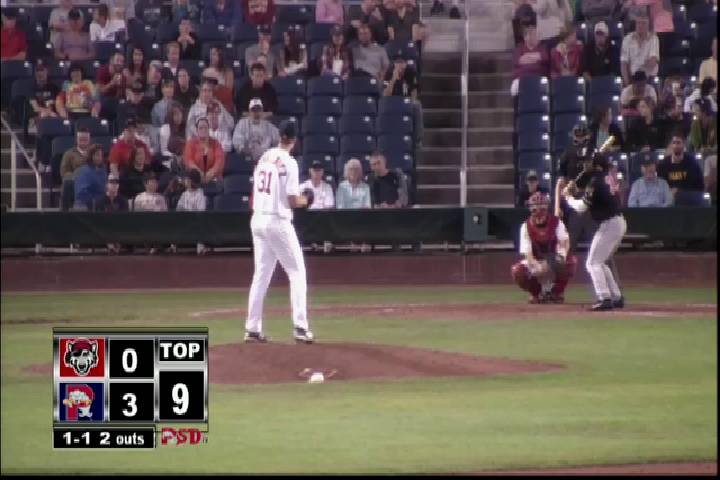 By Kelsie Heneghan / MiLB.com | August 3, 2016 12:43 AM
After Teddy Stankiewicz finished his pregame warmups, Double-A Portland pitching coach Kevin Walker told him, "Go get 'em." About two hours later, Walker told his starter, "Congratulations, that was awesome."
In between those comments were nine innings of near-perfection Walker silently sat back and enjoyed.
Without need for in-game advice, the right-handed Red Sox prospect spun the first complete-game one-hitter in Sea Dogs history. He struck out seven and didn't issue a walk en route to a 3-0 blanking of the Erie SeaWolves on Tuesday at Hadlock Field.
"He threw extremely well. That was awesome for him, but it was an awesome game to watch as well," Walker said. "I'm super proud of him, I'm just hoping this game helps him gets some momentum and [he rides] that wave of momentum throughout the rest of this last month."
From the moment, Tigers' No. 25 prospect Wynton Bernard fouled off the first pitch of the game, Stankiewicz (4-7) dominated. The 22-year-old sat down the first 16 batters he faced, needing more than four pitches for just four of those at-bats.
"In the first inning, he was so calm and under control. You could see the intensity and focus from the first batter and went 1-2-3 in that first inning," the coach said. "Saw the same thing when he went out in the second, his calm demeanor and ability to repeat his delivery and mix his pitches. And after that, you could tell he got on a nice little run there."
Walker watched Stankiewicz be aggressive in the strike zone, with 15 first-pitch strikes over the course of the night. In the sixth, Grayson Greiner took a 1-1 offering up the middle to become the first and only Erie baserunner of the night.
"He made a good pitch, down in the zone, guy put a good swing on it and hit a line drive up the middle. Don't think anything of it at that point of the game, other than he made it to the end of the sixth and was out of the stretch for the first time," Walker said. "He got the next two outs quickly and the next three innings after that were very quick. It's almost like he separated that at-bat and went back to working and making one pitch at a time."
Stankiewicz rolled through the next two innings. Walker said the 2013 second-round pick had all four pitches working, including his changeup, which on occasion this season had been "lacking." With a lineup with only two right-handed hitters, Stankiewicz relied on his changeup a lot. The Seminole State College product used his fastball inside and out, mixed in his curveball and threw a lot of sliders, his coach said.
"You could tell the crispness of the game. But you could tell he was starting to get into a groove about the third inning. He'd make a pitch and then he would be ready to go again, there was no time taken between pitches," Walker said. "And those are those games as a pitcher where you get into that zone and so locked in, and everything you throw goes where you want to throw and you just want to get the ball again and deliver it. It was one of those games as a pitching coach and as coaches where you just want to sit back and be a fan."
Walker could tell Stankiewicz didn't feel any more pressure in the ninth. With a 100- to 105-pitch count and a three-run lead, the coach gave his pitcher a "little wiggle room."
Greiner flew out and Harold Castro struck out. Then, bookending the game, Bernard knocked a 1-1 offering right back up the middle. It hit the pitcher's leg, then ricocheted toward shortstop Mauricio Dubon, who swiftly threw the runner out at first.
"The thought is maybe more of a validation, knowing that you have the stuff to compete, knowing that your stuff is good enough to compete at this level and at the big league level," Walker said of Stankiewicz's emotion after the final out. "I think he's more happy with the fact that he was locating. He was mixing his pitches, he was throwing his changeup."
It marked the first time Stankiewicz posted a scoreless outing since April 20 against Trenton and the first time in his career he went more than eight frames. The Texas native notched a seven-inning complete game for Class A Advanced Salem against Myrtle Beach on July 3, 2015.
"He mixed his pitches and he was consistent with all four pitches," Walker said. "I think that game alone helps him understand that he can be consistent with all his pitches. When you can do that, then good things can happen for you and you can move up the ladder."
Walker considered it one of the greatest pitching perfomances he has watched as a coach, up there with a no-hitter started by Henry Owens for Salem in 2013.
"To see one guy only face one batter over the minimum and to realize how close he could've been to pitching a perfect game," he said. "It's up there for me, definitely."
Dubon helped Stankiweicz offensively too with two RBIs while Ryan Court drove in the No. 12 Red Sox prospect for the game's other run.
Kelsie Heneghan is a contributor to MiLB.com. Follow her on Twitter @Kelsie_Heneghan. This story was not subject to the approval of the National Association of Professional Baseball Leagues or its clubs.
View More