Starling flirts with cycle for Blue Rocks
Royals' No. 7 prospect collects season-high four hits, drives in two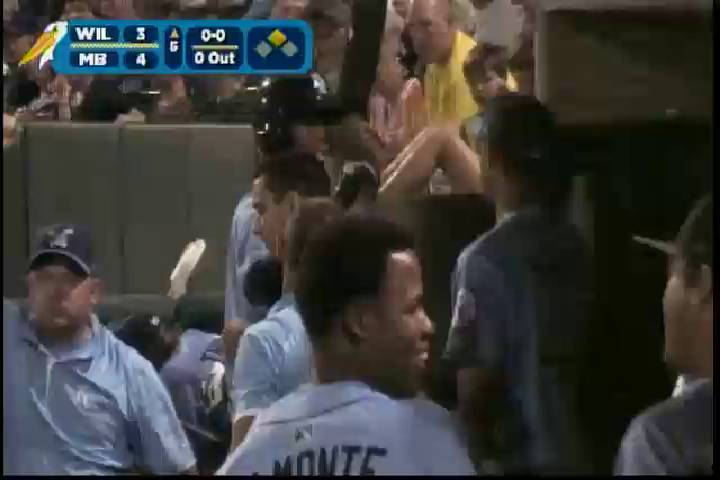 By Ashley Marshall / MiLB.com | July 23, 2014 11:37 PM ET
The Carolina League All-Star break couldn't come quickly enough for Bubba Starling.
The outfield prospect said he was trying too hard to make things happen at the plate and that degenerated into chasing bad pitches and losing his patience. It was a downward spiral. The more he struggled, the harder he pressed and the more he struggled.
In mid-June, the league took a three-day break to showcase its best talent in a game against the California League All-Stars. Starling and his .184 batting average was not invited to join the festivities at his home park in Wilmington, Delaware, but the time off offered a greater reward than midseason recognition. It presented an opportunity to clear his head and refresh himself physically.
The Royals' seventh-ranked prospect went 4-for-5 with three runs scored and two RBIs in the Class A Advanced Blue Rocks' 7-6, 10-inning win at Carolina.
Starling, who missed the cycle by a home run, plated Royals No. 2 prospect Raul Mondesi with a first-inning single to left field, then doubled to center leading off the fourth before scoring on Mark Threlkeld's single.
After plating Mondesi again with a single to left in the fifth and striking out in the seventh, Starling ripped a one-out triple to right in the 10th. With his first four-hit game of the season, he raised his average eight points to a season-high .226 and extended his hitting streak to five games.
"Just came out like every other day. We got our work in before the game and then went out there," Starling said. "I wasn't expecting too much, but I put some good swings on balls and got pitches to hit. I didn't have too much on my mind except playing hard."
The fifth overall pick in the 2011 Draft had one five-hit game -- a 5-for-5 performance -- in Class A Lexington's 8-7 loss to Asheville last June 16. With the exception of a 15-game hitting streak from May 12-20, Starling has only had two other five-game streaks this year.
"Just letting the ball travel ... and I was able to hit a few fastballs, one to left-center and one to right-center," Starling said. "I think it's a matter of whether there's a guy on base and how many outs. A guy on first, I'm trying to get him over and let the ball travel. Second or third, I'm trying to drive the ball. It depends on the situation and getting a good pitch to hit."
The 21-year-old center fielder hit .127 in April, .241 in May and .220 in June. In 65 games before the All-Star break, he batted .184 with three homers. Since then, Starling has a .289 average and four homers. He's also cut down on his strikeouts and improved his OPS from .569 to .791.
"Not chasing early in the count, I'm able to see better pitches in the at-bat and I'm able to put better swings on them," the Kansas native said. "If you chase early in the count, they can keep exploiting that.
"This second half, I've been more relaxed. Our hitting coach, Milt Thompson, has been working with me and I'm in a more comfortable spot seeing the ball. Honestly, from the first half to the second half, I'm now just trying to get that first hit, I'm not thinking about getting three or four. I might have moved my hands back a hair and ... I'm just more loose and relaxed going to the ball instead of chasing pitches that are not there. I have a better feel for where my zone is."
Starling batted .241 with 13 homers and 63 RBIs in 125 games with Lexington last year and, despite his slow start this spring, there's still a possibility he can come close to replicating last season's stats if he puts together another solid month and a half.
"The numbers right now don't matter. We're trying to make a playoff push," Starling said. "They show up on the board here and there and I will take a peek at it, but it doesn't matter. It was a little frustrating, but the All-Star break let me take a little time off and refresh and start a new second half. It's not a hitter-friendly league, but I'm going out each day and competing and I feel a lot better."
"Bubba Starling is playing with a lot of confidence right now," Blue Rocks manager Darryl Kennedy said. "At the plate, the good thing is he's starting to get those cheap hits, the ones you get jammed on a little bit and you are able to get a base hit. That's the one thing that was missing in the first half is he wasn't getting those because he wasn't making contact. Now he's starting to make contact with those pitches and it's starting to pay off."
Mondesi was 2-for-2 with two doubles, a pair of RBIs and two runs scored ahead of Starling, while Michael Antonio plated two runs.
Yhoxian Medina collected three hits and two RBIs for Carolina.
Ashley Marshall is a contributor to MiLB.com. Follow him on Twitter @AshMarshallMLB. This story was not subject to the approval of the National Association of Professional Baseball Leagues or its clubs.
View More