Stingy Baragar, Cats take Triple-A crown
Giants southpaw spins five scoreless frames, Maris goes yard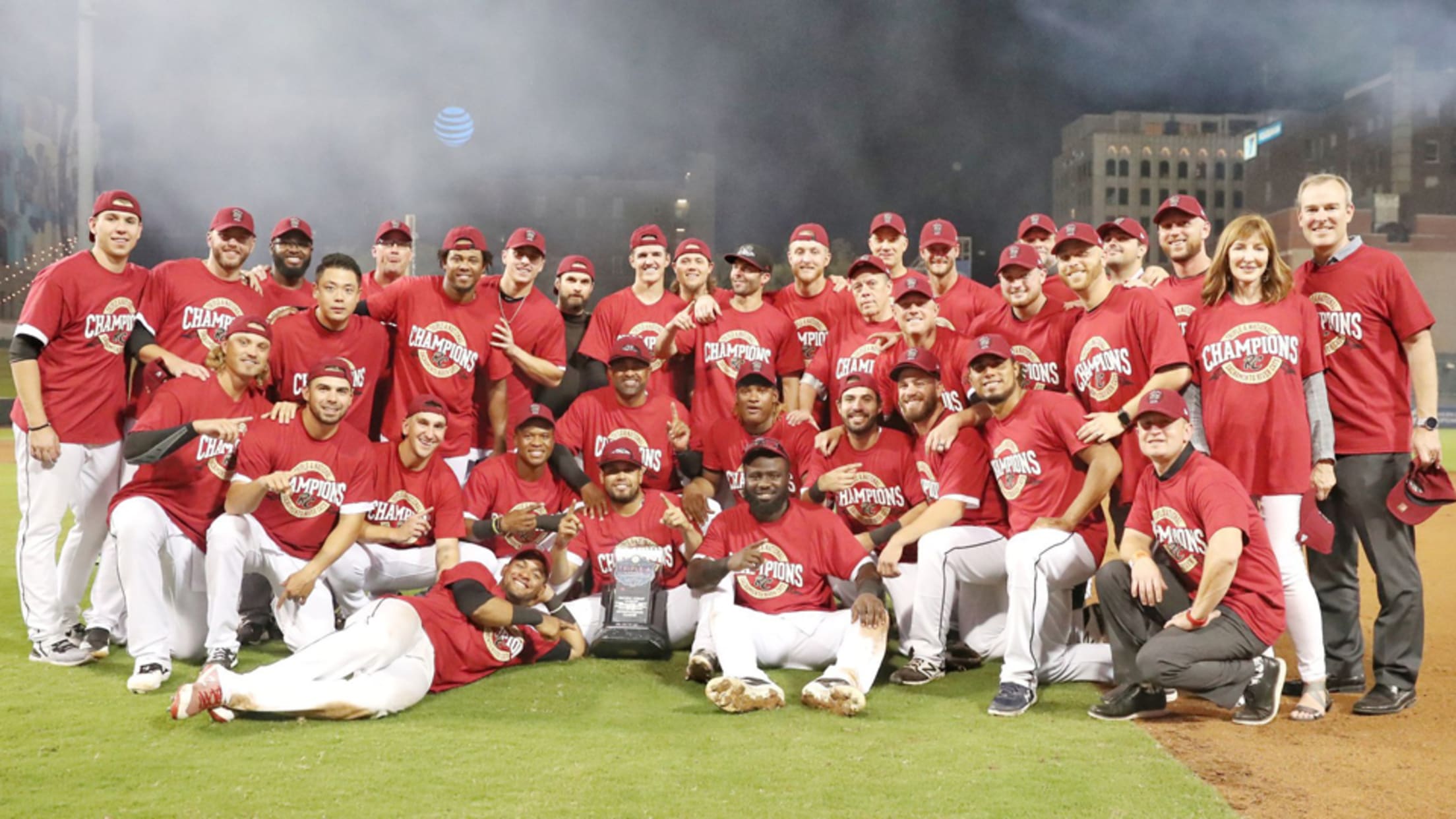 With three wins, Sacramento boasts the most Triple-A National Championships since the format began in 2006. (Memphis Redbirds)
MEMPHIS, Tenn. -- Three and a half weeks ago, Caleb Baragar took a big sigh of relief. His season was done, he got a "good job" from Giants officials and he headed to Arizona to see his girlfriend, Bree. A couple days later, however, it was back to baseball. Sacramento
MEMPHIS, Tenn. -- Three and a half weeks ago, Caleb Baragar took a big sigh of relief.
His season was done, he got a "good job" from Giants officials and he headed to Arizona to see his girlfriend, Bree. A couple days later, however, it was back to baseball.
Sacramento needed him in the playoffs. So he found a Triple-A ball and played catch until he fully understood what it did to his pitches. Before long, Baragar was shutting down hitters in the Pacific Coast League Finals. Another good job.
Then came one more start in the final Minor League game of the year.
Baragar can rest easy after he helped Sacramento top Columbus, 4-0, on Tuesday in the Triple-A National Championship at AutoZone Park.
"It's awesome. I've never actually won a championship, so this is my first one," the Giants prospect said. "It's surreal. It's just a surreal experience."
Using his fastball and "some really good curveballs," Baragar shut down the International League champions with ease and worked around two hits and a walk while striking out five over five scoreless frames en route to being named MVP. As he walked off the mound, he breathed another sigh of relief.
Baragar used Major League balls -- which are now employed at the Minors' highest level -- once before, but it was a tough introduction. After starting the season with Class A Advanced San Jose, he made a spot start for Sacramento on May 2 and surrendered five runs on six hits and two walks with six strikeouts in 4 1/3 innings.
But instead of returning to the hitter-friendly California League, Baragar got bumped to Double-A Richmond. There, the 25-year-old settled into form. Across the three levels, the southpaw went 5-6 with a 3.57 ERA, a career-best 135 strikeouts and 53 walks over 141 innings.
Baragar returned to Triple-A with a better sense of the baseball.
"Ball flies. It's no secret, more home runs are hit here," he said. "My fastball had a little more life, I don't really know why, that's for somebody smarter than me. My off-speed stuff's a little bit sharper and a little bit tighter. My curveball's not as big and my slider's not as big; they're tighter. So for me, coming in, I knew I had to try to throw more to a certain spot, letting everything break."
Since his time at the University of Indiana, Baragar has been able to dominate in the postseason. The Michigan native notched a 1.80 ERA over 10 innings in the Big Ten Tournament. In the Minors, he has an 0.82 ERA over 11 frames in two seasons. The 6-foot-3 hurler said it's the bump of adrenaline of the playoffs and the extra need to help his team that helps him lock in.
The River Cats got going early on an RBI groundout by Francisco Peña and a two-run single by Jacob Heyward in the first, giving Baragar a chance "pitch a little more relaxed."
In the sixth, Peter Maris provided the level's signature power with a solo shot to right that capped the scoring.
"[The only homer] came from the No. 9-hole hitter!" Sacramento manager Dave Brundage said. "He has come through -- he hit a big homer in Vegas as well. That's one of the things that we touched on, that it's been somebody different, a collective effort by all. That epitomizes how our season has gone."
Indians prospect Shao-Ching Chiang was strong for the Clippers in relief. The 25-year-old right-hander allowed a run on three hits and two walks with two punchouts in four frames. Starter Kyle Dowdy recorded one out and gave up three runs on three hits and a walk.
Columbus had runners get as far as second base only twice and could not score against Baragar and relievers Ricardo Pinto, Melvin Adon and Steven Okert.
"They're awesome. Everybody was lights-out," Baragar said. "With Pinto coming in right away and punching out four guys in two innings, that's huge. And then Adon came in and he throws 100 [mph]; that's tough. That's really tough for a hitter to hit, so he came in and did his job."
Giants, River Cats try new approach to success
In a level all about change, Okert spent the entire season with the River Cats. He's also been with Brundage for parts of his three seasons at the helm. And with the PCL being what it is, the manager didn't want to take anything for granted until the final out, going to a pitcher he trusts, one with big league experience.
"One of the sentiments on my part was, he's been here all year and he's one of only a couple guys who have been here all year," the skipper said. "And he got to finish the game on the mound and close it out, so it's nice."
Was that Brundage's plan all along?
"I would say it was definitely in my heart. Sometimes you go with your gut feeling."
Kelsie Heneghan is a reporter at MiLB.com. Follow her on Twitter @Kelsie_Heneghan.