Stock Watch: Demeritte pointing up
Rangers infield prospect tapping into power away from friendly park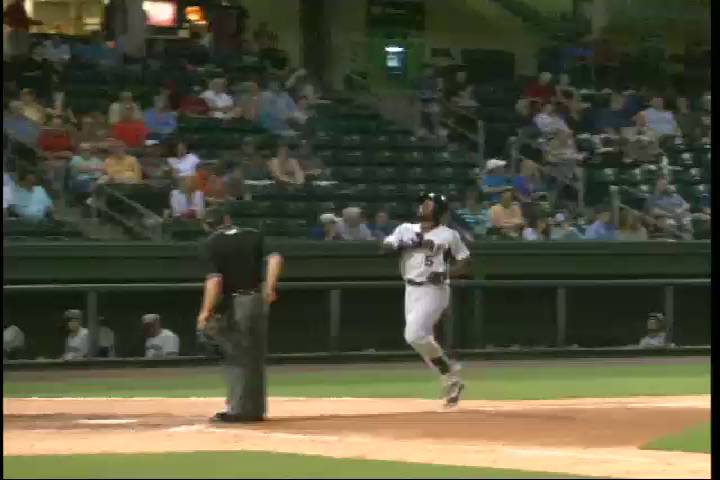 By Jake Seiner / MiLB.com | June 25, 2014 10:39 AM ET
Once a week this season, we're going to break down the prospects who have moved the needle on their prospect stock, mostly highlighting players on the rise, but also pointing out a few who are struggling against expectations. Note: All stats are through games played on Monday.
Trending up
Rangers 2B/3B Travis Demeritte, Class A Hickory
Outside of the California League, there aren't many ballparks that make for a better hitter's paradise than Hickory's L.P. Frans Stadium. The park is one of the best for slugging long balls in the Minors -- ranking only behind Asheville's McCormick Field in the South Atlantic League -- and so hefty home run totals from the Crawdads are often met with a dose of skepticism.
But then there's Demeritte. The 19-year-old was the 30th overall pick in the 2013 Draft by the Rangers. His tool belt came with good credentials, to be sure, but he appeared years away from becoming a true power threat. Wrote MLB.com's Jonathan Mayo in his pre-Draft evaluation:
"Lean and athletic, there's some room for Demeritte to add strength to his frame. He makes consistent contact with good bat speed, driving gaps right now, but with the chance to have some pop in the future."
Demeritte's pop has arrived far sooner than anticipated. He's already popped 16 homers for Hickory this season, and the most intriguing thing about his line is that 11 of them have come away from L.P. Frans. In fact, the Georgia native is slashing just .195/.284/.364 at Hickory's hitters' haven while posting a robust .274/.368/.637 line on the road, where there are far fewer cheap shots to be had. And to be sure, Demeritte has earned most of his long balls in emphatic fashion, like this one belted at Greenville on June 1.
Demeritte's putting together an impressive season despite a horrid April, in which he hit .183 with strikeouts in 35 percent of his at-bats. The swing and miss remained in his game in May, but the contact got harder, resulting in eight homers and a .271/.330/.594 triple slash.
In June, Demeritte seems to be turning a corner. He's already walked 11 times in 18 games, more than in either April or May. He's still striking out too much (23 times in 18 games), but the power has remained and the added walks have helped him post a .351 on-base percentage despite a .234 batting average.
The swing and miss in Demeritte's game is real. In watching at-bats from early May and more recently, his propensity to guess wrong on off-speed pitches is high -- see the screen grab below of a pitch Demeritte chased off Yankees' prospect Ian Clarkin as an example. The pitch appears to have never even come closer to Demeritte than the left-handed batters box.
It's not unprecedented for a guy to put those tendencies behind them with age and experience, at least to a certain extent (see: Gallo, Joey). Although Demeritte lacks Gallo's elite pop, he should offer more defensively, likely at second base. If the power remains and the whiffs don't, Demeritte could be an above-average big leaguer a few years down the road.
Rangers RHP Akeem Bostick, Class A Hickory
While we're highlighting the Rangers' 2013 Draft class, may as well take a look at Bostick, who went in the second round of last June's Draft. Bostick is a projectable 6-foot-4 right-hander from South Carolina. He already can run his fastball into the mid-90s on a good day and has shown good control (2.45 walks per nine) for a high school Draft pick tossed straight into full-season ball.
Bostick has been especially good of late. He's thrown 15 straight scoreless innings, including five scoreless frames against Kannapolis on Monday. As Bostick says in that story, he felt like he was able to be effective with his off-speed pitches, a good sign considering both his curve and changeup were considered projects when he was drafted.
The overall numbers are promising -- a 3.75 ERA, a 50-percent groundball rate (per MLBFarm.com) and a 42-to-17 strikeout-to-walk ratio. The only gap statistically is he's striking out only 6.1 batters per nine innings, but as his off-speed stuff has come around, the K's have started to come -- he's punched out 13 batters in 16 June innings. As the change and curve continue to develop, the strikeouts should keep coming for Bostick, and when that happens, the Rangers could have a top pitching prospect charging through the system in short order.
Trending down
Blue Jays OF D.J. Davis, Class A Lansing
Davis was one of the most athletic players on the board in the 2012 Draft, with his toolset headlined by legitimate 80-grade speed. Davis' upside was outstanding, with the chance to become an outstanding defender in center who could hit for average, power and steal tons of bases.
The reality thus far for Davis has been far short of that promise. Davis is hitting just .219 through 64 games with the Lugnuts, striking out in 32.6 percent of his plate appearances. Even more striking, Davis has been caught more times attempting to steal (12) than he has stolen bases (7).
Jake Seiner is a contributor to MiLB.com. Follow him on Twitter at @Jake_Seiner. This story was not subject to the approval of the National Association of Professional Baseball Leagues or its clubs.
View More