Stock Watch: Mets' Molina making waves
Brooklyn right-hander showing maturity, stuff and command in NYPL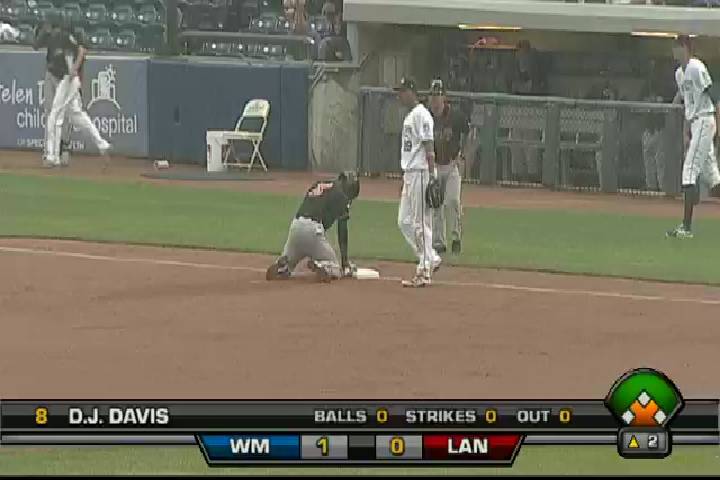 By Jake Seiner / MiLB.com | August 27, 2014 10:30 AM
Once a week this season, we're going to break down the prospects who have moved the needle on their prospect stock, mostly highlighting players on the rise, but also pointing out a few who are struggling against expectations. Note: All stats are through games played on Monday.
Trending up
Mets RHP Marcos Molina, Class A Short Season Brooklyn
In the evaluation process, a lot can change in a year -- particularly when teams are dealing with teenagers. From what Brooklyn manager Tom Gamboa can tell, the difference between 18-year-old Marcos Molina and the 19-year-old edition is stark.
"This is my first year here," Gamboa said. "They tell me that a year ago, [Molina] got flustered in the [Rookie-level Gulf Coast League]. There were people in the Mets system who were concerned about him handling the crowds and the lights."
And yet, as Molina jumped from the complex leagues to Brooklyn -- home to one of the strongest fan bases in the lower levels of the Minors, where 200,000-plus fans routinely show up per summer -- the 19-year-old hasn't just handled the mental rigors. He's thriving.
"He's matured so fast from last year to this, that from Day 1 here, he's been in total command and poised in all his outings," Gamboa said. "It's just a credit to him and his growth and maturity and the God-given ability that he's got."
The results match Gamboa's praise. Molina is 7-2 with a 1.56 ERA in 11 starts this season, and over 69 1/3 innings, he's struck out 81 and walked just 17. The righty is missing bats with each of his three offerings while showing advanced command of the whole repertoire.
The Dominican right-hander works off a 93-to-95 mph fastball. His most notable offspeed pitch coming into the season was his changeup, and while the slowball is probably still his sharpest secondary offering, his slider has nearly caught up -- Gamboa called the breaking ball "devastating" last week.
"He can throw all of them in any count," Gamboa said. "It really puts the hitter at a disadvantage."
Molina has continued to improve as the season's progressed. He's struck out 40 batters over 27 2/3 innings in his last four starts -- not including two punchouts over a scoreless frame at the New York-Penn League All-Star Game -- and shown an improved feel for game-planning and making adjustments.
"It's just a case of him getting a better feel for pitching and reading hitters' swings and knowing what to throw to upset their timing," Gamboa said. "I just can't say enough good things about his development, watching him from March until the end of August now, how fast he's come and how focused he's been."
New York has been conservative with Molina, even though he's proven too good for short-season competition. Gamboa -- who took his first MiLB managerial gig in 1983 -- thinks Molina could skip Class A Savannah and jump straight to the Florida State League next season, and wouldn't be surprised if the teenager reaches Double-A by the end of the 2015 season.
"I wouldn't be surprised if he went right to [Class A Advanced] St. Lucie and got a taste of Double-A," the skipper said. "He's just a different guy that's going to be on a little faster track than normal."
Dodgers RHP Jharel Cotton, Class A Advanced Rancho Cucamonga
Cotton's path to the professional ranks is a bit out of the ordinary. A St. Thomas native, Cotton grew up playing baseball on the Virgin Islands but jumped to the U.S. as a teenager and ended up pitching at East Carolina. The Dodgers selected him in the 20th round of the 2012 Draft, and as a professional, he's managed to miss a ton of bats, but has also struggled to perform consistently -- at least until recently.
After tossing a complete-game shutout on July 29, Cotton said he'd discovered earlier in the year that he was tipping his pitches to Cal League hitters -- one reason his ERA was 5.88 in mid-July. Prior to a July 22 start at Bakersfield, Cotton finally made an adjustment to his delivery that he thinks corrected the issue. In seven starts since, Cotton has a 1.11 ERA with 55 strikeouts and 12 walks in 48 2/3 innings.
Cotton's long-term role remains a question -- his best pitch is his changeup, and changeup-first hurlers often thrive in the lower levels only to struggle at Double-A or above. Still, there isn't much more Cotton could be doing right now to justify a spot in the Southern League next season, and continued success could make him a player to watch in the Dodgers' system.
Trending down
Blue Jays OF D.J. Davis, Class A Lansing
Another year has just about come and gone, and the 2012 first-rounder has yet to translate his outstanding athletic tools into on-field results. The 20-year-old is, by all accounts, an outstanding athlete whose wheels should make him a stellar defender in center and an explosive threat on the bases.
Offensively, things have yet to break Davis' way. In 116 games with the Lugnuts, Davis is hitting .212 with a .582 OPS. He's struck out 159 times and hasn't even been particularly good even when he's reached base, swiping 16 bases while being caught 19 times.
Players with Davis' athletic gifts are allotted all the time they could possibly need to improve, but so far, the Mississippi native has yet to show much progress. In 234 Minor League games, he owns a .228 average and .661 OPS. There's always next year.
Jake Seiner is a contributor to MiLB.com. Follow him on Twitter at @Jake_Seiner. This story was not subject to the approval of the National Association of Professional Baseball Leagues or its clubs.
View More