Taijeron ends Syracuse's cycle drought
Mets outfielder accomplishes feat a week after falling a hit shy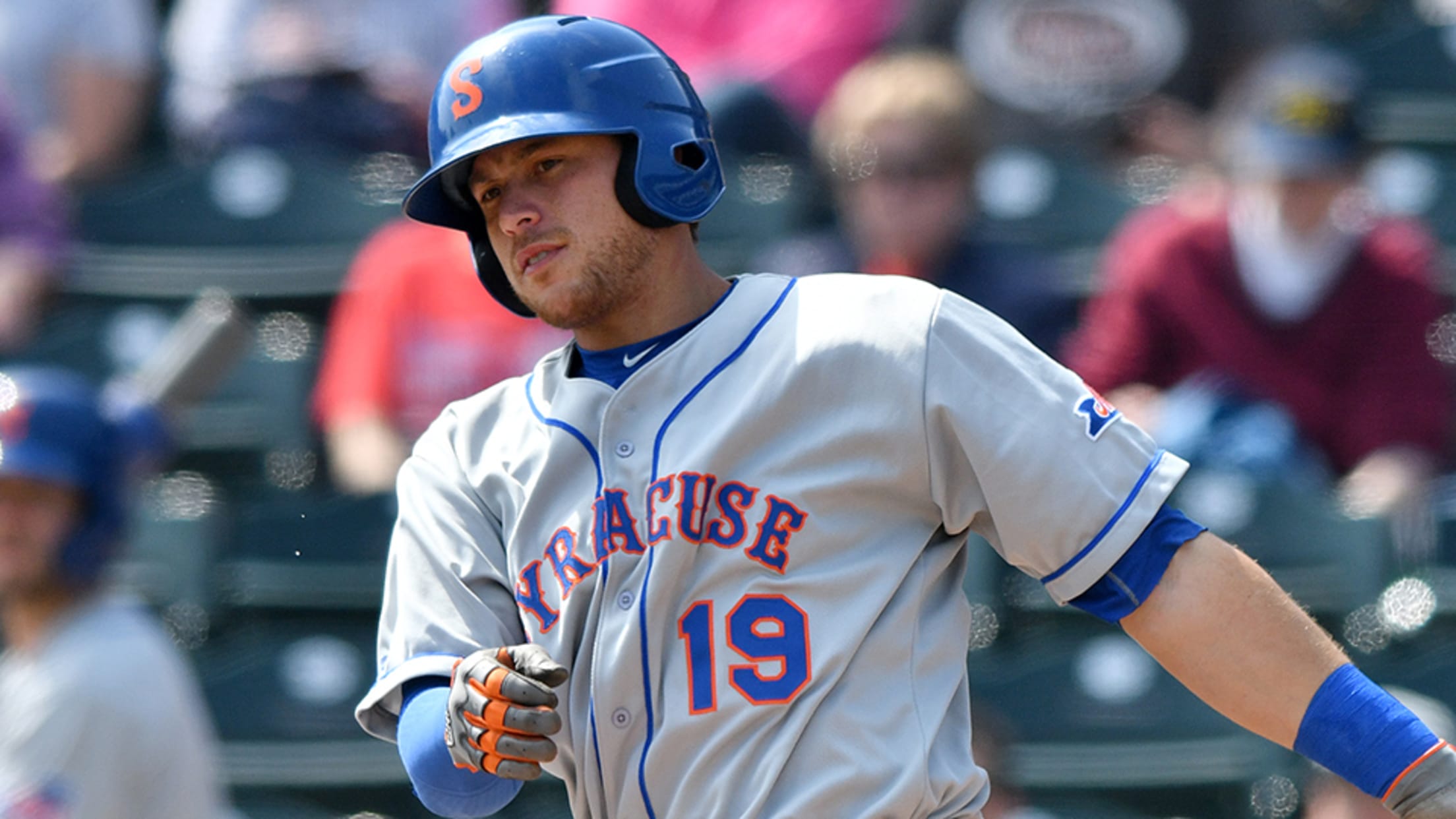 Travis Taijeron moved into an eighth-place tie in the International League with 13 homers. (Ken Inness/MiLB.com)
There isn't a time in his career where Travis Taijeron remembers hitting for the cycle. There have been many close calls and what-could-have-beens, so when he smacked a hit into the left field corner, needing a double to complete the feat on Friday, there was no way he was going
There isn't a time in his career where Travis Taijeron remembers hitting for the cycle. There have been many close calls and what-could-have-beens, so when he smacked a hit into the left field corner, needing a double to complete the feat on Friday, there was no way he was going to stop at first base.
"I hit and I said to myself that I was going to second no matter what," he said. "I'm like, 'One day, man, one day I'm going to get that.'"
After sliding headfirst into second in the seventh inning, the Mets outfielder recorded Triple-A Syracuse's first cycle since Sil Campusano achieved the feat on Aug. 25, 1987 as the Mets topped Pawtucket, 13-4, at McCoy Stadium.
Against Scranton/Wilkes-Barre on Saturday, Taijeron fell a triple shy of the cycle in a 17-12 loss. But with four hits on Friday, he became the seventh player in the Minor Leagues to do it this season. Having gotten close last week and other previous times, it felt like a long time coming for the nine-year veteran.
"It was really exciting. I have to say I've never done it before -- I don't remember doing it in high school or college, but I know I've never done it professionally," Taijeron said. "It's kind of been a goal, for sure, because I've been so close so many times. So it's exciting."
Taijeron's near-miss against the RailRiders started a four-game hitting streak before he fell into an 0-for-7 slide in the two contests coming into Friday night. He saw his average dip to .205, but with four knocks against the PawSox, the outfielder raised his average 23 points and his OPS 83 points to .950.
Gameday box score
It's been a reunion year of sorts for Taijeron, who rejoined the Mets organization after spending last season with Triple-A Oklahoma City in the Dodgers organization. The Cal Poly Pomona product was taken by New York in the 18th round of the 2011 Draft and played his first seven seasons with the Mets, including a 26-game stint in the Majors in 2017.
Back on the East Coast for the first time since the end of that season, Taijeron said it's nice to be teammates with familiar faces. And to be able to accomplish some history in their presence just added to the moment.
"I was pretty pumped up and the guys on the team were trying to get the ball for me [on the double] the whole time," Taijeron said with a laugh. "It's cool to go to all the other stadiums in the International League; I played four years in the [Pacific Coast League]. ... It's good being back with the Mets. I have to say I'm glad for them to have me back over here and I have to say I'm having a good time with all these guys on this team."
The 30-year-old was having a good time in the second when he poked a single to right field against right-hander Teddy Stankiewicz to score Luis Guillorme from second base. An inning later, Taijeron got the triple out of the way when he drove in Guillorme again with a drive to center that kicked around in the outfield. The three-bagger was his first since May 13, 2018. Getting the hard one out of the way early made things a bit easier, Taijeron said.
"Early in the game, I'm just trying to win a ballgame and get myself into scoring position," he added. "That's why when I saw [Gorkys Hernández] kick it, I took off. Our team was hitting all-around today, so we did a great job as a team."
He walked in the fifth but got back to swinging the bat in the sixth, taking a 1-2 pitch from righty reliever Adam Lau and sending it over the right-center field wall for a three-run dinger, his 13th homer of the campaign. Taijeron, the only Met with double-digit homers, is tied for eighth in the IL.
Although he carries a .228 average when down in the count this season, Taijeron collected three hits with two strikes on Friday.
"For the homer today, it was a fastball away and I was going with it in that direction," he said. "My approach is staying the other way with everything and working the inside part of the baseball. I just so happened to hit it a little more out there. Keep getting the ball away, so I gotta take it where I can get them."
With a chance to finish the cycle in the seventh, the California native didn't even realize he had a chance at the feat until he stepped into the on-deck circle. On the second pitch, he lined a two-out double to left off right-hander Trevor Kelley to put his name in the IL record book. The double also completed Taijeron's first four-hit game since June 7 when he was with Oklahoma City.
Taijeron became the second player in the IL this season to cycle after Charlotte's Ryan Cordell did it on April 10 against Norfolk.
"I was pretty excited, I have to say, because I've seen guys [do it] before against us, not this year but in previous years," he said. "Everyone congratulated me and all that because it's something you rarely see in baseball. So I have to say I was really excited to get one."
Without a five-hit game in his career, Taijeron had a chance at another milestone in the ninth when he was facing PawSox outfielder Cole Sturgeon. After six pitches, Taijeron took his second walk of the game to reach for the sixth time.
"Well, we were facing a position player in the ninth inning, so you've gotta take those at-bats and stay as calm as you can," he said. "I ended up walking, but I wanted to get that fifth hit there, for sure. I'll take the walk any day."
Rajai Davis and Danny Espinosa also homered as part of Syracuse's 13-hit attack. Rubén Tejada collected two hits to raise his average to .455 and Matt Kemp -- playing his first game with the club -- singled in six at-bats.
Andrew Battifarano is a contributor to MiLB.com. Follow him on Twitter, @AndrewAtBatt.