Taylor plates decisive run in Triple-A bow
No. 3 Washington prospect reaches safely four times in Chiefs debut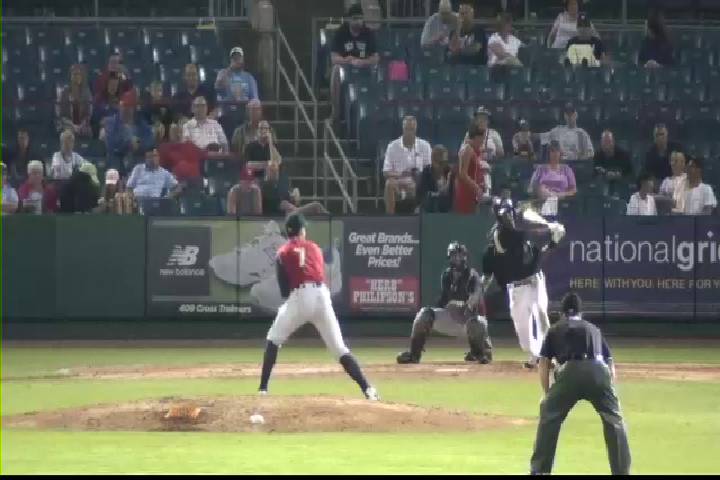 By Ashley Marshall / MiLB.com | August 5, 2014 12:54 AM ET
Nationals outfielder Michael Taylor couldn't have drawn up Monday's International League debut much better, even if he did get news of the promotion late Sunday night while he was out celebrating a couple birthdays.
Washington's No. 3 prospect went 2-for-2 with a go-ahead RBI double and a pair of walks in his first game for Triple-A Syracuse en route to the Chiefs' 7-6 victory over the visiting Scranton/Wilkes-Barre RailRiders, 7-6, on Monday.
"I think it was a good win," Taylor said. "You want to be comfortable with where you are, so doing well and having success and helping the team win definitely helps you feel good as a player. It's a good group of guys here and everyone from day one has been really nice and welcoming.
"It was definitely a good day for me. I was happy to get the walks because that is something that I don't get too often. I would say I was pitched pretty similar to how I was in Harrisburg, but my approach is to be quiet and get a good pitch to hit."
Batting fifth and playing center field, the 23-year-old drew a five-pitch walk in the second inning and another free pass on six pitches in the fourth. He got his first International League hit on a one-out single to left field in the sixth before snapping a 6-6 tie with an RBI double to left with two away in the seventh.
Syracuse trailed 3-0 after three and 6-4 through six, but a pair of big innings helped the Chiefs rally. Taylor, ranked 72nd, among MLB.com's Top 100 prospects was involved both times. He scored the tying run in the fourth when he walked and came home on Wil Rhymes' double, and he delivered what proved to be the decisive blow when his extra-base hit off Pat Venditte chased home Emmanuel Buriss in the seventh.
"He started the at-bat slider, slider and that was a little weird to me with him dropping down side-arm," Taylor said of the switch-pitching Venditte. "It was side to side and pretty slow. I chased a pitch at 2-0 and then fouled off the next one to get to 2-2. Then he went fastball in and I was looking back out over the plate. I got a slider outside. I was little out in front of it, but I was able to hit it down the line."
Taylor hit .313 with 22 homers, 61 RBIs and 34 stolen bases in 98 Eastern League games with Harrisburg before his promotion. He was out at a restaurant Sunday evening with teammates Cutter Dykstra, Rick Hague and Paul Demny and host mom Juanita Westhafer celebrating Westhafer and Demny's birthdays when Senators skipper Brian Daubach called with news of the callup.
Harrisburg had just finished a four-game homestand with Akron, so Florida native Taylor jumped in his car and set off for Syracuse at 9 a.m. ET on Monday, arriving around 2 p.m. in plenty of time for his debut.
Taylor's name is all over the Eastern League leaderboard in a number of statistical categories. The 2009 sixth-rounder ranks second in slugging percentage (.539), runs (74) and total bases (207), third in homers (22), fourth in stolen bases (34), fifth in hits (120) and sixth in average (.313). He also had the second-most strikeouts (130) on the circuit, behind only New Britain's Brandon Waring with 138.
The strikeouts are one thing Taylor wants to address moving forward, especially against better pitching where his weaknesses could be exploited.
"I put a lot of work in in the offseason, working on my approach and my swing," he said. "But once the game starts, you're not trying to do too much. Just trying to have fun and play the game the right way. I'm trying to be more consistent. There are still at-bats that get away from me.
"Tonight I was able to recognize some pitches early in the count that were out of the zone, so I'm trying to be patient at the plate. I definitely saw more offspeed pitches [this year] than anything else, so they are trying to pitch me a little backward, but that is pretty normal for the league. Just getting in a position to hit, I realized I'm able to hit more than just the fastball."
Syracuse third baseman Brandon Laird homered and plated three runs. Matt Grace (1-0) retired all five batters he faced to earn his first Triple-A win. Starter A.J. Cole allowed four runs -- three earned -- on six hits and four walks over 4 1/3 innings.
Scranton/Wilkes-Barre's Nik Turley surrendered four runs on two hits over 3 2/3 frames. He walked three batters and struck out three.
Ashley Marshall is a contributor to MiLB.com. Follow him on Twitter @AshMarshallMLB. This story was not subject to the approval of the National Association of Professional Baseball Leagues or its clubs.
View More