Tebow comes up empty in second game
Mets outfielder makes debut in outfield but finishes 0-for-4 vs. Astros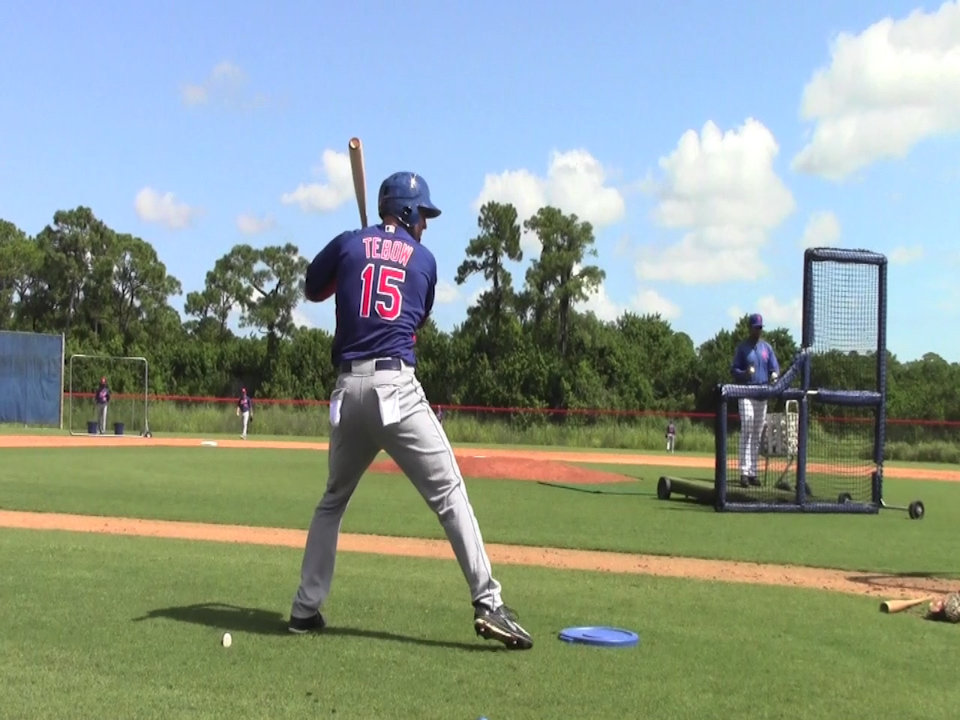 By Danny Wild / MiLB.com | March 10, 2017 3:39 PM ET
Tim Tebow had his chance in the eighth inning, stepping to the plate as the go-ahead run with two men on against the Astros on Friday.
The former Heisman Trophy winner, however, hasn't yet found his underdog magic. Tebow went down swinging to end the inning as the Mets lost to Houston, 7-6, at First Data Field. The game marked the second Major League exhibition for Tebow, who finished 0-for-4 with three groundouts.
"I felt I was seeing the ball really well," Tebow said in a post-game press conference. "I also felt a lot quicker to the ball."
Tebow made his Spring Training debut for the Mets on Wednesday, playing as the designated hitter against Boston. He took the field on Friday, spending most of the game in right before defensive substitutions pushed him over to left field.
"I think it definitely keeps you warmed more," Tebow said of playing the outfield. "Into the game a little bit more. I think because of it, it keeps you a little bit more comfortable. I didn't get a lot of action in the outfield late, but early on I got some plays, which was fun. Nice to get the opportunity to get some real plays. A couple days of practice doing some outfield drills, but it's different to be able to do it in the game."
The 29-year-old grounded out to first in the third inning against Astros starter Joe Musgrove before hitting a hard one-hopper to third to leadoff the fifth. He grounded out to short to start the seventh and then struck out in the eighth against Brian Holmes despite taking three balls to start the at-bat.
"I think two days ago I think I was just excited, trying to take big hacks," he said with a smile. "[Today I was] shortening up and getting quicker to the ball -- I felt like I was seeing it well, making good contact, but just a little bit, the plane, being a little bit steep to it. But it felt like I was seeing it pretty good."
The former NFL quarterback is 0-for-7 with a hit-by-pitch in two Major League Spring Training games. The Mets started Tebow -- who has been assigned to Minor League camp -- twice this week after losing players to the World Baseball Classic. He's expected to return to the Minors and see the bulk of his spring time there.
Tebow, who rose to stardom at the University of Florida, again received plenty of cheers from Grapefruit League fans on Friday after getting multiple standing ovations during his debut two days earlier, although it came the same day the Treasure Coast Palm reported that one fan had been arrested for trespassing in Port St. Lucie last month after telling police she was in a romantic relationship with the Mets outfielder.
"I just try to focus on the next thing, but at the same time I wish her the best and just pray for her and want her to get as much help as she needs as possible," said Tebow.
Astros No. 25 prospect Colin Moran finished 2-for-3 with a two-run homer in Houston's six-run fourth inning.
Danny Wild is an editor for MiLB.com. Follow his MLBlog column, Minoring in Twitter. This story was not subject to the approval of the National Association of Professional Baseball Leagues or its clubs.
View More