Texas notes: Bedrosian not holding back
Travs reliever learning what it takes to get back to the big leagues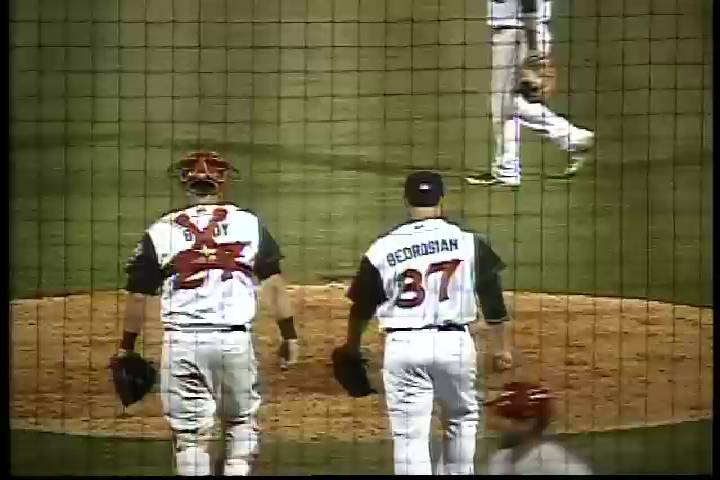 By Todd Traub / Special to MiLB.com | July 22, 2014 10:00 AM ET
Cam Bedrosian was born a little too late to see his father pitch in the Majors, but the Los Angeles Angels prospect and Arkansas Travelers reliever can always say he played in the big leagues himself.
The trick now is to get back to the bigs and stick.
The right-handed Bedrosian, son of Cy Young winner Steve Bedrosian, is one of Arkansas' top relievers and a Texas League All-Star. Moved to the bullpen after a tough 2012, which followed a 2011 season lost to Tommy John surgery, Bedrosian was promoted to the Angels this season and made his Major League debut June 3 at Houston.
"It was pretty special," Bedrosian said of his scoreless inning that featured a strikeout of Jonathan Villar. "Especially when I had my family there. I had my dad, my brother, his wife, my sister, my mom -- they were all there to watch me, so it was really exciting. Just being in a big league stadium, throwing in front of a crowd like that, and in front of my family. It was awesome."
But two nights later, Bedrosian walked four against the Astros and gave up three runs without allowing a hit in two-thirds of an inning. On June 19 he took a loss against Cleveland, his only decision, after walking two and giving up three runs on one hit.
Not all of his outings were as shaky, and thanks to a pair of scoreless appearances against Toronto, Bedrosian whittled his big league ERA from 14.29 following the Cleveland game to 11.57. Still, Bedrosian, reassigned to Arkansas, admits it was a tough way to learn a valuable lesson.
"I was trying to strike them out before I got a two-strike count," Bedrosian said. "So that's a thing I've worked on since I've gotten back down here. Get ahead of guys. Stay ahead of guys. And then once you get guys 1-2, 0-2, 2-2 -- oh boy -- don't let them back in the count. Up there I was walking some guys, so that was a big thing."
Bedrosian was born Oct. 2, 1991, just before his dad pitched for Minnesota in its victorious World Series against the Atlanta Braves. His mother flew to Atlanta, gave birth to Cam and a few days later flew to Minnesota for the series.
Though he never saw his dad pitch in person, Cam said he has seen similarities watching the 1987 Cy Young Award winner on film.
"He was a little more -- what's the word? -- fiery on the mound," Cam Bedrosian said. "A real in-your-face kind -- go right at hitters. Mentality I think we're the same. I think I'm a little more calm, on the outside at least."
The Angels drafted Cam out of high school in Sharpsburg, Georgia, in the first round in 2010 and signed him for $1.116 million. He made four starts in Rookie ball and then missed all of 2011 due to his surgery.
He went 3-11 with a 6.31 ERA at Class A Cedar Rapids, and he began coming out the 'pen in Class A and Class A Advanced last year.
"For me I think it's just mentality," said Bedrosian, 1-0 with a career-high 13 saves and a 1.26 ERA with Arkansas this year. "I know I've got one, two, maybe three extreme innings. I'm going as hard as I can for those few short innings. There's no holding back."
In brief
Near no-no: Frisco's Odubel Herrera broke up a no-hit bid by Corpus Christi's Chris Devenski with a seventh-inning single Saturday. J.T. Wise followed with a two-run double and the RoughRiders went on to beat the Hooks, 2-1, at Dr Pepper Ballpark. Devenski (2-1) retired 14 straight before issuing a walk in the fifth and finished with five strikeouts in his 6 2/3 innings.
Bobbles and blasts: The Missions suffered consecutive walk-off losses to open their series with the RockHounds last week -- one on an error by outfielder Hunter Renfroe and the other on a grand slam by Midland's Kent Matthes. After losing its ninth in a row to Midland on Saturday, San Antonio salvaged the finale of the four-game set Sunday when Rhymer Liriano scored in the 12th on a throwing error.
Todd Traub is a contributor to MiLB.com. This story was not subject to the approval of the National Association of Professional Baseball Leagues or its clubs.
View More