Texas notes: Hedges feels safer at home
San Antonio catcher comfortable with new home-plate collision rule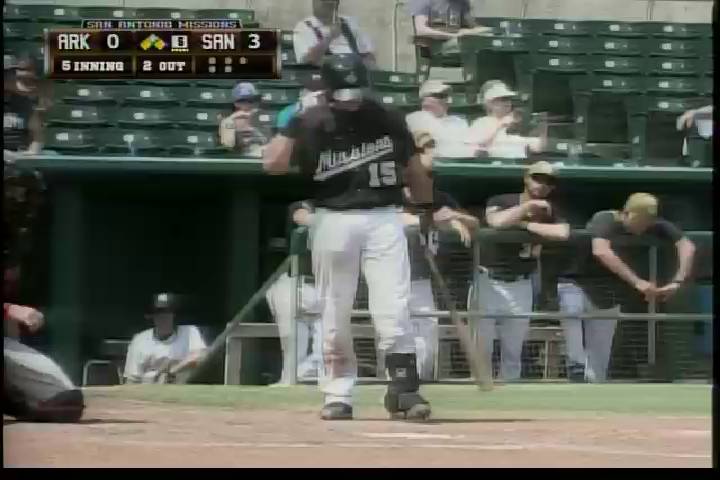 By Todd Traub / Special to MiLB.com | June 3, 2014 10:00 AM ET
The home-plate collision was once one of baseball's signature plays, but an experimental rule change put in place this season has given the next generation of catchers and base runners a new frontier in which to operate.
In February Major League Baseball and the Players Association announced rule 7.13, designed to eliminate "egregious" collisions at the plate. A power play made famous more than anything by Pete Rose's annihilation of Ray Fosse in the 1970 All-Star Game has now become more of a finesse play with the catcher and base runner doing a delicate dance to command the few inches standing between a run scored or an out.
Players such as San Antonio catcher Austin Hedges -- the top prospect in the San Diego Padres system who is widely touted for his top-flight defense -- have been trying to figure out where those inches lie and how to put them to work.
"I love the physicality of the game," said Hedges, also ranked as the No. 1 catching prospect in baseball. "Taking out a catcher had been part of the game for as long as the game has been around, but if it comes down to possibly keeping my career a little longer, I'm all for it."
On a recent night against the Arkansas Travelers, Hedges took a throw from center fielder Rymer Liriano and tagged out Vance Albitz trying to score from second base for the third out of the second inning, preserving for the moment a scoreless tie. Hedges set up to take the throw in front of the plate and gave Albitz just enough of his left leg to slow him down and apply the tag.
According to the new rule, Hedges could only block the plate if he already had possession of the ball and Albitz could not go out of a direct line to the plate to run Hedges over. An interpretation of Rule 7.13 points out that runners who slide and catchers who provide the runner with a lane to the plate will never be in violation of the rule, which is exactly what happened.
Major League executive Tony La Russa, among many experts, has complained about "ambiguity and confusion" over the rule based on a late change that allowed the catcher to block the plate if he has the ball. The original wording prevented catchers from blocking the plate at all.
Interpretations are up to the umpire, of course, who must decide whether a runner has lowered his shoulder or the catcher has taken up too much of the basepath while waiting on a throw, for example.
The plays are subject to replay review -- at least two have been overturned at the big league level this year. Meanwhile, guys like Hedges will continue to try to make the rule work for them as they climb the Minor League ladder.
"I think it allows us to be able to, with the rule, you give the runner the plate, so trying to get him to slide, I think it's just going to save guys' careers and save them from injuries," said the 6-foot-1, 190-pound Hedges, a second-round pick in 2011 out of San Juan Capistrano, California. "You can't play if you're hurt, so as long as we can stay on the field, that's the most important thing."
With the fear of injury perhaps slightly reduced, Hedges, batting .254 with four homers and 23 RBIs in 47 games, is free to continue to do the things that have wowed the Padres, like handle pitchers. During the same Arkansas series he teamed with starter Matt Branham as he threw seven one-hit innings with five strikeouts and a walk in an 8-0 victory.
"I've called pitches since I started in pro ball, and I get a little better each year," Hedges said. "The pitchers are a little better, and they have a game plan as well. I think that makes my job easier, but it's definitely a learning process."
In brief
Memory serves: Frisco shortstop Guilder Rodriguez was 4-for 5-with two RBIs, a run scored and three assists at Springfield on Saturday. It was the first four-hit night as a member of the Rangers organization for Rodriguez, who accomplished the feat in his first Double-A stint with the Hunstville Stars in July 2005. The 30-year-old Venezuela native is hitting .471 in his last 10 games.
Something missing: With a league-low 2.99 team ERA, Tulsa led the North Division by three games over Arkansas entering Monday's action. As proof that pitching isn't everything, however, San Antonio sits second in the circuit with a 3.03 ERA but has struggled at the plate with a league-low .234 batting average and trails Frisco by 4 1/2 games in the South.
Here and there: They don't call them Arkansas Travelers for nothing. The Los Angeles Angels made 12 transactions affecting Arkansas players over a recent two-day span and 32 total transactions affecting the Travelers in May.
Todd Traub is a contributor to MiLB.com. This story was not subject to the approval of the National Association of Professional Baseball Leagues or its clubs.
View More