No pain, big gain: Excelling at the gate in 2017
Sounds post last year's biggest per-game attendance improvement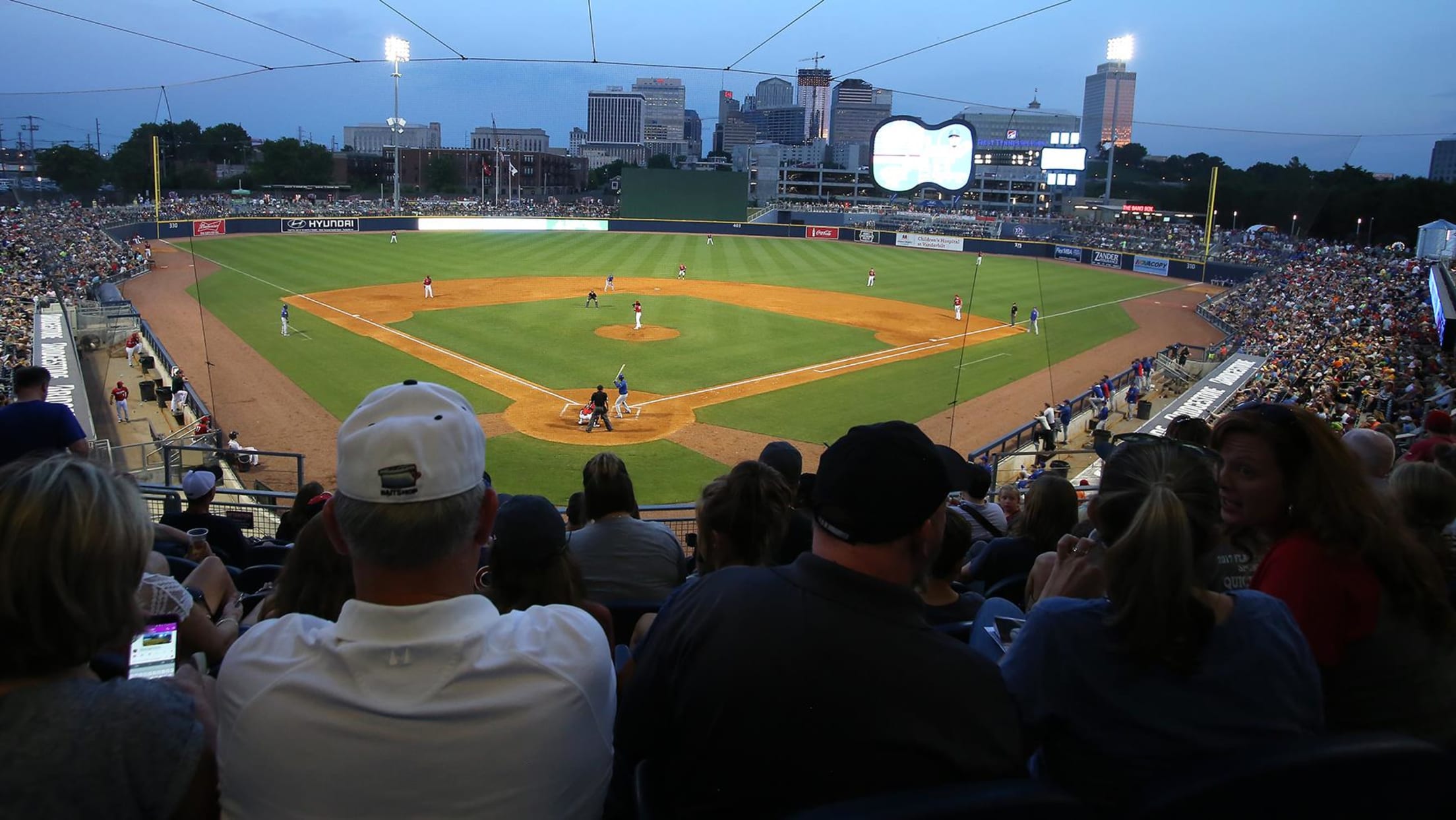 First Tennessee Park was packed in 2017 as the Nashville Sounds notched the largest per-game attendance increase in Minor League Baseball.
From a Minor League Baseball front-office perspective, it's not about wins and losses. It's about how many people walk through the turnstiles. There are, of course, many ways to gauge one's success (or lack thereof) from an attendance standpoint. But one of the best indiciators is the per-game average; unlike total
From a Minor League Baseball front-office perspective, it's not about wins and losses. It's about how many people walk through the turnstiles.
There are, of course, many ways to gauge one's success (or lack thereof) from an attendance standpoint. But one of the best indiciators is the per-game average; unlike total attendance numbers, the per-game average doesn't penalize teams who lost an inordinate number of games due to weather-related cancellations.
This article, assisted greatly by David "The Number Tamer" Kronheim's invaluable Minor League Baseball attendance analysis, takes a look at the 10 Minor League teams who registered the biggest per-game attendance gains in 2017.
Nashville Sounds +1,762
8,861 average; 593,679 total
The Sounds, Triple-A affiliate of the Oakland Athletics, played their first season at First Tennessee Park in 2015 and averaged 7,965 per game. As is often the case with new ballparks, that number dipped in year two (to an average of 7,099). The Sounds posted a significant rebound in 2017, however, averaging 8,861 to lead the 16-team Pacific Coast League and set an all-time franchise record. Sounds general manager Adam Nuse said that a "great staff retention rate" was a key factor, as well as a "philosophical switch to focus on group tickets."
"As we compared ourselves to the Tennessee Titans and Nashville Predators, it was clear that we could differentiate ourselves by offering the best group hospitality in the city of Nashville," Nuse explained. "Both the Titans and Predators are very season ticket-heavy, so the opportunity to solicit group hospitality was an opportunity we were missing when we were trying to compete for that season ticket dollar."
Nuse also said that his front office "invested a lot of time, energy and money to attract young professionals."
"The Band Box, located in right field, has a putt-putt course, Ping-Pong tables and the always-popular whisky and Coke slushy. It is common to see a country music singer, Bachelor contestant or other celebrities hanging out in the Band Box. These are great influencers who through social media really help draw a fan base we would otherwise miss," he added.
Columbia Fireflies +988
4,773 average; 315,034 total
The Fireflies played their inaugural season at Spirit Communications Park in 2016. They avoided a sophmore slump in 2017, and then some -- and Tim Tebow had a lot to do with that. The parent New York Mets assigned Tebow to Columbia following Spring Training, and he played there until getting promoted to Class A Advanced St. Lucie on June 26. As Kronheim notes in his attendance report, the Fireflies averaged 5,308 fans for the 39 games in which Tebow was on the roster. Over the remaining 27 home games, they averaged 4,000. But even 4,000 was an improvement from 2016, when the Fireflies averaged 3,785.
As it turned out, the Fireflies managed to draw the biggest crowd in franchise history after Tebow left the team. The team hosted a "Total Eclipse of the Park" daytime game on Aug. 21 that drew 9,629 fans.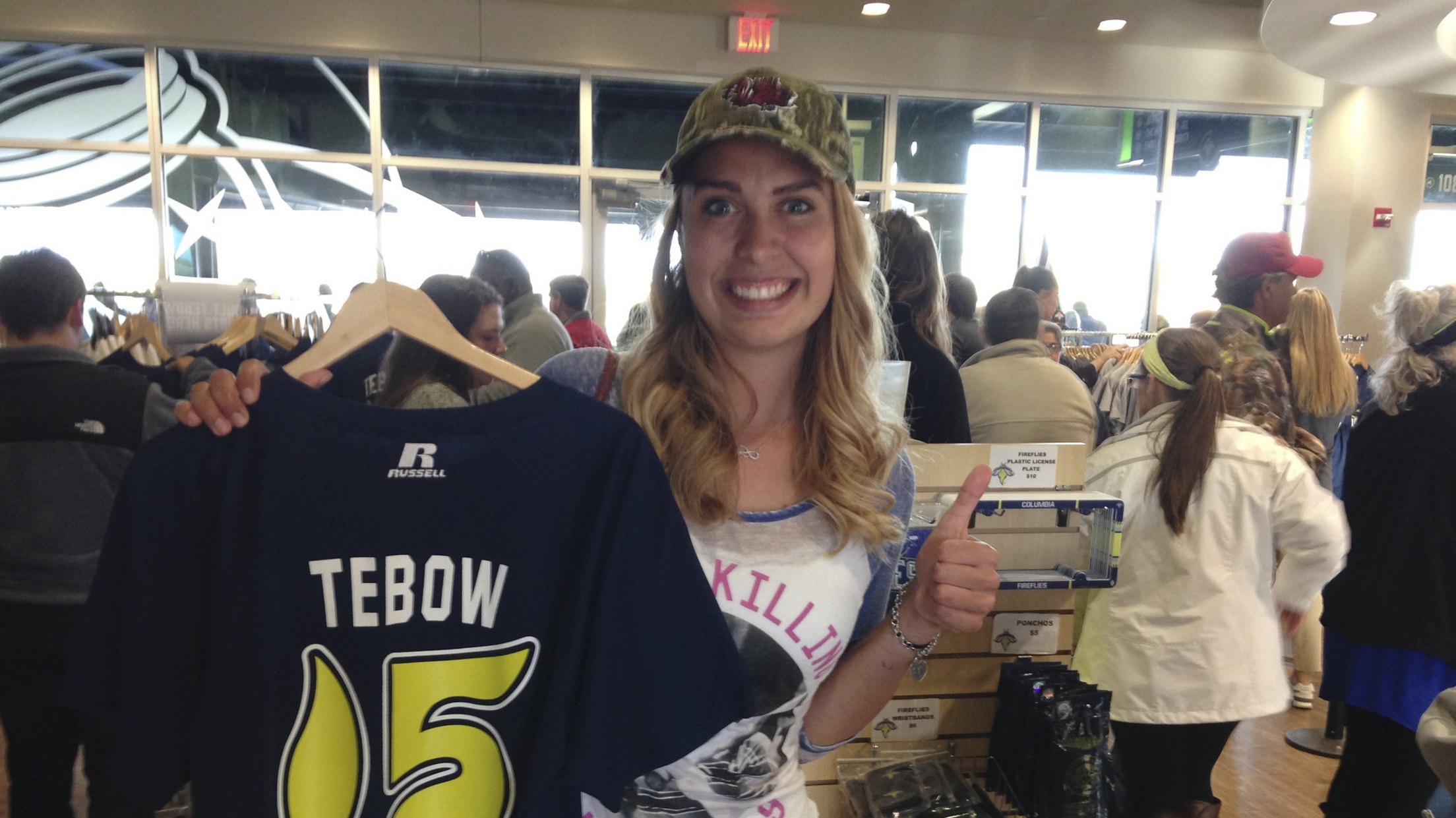 Fans flocked to Spirit Communications Park to see Tim Tebow. (Jeffrey Collins/AP)
Jacksonville Jumbo Shrimp +974
5,171 average; 325,743 total
Jacksonville experienced a transitional year in 2016. After decades of Bragan family ownership, new owner Ken Babby assumed control of the team. The effects were neglibile at the gate, as the Marlins' Double-A affiliate averaged 69 more fans per game than they had the year before. But heading into year two, Babby truly made his presence felt. The team changed its name from the Suns to the Jumbo Shrimp and marketed itself heavily under the new crustacean guise. Despite the initial outrage that is part and parcel of such name changes, the Jumbo Shrimp (and corresponding in-stadium branding and attitude) were a hit. Jacksonville's 5,171 per-game average was its highest since the Suns drew 5,438 per game in 2010.
Potomac Nationals +815
3,869 average, 236,010 total
The P-Nats play in an outdated ballpark (Pfitzner Stadium) and have had the same owner and identity for more than a decade. So what led to their dramatic attendance gain? Bryan Holland, the team's general manager of sales, said the P-Nats are "incredibly proud ... to have reached the third-highest overall attendance mark" in the 40-year history of the franchise.
"The P-Nats' one-of-a-kind, award-winning theme nights, giveaways and other creative promotions and special events combined with the success of the Washington Nationals' talented farmhands proved to be major factors in our 2017 attendance surge," he said.
Certainly, the P-Nats were the only team to give away a "Gobblehead" last year.
Tweet from @PNats42: @espn980 @AlGaldi The Bryce Harper Gobblehead is here at The Pfitz! Pfitzgiving plans set for 5/13! https://t.co/bGqG52VCnH pic.twitter.com/qZqd8J1dni

Binghamton Rumble Ponies +670
3,289 average; 190,765 total
The Rumble Ponies' formula for success was similar to the Jumbo Shrimp's: new ownership, coupled with a dramatic rebranding. Binghamton had spent the previous quarter century as the Mets; the Rumble Ponies moniker references the city's status as the "Carousel Capital of the World." The new identity accompanied a wide array of stadium improvements, resullting in a new lease on life for an enduring Eastern League franchise that had long been the subject of relocation rumors.
Tennessee Smokies +662
4,981 average; 313,796 total
In 2016, the Smokies established an all-time total attendance record, drawing 293,694 fans over 68 dates. They not only established a new mark a year later, they increased their average crowd by 662. Speaking to MiLB.com last season, Smokies president Chris Allen said, "We've added a ton of group sales amenities. Factor that in with beefing up our sales staff ... that's the secret to our success."
Allen went on to remark that "I really believe we can break the record again [in 2017]."
Mission accomplished.
St. Lucie Mets +585
2,005 average; 132,359 total
The Tebow effect strikes again. As Kronheim notes, St. Lucie averaged 1,745 fans over its first 37 home games. Tebow joined the team after being promoted from Columbia and the Mets averaged 2,338 over the remaining 29 games. It's worth noting, however, that even the 1,745 average is a higher total than St. Lucie has posted in recent years. The Mets, who play in their parent club's Spring Training home of First Data Field, finished fourth in the Florida State League with an overall average of 2,005.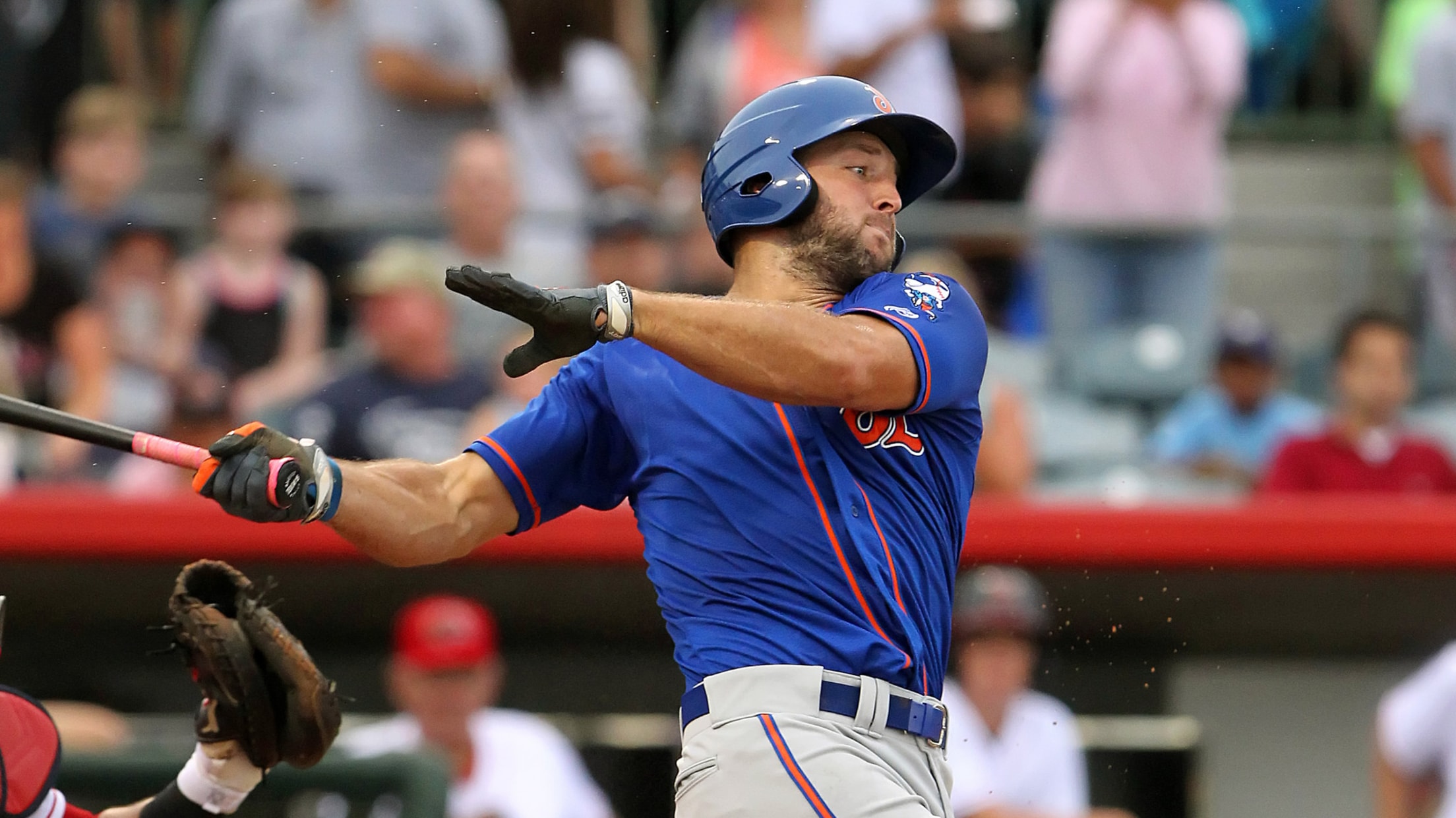 After getting promoted from Columbia, Tim Tebow made his presence felt in St. Lucie. (Cliff Welch/MiLB.com)
Pulaski Yankees +489
2,360 average; 77,880 total
Like the Smokies, the Yankees are on this list a year after setting an all-time attendance mark. The 2017 season success is the continuation of a remarkable renaissance that began in 2014 when local businessman David Hagan bought the team. Calfee Park, the team's 83-year-old home, has undergone extensive renovations and the team has upgraded virtually every aspect of the gameday experience. Last year, Pulaski's attendance was more than double that of eight Appalachian League teams. Only Johnson City, with a 1,976 per-game average, ranks anywhere close.
Lakeland Flying Tigers +481
815 average; 52,191 total
This one deserves an asterisk. In 2016, the Flying Tigers played at 95-year-old Henley Field while renovations were being made to their home of Joker Marchant Stadium. They returned to Joker Marchant last season and their attendance figures returned to roughly where they had been prior to the one-year absence.
Syracuse Chiefs +478
4,636 average; 292,054 total
After a prolonged period of fiscal insolvency, the Chiefs have righted the ship in recent years under the leadership of general manager Jason Smorol.

"Pardon the catch phrase, but it shows that the people of Central New York are 'getting on board' with the Syracuse Chiefs," Smorol said. "We have been very active in the community delivering the message of the Minor Leagues. We are the most affordable family fun entertainment option in town. Through our promotions, our customer service, our marketing and the engagement of our staff, we have been able to grow the business over the past four years."
The Chiefs seem poised for further growth, as the Mets bought the team this offseason. The Chiefs will become a Mets affiliate in 2019 -- after their current agreement with the Washington Nationals ends.