Thompson right at home in new league
Rangers' No. 6 prospect gets first RoughRiders' win in second start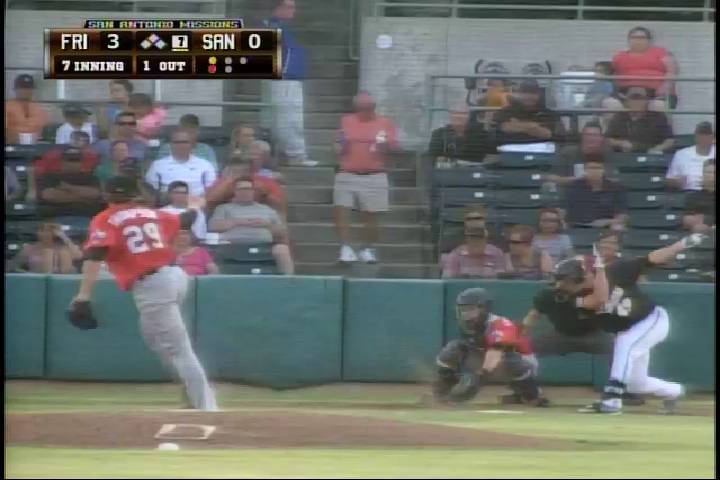 By Kelsie Heneghan / MiLB.com | August 4, 2014 12:26 AM ET
Jake Thompson didn't get drafted by his favorite team, but two years later, here he is in its farm system.
The Rangers' sixth-ranked prospect picked up his first win in his second Texas League start, allowing four hits over 6 2/3 innings Sunday as Double-A Frisco blanked San Antonio, 3-0.
"My arm was really live tonight," Thompson said. "I thought my fastball and slider were both very good and I also mixed in my curveball and changeup effectively. It's always good to get the first one, but I want to build off this and finish the season strong."
Back in his home state, the 20-year-old right-hander recorded a season-high nine strikeouts and issued three walks. And while the Missions put runners in scoring position three times, he was able to stay out of serious trouble.
"With runners on second, my catcher and I got together and decided to go for strikeouts," Thompson said. "[Catcher] Pat Cantwell called good pitches and I executed them."
Thompson spent 2 1/2 seasons with the Tigers after they selected him in the second round of the 2012 Draft. On July 23, he was traded to the Rangers with fellow right-hander Corey Knebel for veteran closer Joakim Soria.
In his first start in his new organization, the 6-foot-4 hurler yielded two runs on two hits while striking out five over four innings on Tuesday against Midland.
"A little nerves, but more than anything, my timing was slightly off. I slowed myself down in the bullpen this week and everything seemed to click and carried over to this start," he said. "In any transition, it takes time, but baseball is baseball. I just have to go out there and pitch to my capability.
"I had to readjust to the heat, but I absolutely love it. The sleeping in your own bed thing is pretty awesome, too."
Thompson (1-0) grew up about 30 minutes from Dr Pepper Ballpark in Rockwall, Texas, meaning he can commute from home and his family can attend his games. That's something that is "pretty special" for him.
Living just outside Dallas, the Thompson family has always cheered for the local team, even when the son pitched for the Tigers. Now that he's in the Rangers organization, he's a step closer to realizing his dreams.
"At first, I was shocked, but after it sank in I was very excited for the opportunity I have now with my hometown team," he said. "I can't even describe what it would be like to pitch in Arlington in a Rangers uniform."
After getting the last out in the seventh, Alex Claudio pitched a 1-2-3 eighth for the RoughRiders. Francisco Mendoza recorded three groundouts in the ninth and notched his seventh save.
Thompson had a lead before he took the mound as Trever Adams plated Cantwell with his 30th double of the season in the top of the first. Odubel Herrera provided insurance with a two-run double in the fifth.
Kelsie Heneghan is a contributor to MiLB.com. Follow her on Twitter @Kelsie_Heneghan. This story was not subject to the approval of the National Association of Professional Baseball Leagues or its clubs.
View More