Tebow singles, makes sliding catch in win
Mets' Syndergaard praises former quarterback after making nifty grab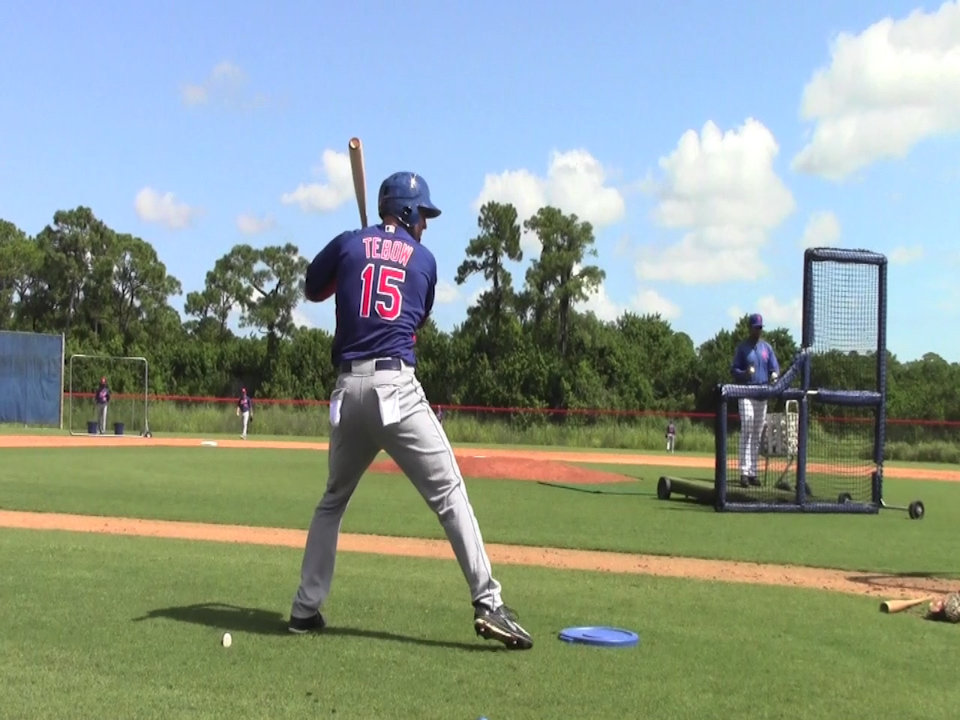 By Danny Wild / MiLB.com | March 13, 2017 2:47 PM ET
Tim Tebow collected his first hit of Spring Training and made a sliding catch in left field in support of starter Noah Syndergaard as the Mets beat the Marlins, 6-4, on Monday.
Tebow got a surprise start in left for the Mets and picked up his first base hit in three games, poking a single to left field to lead off the fifth inning against lefty Kyle Lobstein. He finished 1-for-3 with a groundout to end the second and a swinging strikeout in the seventh.
"It was fun. He's gotten better," said Mets manager Terry Collins. "The fact that he's not only been here but he's been getting live at-bats in the Minor Leagues has helped him."
The 2007 Heisman Trophy winner also earned praise from Syndergaard for his athleticism in the outfield when he robbed Justin Bour of a hit early in the game.
"It was awesome," said Syndergaard. "The guy's a tremendous athlete, so it doesn't surprise me."
Bour hit a hard liner to left to start the second inning but Tebow raced in, slide forward and made a backhanded catch for the out after initially taking a step backward when the ball left the bat.
Asked if he thought Tebow would get to the ball, Syndergaard said, "I was hoping so. I wanted to give him a big hug. You can't let that go."
"It wasn't just Tim Tebow. Anybody makes that catch, it was a heck of a catch," said Collins. "It just tells you he's all in. He's trying to do it, and he's trying to do it right. It was a nice play."
Tebow, who has been assigned to the Mets' Minor League camp, went 0-for-7 in his first two Grapefruit League games and was not expected to get another Major League start after Collins indicated last Friday that the team had no plans to bring him back. Fellow outfielder Yoenis Cespedes was promised consecutive games off after playing four straight, however, and Tebow's name was penciled into the No. 8 spot of the lineup shortly before first pitch.
Collins said after the game Monday that Tebow will continue to be borrowed from Minor League camp for additional Spring Training contests, including Tuesday when Tebow will be around but won't start.
"The other guys are 18. He's not. If there's anybody who needs to make a fast jump, it'd be somebody in his category," Collins said. "I'm hoping it helps him get out of the gate when he starts the season that he's faced a little better competition. ... I don't know if it's going to work. It's something I thought I'd try, and nobody had an issue with it, so I'm gonna bring him over a couple times."
Tebow, who rose to fame at the University of Florida before a brief career in the NFL, began Spring Training going 0-for-3 with a hit-by-pitch against Boston last week as the designated hitter. He followed it up with an 0-for-4 afternoon Friday while taking his first turn in the outfield.
"He's just being aggressive," said Collins. "He's got better timing because he's seeing more live pitching, so that's helped. He stays in on lefties. He hasn't seen too many lefties in the last 14 years. So there's no reason for him to bail. He stays right in on them and takes a good swing against them."
The 29-year-old received a $100,000 bonus when he signed with the Mets last September. He's expected to begin the regular season at a Class A affiliate.
"I get all the hoopla," Collins continued. "He's handled himself tremendously in the clubhouse. The guys have taken to him. He wants to be just part of the guys. I'm sure that's why he didn't want to talk today because I told him to be part of the guys. He gets it. He's a professional athlete. We'll take him tomorrow because I need outfielders tomorrow. He's not going to start the game, and he needs to learn how to do that because he's not going to play every single game. It's all part of the growing process."
Tebow also met former Mets ace Dwight Gooden before the game. The former Cy Young Award winner was joined by Mets Hall of Fame catcher Mike Piazza in Port St. Lucie.
Prior to today's game, Tim Tebow met Dwight Gooden in the Mets' dugout. pic.twitter.com/kDrdVFKkLn

- Anthony DiComo (@AnthonyDiComo) March 13, 2017
Collins said Tebow's presence this spring has been a distraction for him, but not his players.
"It's a distraction for me. I'm trying to get ready for a season, and I'm not sure as -- I think our job is to get everybody better, no matter who they are," he said. "I'm gonna bring him over here and get him some games when we need players. I talked to everybody involved, and they're all for it. He's not going to play a lot, but right now, we need players. Some guys are tired. We had said from the get-go we're gonna keep guys rested and healthy, and that's what we're trying to do. So he allows us to bring a guy over that we can actually, maybe make some advancements with."
Speaking broadly about Tebow's appeal and attention at Spring Training this month, Collins said he understands why Mets fans and locals are drawn watching the former quarterback.
"I'll tell you what it is -- there are good people in this world. He is a good person. People cheer for good people," said Collins. "Just because they may not be a fan of the Denver Broncos because he played quarterback there or they're Florida State fans, this guy is a good human being. And you root for that."
Danny Wild is an editor for MiLB.com. Follow his MLBlog column, Minoring in Twitter. Additional reporting by Sam Dykstra. This story was not subject to the approval of the National Association of Professional Baseball Leagues or its clubs.
View More