Travs' DeLoach dominates for seven frames
Angels prospect allows one hit, records nine strikeouts against Hooks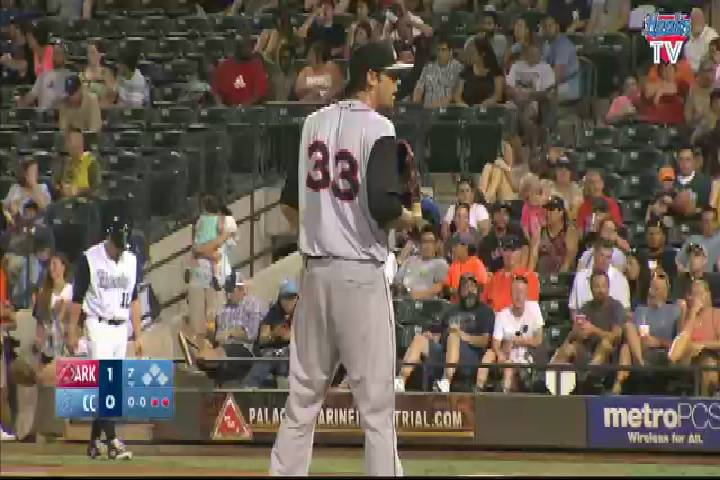 By Josh Jackson / MiLB.com | August 16, 2014 12:46 AM ET
Tyler DeLoach has only been in the Texas League since the beginning of August and he knows he still wants to be pitching there well into September. That drive fueled his dominant outing on Friday night.
"We're in the playoff run and I just wanted to try to go out and put up zeros and give my team a chance to win," the Angels prospect said.
DeLoach allowed one hit and struck out nine over seven scoreless innings before Double-A Arkansas dropped a 2-1 decision at Corpus Christi.
"I was just in synch with the catcher, Jett Bandy," he said. "I was working away and keeping hitters off-balance."
The 23-year-old left-hander started the season with Class A Inland Empire, where he was 10-4 with a 3.21 ERA in 21 games, including 19 starts. He's 2-0 with a 1.59 ERA through three starts at his new level. At 32-21, the Travelers have a six-game lead atop the North Division second-half standings.
Friday's game was his second straight against the Hooks, something DeLoach believes worked in his favor.
"When you've seen them before, you get to see what works, what doesn't," he said. "Later in the game [Friday], I was able to have more command than I had last time. I was pitching to my strengths and making them hit my pitch."
DeLoach yielded a second-inning single to fifth-ranked Astros prospect Colin Moran but struck out Telvin Nash and got Brandon Meredith to line into a double play. Even though it was the only one he allowed, DeLoach had no regrets about Moran's hit.
"It was the second inning of the game, a 1-0 count. ... I was just trying to throw strikes," he said. "It was on the outside part of the plate and the guy put the bat on it. It was a good piece of hitting on his behalf."
The Hooks' only other baserunners against DeLoach were Carlos Perdomo, who drew a two-out walk in the third, and Nash, who led off the fifth with a walk. The North Carolina-Wilmington product struck out the side in the fourth.
"I'm not trying to go out and strike out the side, but it worked out that way. My whole game plan was to go out and pump strikes in the zone," he said. "My last couple times out, I went five innings and I was hoping to go more. To do that, I knew I'd have to keep my pitch count down, stay aggressive and work in the zone."
DeLoach added another strikeout in the fifth, two more in the sixth and punched out Nash to end the seventh.
DeLoach's opponent was Mark Appel, MLB.com's No. 44 overall prospect.
"Obviously, he's a good pitcher -- a No. 1 pick -- but I'm not going out there thinking I've got to beat him [specifically]," DeLoach said. "I just want to go out there and do my best to get my team in position to win."
Appel went six innings and scattered five hits and a walk while striking out two, but he gave up a solo homer in the fifth to Angels No. 4 prospect Kaleb Cowart.
The Hooks got three innings of shutout relief from Jordan Jankowski (4-6), who gave up one hit struck out eight of the nine batters he faced.
Nash got Appel off the hook and sent Corpus Christi to its third straight win with a two-out two-run double in the bottom of the ninth.
Josh Jackson is a contributor to MiLB.com. This story was not subject to the approval of the National Association of Professional Baseball Leagues or its clubs.
View More