Tulsa three-step: Drillers turn triple play
Rockies' Double-A affiliate goes around the horn in loss to Frisco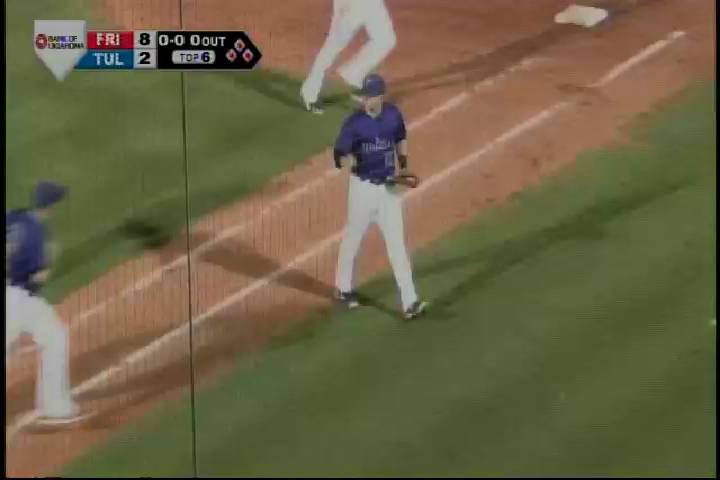 By Josh Jackson / MiLB.com | August 16, 2014 2:23 AM ET
That was fast.
One minute, Rockies prospect Nelson Gonzalez and Double-A Tulsa were facing a bases-loaded jam with nobody out and the opposing cleanup hitter stepping in. One pitch later, they were out of trouble.
The Drillers turned a triple play in the sixth inning of their 8-2 loss to visiting Frisco on Friday night, quickly going around the horn to snuff a rally.
The Drillers were trailing, 7-2, when Gonzalez came out of the bullpen and issued a leadoff walk to Jake Skole in the sixth. Guilder Rodriguez followed with an RBI double and Gonzalez plunked Pat Cantwell and Rangers No. 2 prospect Jorge Alfaro to load the bases.
Trever Adams knocked a hard hit ball to the right of the third-base line, where Jayson Langfels snared it, stepped on the bag and fired to second. Second baseman Trevor Story relayed to first baseman Ryan Casteel to beat Adams by a step.
The triple play was the second in the Texas League this season, coming exactly one week after the Midland turned one in a loss to Springfield.
Story, the Rockies' 11th-ranked prospect, also homered, ending an 0-for-16 drought with a solo shot in the second. It was one of Tulsa's five hits.
"Not a whole lot else you can do about that one," Drillers manager Kevin Riggs told the (Tulsa) World. "We didn't make plays, and that opened up a big inning for them. That was too much to overcome."
Alfaro and top Rangers prospect Joey Gallo doubled, while Adams went 2-for-5 with a pair of doubles, an RBI and two runs scored. Teodoro Martinez collected four hits, drove in two runs and scored once for the RoughRiders.
Sixth-ranked Texas prospect Jake Thompson (2-0), who was acquired in the July 23 trade that sent Joakim Soria to Detroit, allowed two runs on four hits and a walk while striking out four over five innings.
Josh Jackson is a contributor to MiLB.com. This story was not subject to the approval of the National Association of Professional Baseball Leagues or its clubs.
View More