Unhittable infielder Stassi earns victory
Philadelphia prospect allows only walk over three frames for Reading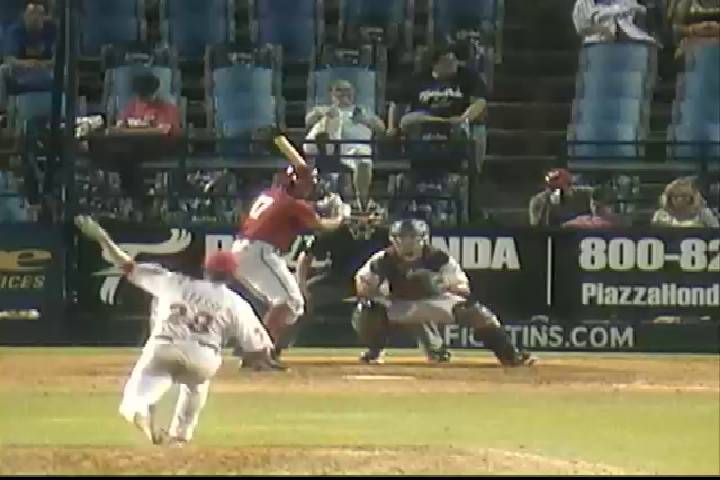 By Josh Jackson / MiLB.com | June 12, 2015 2:22 AM ET
The key for Brock Stassi on Thursday night was throwing his curveball for strikes.
Funny thing is, Stassi is a first baseman.
The 25-year-old Philadelphia prospect hurled three no-hit innings of relief, walking one and fanning three while throwing 20 of 33 pitches for strikes, to pick up his first career victory in Double-A Reading's five-hour, seven-minute, 8-7 win over visiting Altoona in 18 innings.
"I think I throw under the hitting speed, so that kept them off balance," Stassi said. "With that and being able to throw my curve for strikes, I was able to get some outs. I'm always confident in myself no matter what I do, pitching included, so that helped."
On the other side of the ball, he was 4-for-8 with two RBIs and a walk.
"It was a lot of fun. Our manager, Dusty Wathan, talks a lot about winning series and we were able to win the series tonight," he said. "Art Charles came off the bench with a huge three-run homer to send us to extras, and it took a little longer than planned, but we got the win."
The Western Athletic Conference Pitcher of the Year while hurling for the University of Nevada in 2010 has made four other relief appearances since the Phillies drafted him in the 33rd round of 2011 -- two for Class A Advanced Reading in 2013 and two for the Fightin Phils last season. He's yet to be scored upon.
"It's always nice to get out and keep runs off the board," said the native of Sacramento, California.
"This was the first time for me pitching in a competitive setting [as a pro]. The other times were all blowouts, so it was fun to be competing. Being back on the mound side of the game, it took my back to my college days when I was starting. I love to compete, so it was a lot of fun."
Unlike many position players tasked with relief work, Stassi's plan involved more than trying to throw strikes and hoping for the best.
"I threw quite a few curveballs and I threw one changeup," the left-hander said. "Rene Garcia was catching, and the first inning we were not really on the same page, but the second and third we were. I liked the way he called the game."
Despite being out of sync in the 16th, Stassi worked a 1-2-3 frame. When he came back to the dugout, he wasn't sure whether his work on the mound was over or had just begun.
"I was hoping to only go one [inning] because we'd score in our half and it'd be over, but we weren't scoring," he said. "I didn't know how long I'd be out there. It could have been another nine."
He retired another three in a row in the 17th. In the 18th, he worked around a one-out walk to the Curve's Edward Salcedo, a third baseman who entered as a pinch-hitter in the 15th, stayed in as a left fielder and took the mound for Altoona in the 18th.
Stassi notched his fourth hit in the 16th, and when he came to the dish with top Phillies prospect J.P. Crawford on second and No. 3 Phillies prospect Roman Quinn on third with one out in what would become the final inning, Salcedo intentionally walked him to load the bases.
"I had some good at-bats and also some bad ones, but we came through when it really mattered," he said.
With Stassi on first, Salcedo missed to Cam Perkins on four straight pitches to score Quinn.
"I was just happy it was finally over, finally," Stassi said. "Eighteen innings is the longest game of my career, college, pro, whatever. I was just relieved that it was over and we won."
Fourth-ranked Philadelphia prospect Zach Eflin, who started the game for Reading, twirled five shutout innings, allowing four hits and striking out six. He's 4-4 with a 3.12 ERA this season.
Crawford and Quinn were both 2-for-8 with a walk, and Gustavo Pierre went 3-for-7, falling a home run shy of the cycle while collecting an RBI and a run scored.
Dan Gamache was 3-for-8 with a triple, four RBIs and a run scored for Altoona.
Josh Jackson is a contributor to MiLB.com. This story was not subject to the approval of the National Association of Professional Baseball Leagues or its clubs.
View More