Veteran Mills shines in 13-strikeout gem
Left-hander making good impression on fourth club in as many years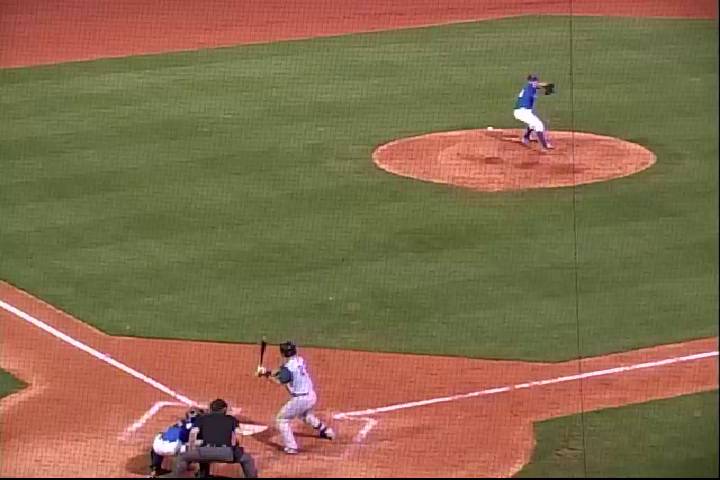 By Ashley Marshall / Special to MiLB.com | May 30, 2014 2:20 AM ET
The past few years have brought nothing but change for Brad Mills, but he's taking everything in stride in an attempt to get back to the Majors.
Thursday's strong performance is the latest effort that could give him hope in a season full of them. Mills (4-0) allowed three hits and struck out a career-high 13 batters over eight innings in the Triple-A Nashville Sounds' 3-0 win over the visiting Colorado Springs Sky Sox.
"I mean, it was pretty good," Mills said. "I will take eight shutout innings any day. It was fun. It's up there. You remember the games where you go past seven innings. We needed the win and any time you can go eight innings with the pitch counts in the Minors, it's one you remember."
Selected by the Blue Jays in the fourth round of the 2007 Draft, Mills threw 74 of 101 pitches for strikes and induced seven ground balls at Herschel Greer Stadium to lower his ERA to 1.74.
Mills bookended his gem by striking out the side in the first and eighth innings. He also fanned two batters in the third and fifth frames, plus one each in the second, fourth and seventh.
"I would say three of my four pitches were working. My changeup and curveball were really good and I had fastball command," said Mills, who was traded from the Blue Jays to the Angels in December 2011, selected and released by the Rangers less than four months apart in 2013 and then signed by the Brewers as a free agent this January.
"I didn't really throw my cutter. It's my fourth pitch any way and it's what I go to the third and fourth time through the order, but my other three pitches were pretty good. I don't throw super hard, but I have deception and the off-speed had good action so they couldn't sit on a particular pitch in a particular spot."
After 11 consecutive outs to begin the game, Mills allowed a two-out single to Kyle Parker. Jason Pridie added a two-out double in the sixth and Kyle Parker collected a leadoff single in the seventh, but no Sounds batter made it to third base.
The eight innings tied a career high and marked the 11th time in his professional career that he pitched at least seven innings without allowing a run. Donovan Hand replaced Mills in the ninth, striking out two hitters in a perfect frame to complete the shutout.
The University of Arizona product hopes the hot start in his new environment will help him find his way back to the Majors. He has started just one big league game in the past 32 months and he's with his fourth organization in as many years.
There's also been some change in his home life since that last start, five shutout innings for the Angels against the Orioles in July 2012. His first son, Nixon, will turn 2 in June, while his second child, Noah, will soon be 9 months old.
"It is hard," Mills said about moving to another new team. "You don't know anyone, any of the coaches or the rovers. You don't know the staff or how people do things. There's definitely an acclimatization process. But if you throw well, it helps you with the guys and helps you feel part of the team.
"My wife [Annie] is a champ. She takes care of them on road trips and she meets with the other wives, especially those who have kids. She does it all. I'm the one who does the fun stuff. I get to hang out in locker rooms and eat out every night. In the midst of it, you can think it is sometimes a crazy life, but one day I will look back and treasure this."
Ashley Marshall is a contributor to MiLB.com. Follow him on Twitter @AshMarshallMLB. This story was not subject to the approval of the National Association of Professional Baseball Leagues or its clubs.
View More