Wahoos' Garrett gets better as he goes along
Southpaw retires 18 of last 19 batters for his first Double-A victory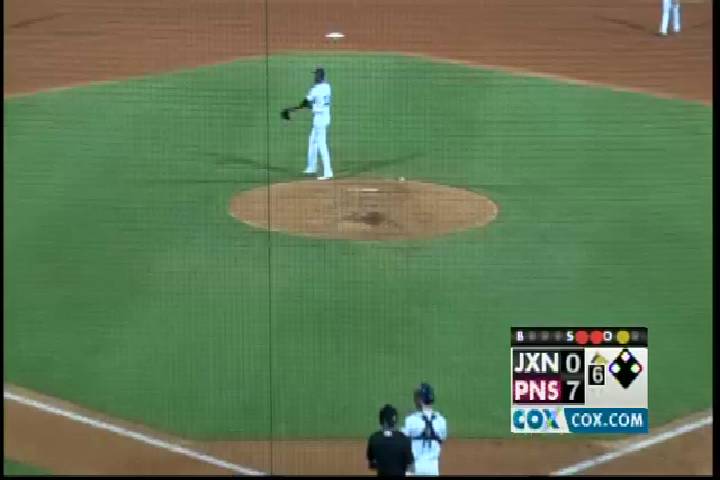 By Michael Avallone / MiLB.com | April 26, 2016 12:11 AM
Amir Garrett once wanted to do all his damage on the hill as the master of the strikeout. Now that he doesn't focus on that, he's racking up the whiffs.
Pitching into the seventh inning for the first time this year, Cincinnati's No. 4 prospect was dominant in his fourth start of the season, retiring 18 of the last 19 batters he faced and striking out a season-high nine to lead Double-A Pensacola to a 9-3 win over visiting Jackson on Monday. He allowed two hits and a walk over 6 2/3 innings en route to his first Southern League victory.
"I used to want to be a strikeout pitcher," Garrett said. "But now they just come. I try and work ahead, get the hitters to roll over or get themselves out instead of focusing on the strikeout. But it's one of those things, if they come, they come. I'm not thinking about them when I'm on the mound. I'm very comfortable with how things are going right now. I'm learning more about myself with every start."
The southpaw has whiffed 25 and walked only three batters in his first 24 2/3 innings this season. His ERA stands at 1.48.
Garrett allowed singles to Tim Lopes and Leon Landry and a stolen base in the top of the first. But after notching his second strikeout of the opening frame to squash the threat, he was in complete control. After that, he only gave up a two-out walk to Lopes in the third. The 66th overall prospect retired the last 12 batters he faced, five via the strikeout.
"It was just one of those nights," he said. "I feel like I'm pitching well and making progress in each start, and hopefully take that success from tonight and bring it into my next outing to get better. Regardless of my performance tonight, I'm going to go back to the bullpen in two days and work on things I need to work and hopefully progress and capitalize on this outing and go from here."
Cincinnati's 22nd-round Draft pick in 2011 worked through inconsistency in his first two seasons, but he began seeing results in 2014 when he struck out 127 batters in 133 1/3 innings with Class A Dayton. He opened even more eyes last season with Class A Advanced Daytona, posting a 2.44 ERA with 133 strikeouts in 140 1/3 innings to share Florida State League Pitcher of the Year honors with Tampa Bay's Jaccob Faria.
Garrett has no doubts about why he struggled early in his professional career.
"I wasn't able to work as hard as I wanted to," he said. "Playing basketball [at St. John's University] and also concentrating on school made it very tough. I wasn't able to spend as much time honing my craft like others were doing. When you commit yourself full time, it allows you to be around other pitchers in Spring Training and pick up on things. That's what it comes down to for me, just having more time on the mound and getting the experience I needed. Because of basketball and school, I wasn't able to focus mentally like I should have. That's no longer the case."
Cincinnati's No. 10 prospect Phil Ervin belted a two-run homer to left field in the fifth as the team piled up seven runs during Garrett's time on the mound. The 23-year-old also doubled, scored three times and stole a base. The offense came as a great relief to the California native, since the team only scored three runs in his first three starts.
"That early run support felt really good," Garrett said. "It allowed me to go out there and just pitch, hold them steady and that's what I did."
Pensacola's Sebastian Elizalde homered, doubled and plated four runs while Tony Renda also went yard.
Jackson starter Sam Gaviglio (2-1) allowed seven runs on seven hits and two walks in five innings.
Michael Avallone is a contributor to MiLB.com. Follow him on Twitter @MavalloneMiLB. This story was not subject to the approval of the National Association of Professional Baseball Leagues or its clubs.
View More