Williams lends a hand in Pelicans' win
Rangers' No. 5 prospect records first three-hit game of season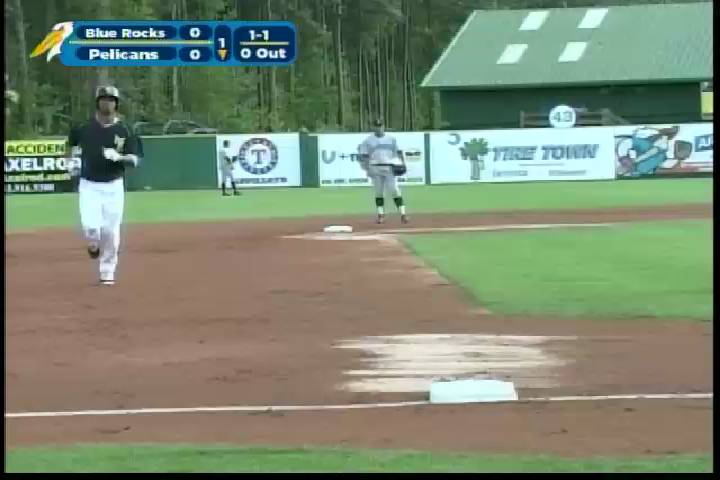 By Robert Emrich / MiLB.com | May 14, 2014 11:32 PM ET
Nick Williams has a strong belief in his abilities. They were on full display Wednesday night.
The Rangers' No. 5 prospect went 3-for-5 and drove in three runs, helping Class A Advanced Myrtle Beach defeat Winston-Salem, 6-3, at TicketReturn.com Field.
After singling in the first and third innings, Williams cleared the bases with a double in the fourth that extended the Pelicans' lead to 4-0. He's driven in at least one run in six straight games.
"I was just thinking, 'See the ball, hit the ball,'" Williams said. "I had a bad first month and I tried to do too much. I just say forget all that, enjoy the game and have fun and keep it simple."
The 20-year-old outfielder batted .229 in 21 games during his first month in the Carolina League but has come around in May with a .333 average in 13 contests. He has hits in nine of his last 10 games and 11 RBIs this month, nearly matching his total for all of April. For Williams, the difference was as simple as getting back to his strengths, albeit in an unorthodox fashion.
"It wasn't the Carolina League, it was me," he said. "I knew it was on me, trying to win a game in every at-bat.
"Really my approach is, I guess, just slowing everything down and sing a song in my head. Not really focus hard, just see the ball and react. I believe that no one has faster hands than me in Minor League Baseball. I'm just going to see [the ball] and if it's over the plate and my bat can hit it, I'm going to crush it."
With Williams, Rangers top prospect Jorge Alfaro and No. 4 prospect Joey Gallo in the lineup, it's not surprising the Pelicans own the league's best record at 24-13 and are riding a four-game winning streak.
Sam Wolff (4-3), the organization's 19th-ranked prospect, took a shutout into the eighth before allowing three runs. Williams enjoys watching Wolff work from his spot in center field.
"Sam, I love when he pitches," he said. "The thing that makes him fun is he comes right at you. He goes right at you, he doesn't care. He's basically saying, 'Prove me wrong' every time he throws a pitch. Like he's gonna say, 'I'm gonna show you my stuff and I'm going to put it somewhere over the plate until you show me you can hit it.'"
Wolff was charged with three runs on seven hits with one strikeout in seven-plus innings, winning for the first time in four starts since April 23. Will Lamb breezed through the eighth and Abel De Los Santos worked around a walk in the ninth for his first full-season save.
Gallo was 2-for-3 with a double and a stolen base, while Preston Beck drove in a pair of runs and scored twice for the Pelicans.
Martin Medina was 3-for-3 with two RBIs for the Dash. Winston-Salem starter Jeffrey Wendelken fell to 3-4 after yielding four runs on seven hits over five innings.
Robert Emrich is a contributor to MiLB.com. Follow him on Twitter @RobertEmrich. This story was not subject to the approval of the National Association of Professional Baseball Leagues or its clubs.
View More