'Wolves walk off on Moya's second blast
Tigers' No. 20 prospect drives in six runs to end seven-game slide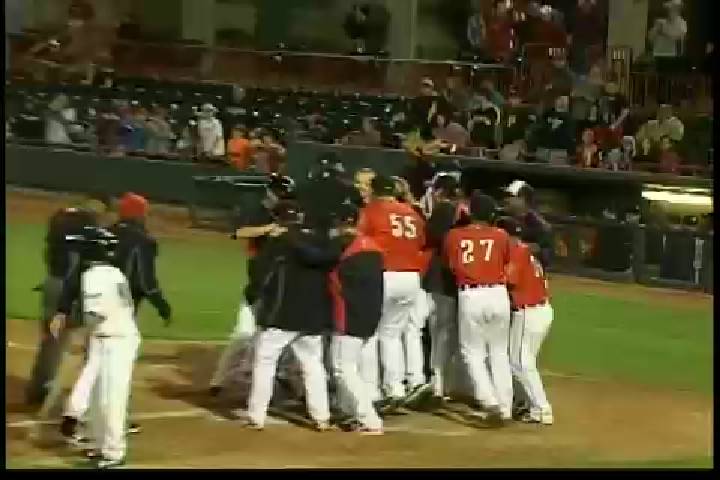 By Tyler Maun / MiLB.com | May 25, 2014 12:26 AM ET
Riding seven straight losses and eight in their last nine games, the Erie SeaWolves needed a hero on Saturday night. Steven Moya was thrilled to play the role.
The Tigers' No. 20 prospect blasted a walk-off homer, his second of the game, and drove in a career-high six runs as Double-A Erie earned a doubleheader split with an 8-7, eight-inning win over Altoona.
"That's something great," Moya said of the win and subsequent celebration. "Every walk-off home run is great, but this one's special because we were struggling a little bit this week, losing a lot of games. It's awesome to be able to help the team so we can get going forward."
Moya's power had been conspicuously absent as the SeaWolves' struggles mounted over the last week and a half. His 4-for-4, two-homer performance snapped a nine-game power drought and gave Erie its first win since May 17.
"It's a good way to finish a day with a doubleheader," Moya said after his fourth career multi-homer performance. "The way we've been playing, it hasn't been the best way. This is really awesome. Now we know we can do it, and we just have to keep it going."
The Puerto Rico native accounted for all seven SeaWolves runs, starting his big night with an RBI single in the second inning and scoring the tying run on an error by pitcher Tyler Sample. In the fourth, Moya connected for a two-run shot to left-center to give Erie its first lead, 4-2.
"I'm just working on the strike zone, trying to work better hitting counts to get fastballs," Moya said. "It's what I was trying to do today. The reason I was struggling a little bit was I was getting to two strikes too soon. I was not swinging at the fastball sometimes or missing it too much. Tonight, I put everything together, good counts, working counts, getting the fastball and swinging aggressively. That helped tonight."
The Curve and SeaWolves traded jabs, with Altoona tying it in the fifth on a homer by Pirates No. 5 prospect Alen Hanson and taking a short-lived lead in the sixth before Moya brought home two more runs with a single in the bottom of the frame.
Facing reliever Brandon Mann (1-4) in the eighth, Moya connected on a two-out, two-strike offering and sent it over the right-field wall to end the SeaWolves' skid. Mann, who also yielded Moya's game-tying hit in the sixth, gave up two runs on five hits while striking out three in two innings.
Moya's seventh homer of the season made a winner of Will Startup (1-1) who struck out two in a scoreless inning.
In the opener, Altoona's Joely Rodriguez pitched six shutout innings, striking out five while allowing two hits and a walk on the way to a 2-0 win. Hanson drove in both runs with a fifth-inning double.
Tyler Maun is a contributor to MiLB.com. Follow him on Twitter @TylerMaun. This story was not subject to the approval of the National Association of Professional Baseball Leagues or its clubs.
View More