Zephyrs turn first triple play since 2003
New Orleans spins 4-6-3-2 feat in fourth inning of 4-0 win over Vegas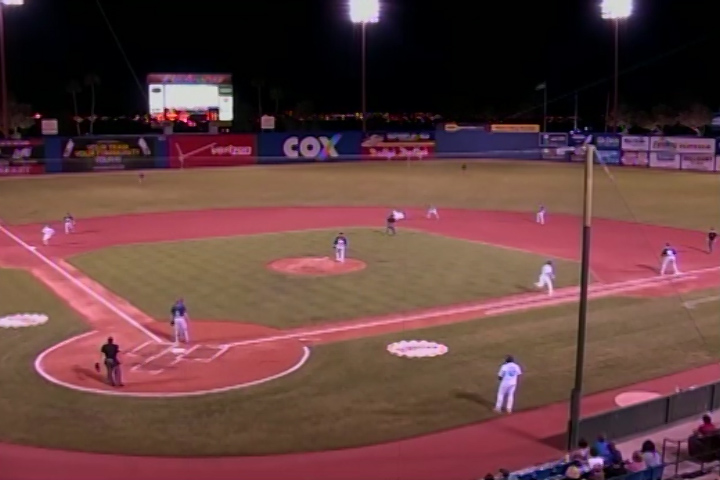 By Jake Seiner / MiLB.com | August 21, 2014 1:09 AM ET
Daniel Muno thought he could catch Justin Bour off guard, but he thought wrong.
During what looked like a routine double play in the fourth inning, Muno decided to test the first baseman's diligence by making a run for home, but Bour hosed the Mets prospect at the plate in Triple-A New Orleans' first triple play since May 12, 2003. Wednesday's 6-4-2-3 inning-ender helped the Zephyrs stave off Las Vegas for a 4-0 Pacific Coast League victory.
The triple play was the third in the Pacific Coast League this season. Salt Lake turned in the most recent last weekend.
The 51s set themselves up for the feat with singles from Daniel Muno and Matt Reynolds to start the fourth. Josh Satin stepped up next and ripped a ground ball to second base.
Enrique Hernandez -- acquired from Houston at the trade deadline -- fielded and flipped to shortstop Juan Diaz to retire Reynolds at second. Diaz tossed to Bour in standard double-play fashion.
Muno, who was on second when Satin came to the plate, rounded third without hesitation and tried to score. Bour saw Muno make the move toward home, though, and spun a throw to catcher Rob Brantly. The throw beat Muno with time to spare.
Bour contributed two hits in four at-bats, scoring once and raising his average to .320 in 90 Triple-A games. The 2009 25th-round pick by the Cubs was a Minor League Rule 5 Draft selection by the Marlins last offseason and made his Major League debut earlier this year.
Alex Sanabia (6-5) picked up the win. The right-hander scattered five hits and two walks while striking out three over six innings. It was the longest scoreless outing for Sanabia this season.
The 25-year-old had allowed 12 earned runs in his previous two starts. The outing slimmed his ERA to 4.86 for the season, including a 4.09 ERA in 18 appearances with the Zephyrs.
New Orleans took a 1-0 lead on Mark Canha's first-inning RBI single and tacked on three more runs in the top of the ninth -- two on a single by Brian Bogusevic that scored Canha and Danny Black.
Jake Seiner is a contributor to MiLB.com. Follow him on Twitter at @Jake_Seiner. This story was not subject to the approval of the National Association of Professional Baseball Leagues or its clubs.
View More