Ziomek caps career day with 13 punchouts
Tigers left-hander scatters four hits over six innings for Whitecaps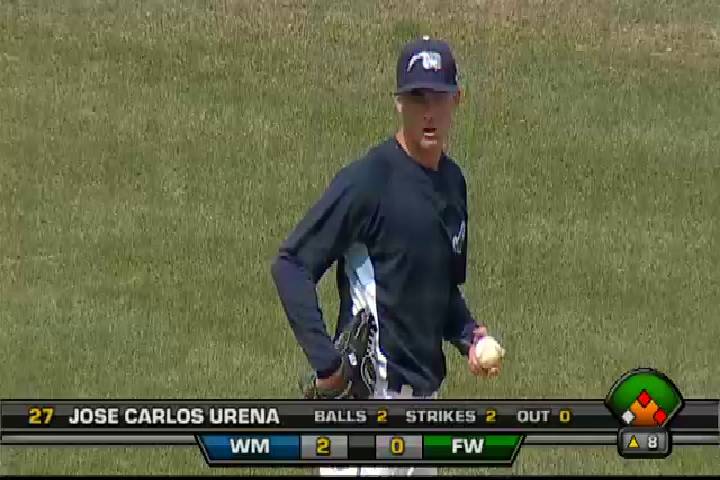 By Sam Dykstra / MiLB.com | July 28, 2014 7:43 PM ET
These days, it's no surprise Kevin Ziomek's name begins and ends with K.
The Tigers' No. 6 prospect had averaged 9.6 strikeouts per nine innings through his first 16 starts with Class A West Michigan this season before fanning a then-career-high 11 -- the first time he cracked double-digits in one game -- over seven frames last Tuesday.
On Monday, he one-upped himself. Or rather, he two-upped himself.
Ziomek established a new career high with 13 strikeouts while allowing four hits and three walks over six schoreless innings Monday afternoon during Class A West Michigan's 2-1 win over Kane County at Fifth Third Bank Ballpark.
The 22-year-old left-hander's punchouts came at key moments in Monday's contest. Shawon Dunston led off the bottom half of the first inning with a double and moved to third on a sacrifice bunt by Carlos Penalver to give the Cougars a prime early scoring chance. But Ziomek got Ben Carhart and Jeimer Candelario swinging to end the threat.
And that was just the start of it. Kane County finished up 0-for-6 with five strikeouts with runners in scoring position against Ziomek.
His only perfect inning came in his sixth and final frame when he fanned Cael Brockmeyer, Will Remillard and Jeffrey Baez -- all swinging -- but it marked the third time he struck out the side Monday.
Ziomek faced 25 Kane County batters on the afternoon, meaning more than half ended their at-bat by striking out. Eleven of those came on swings-and-misses while only two came on called third strikes. Each of the six innings Ziomek tossed included at least one strikeout, and four included two or more.
Ziomek became the Midwest League leader with a 2.17 ERA through 18 starts (95 1/3 innings). He ranks second in the circuit in strikeouts (112) and K/9 (10.6).
Before he made his full-season debut this season, MLB.com gave the 6-foot-3 southpaw average grades on his low-90s fastball (55 on the 20-80 scale), slider (50) and changeup and pegged him as Detroit's No. 14 prospect on Opening Day. However when the website updated their rankings over the weekend, the 2013 second-round pick out of Vanderbilt had climbed to No. 6 in the system.
Despite exiting with a 1-0 lead, Ziomek did not factor into the decision Monday after reliever Montreal Robertson (6-5) gave up an RBI double to Dunston in the seventh. (The run was unearned.) The Whitecaps took the lead in the ninth, and eventually the win,h when Wynton Bernard followed up Austin Schotts' double with an RBI two-bagger off Cougars reliever Michael Heesch (2-1). Julio Felix tossed a perfect ninth to notch his 11th save.
Sam Dykstra is a contributor to MiLB.com. This story was not subject to the approval of the National Association of Professional Baseball Leagues or its clubs.
View More