Z's Heaney hurls six-inning one-hitter
Top Marlins prospect tosses first pro shutout in rain-shortened win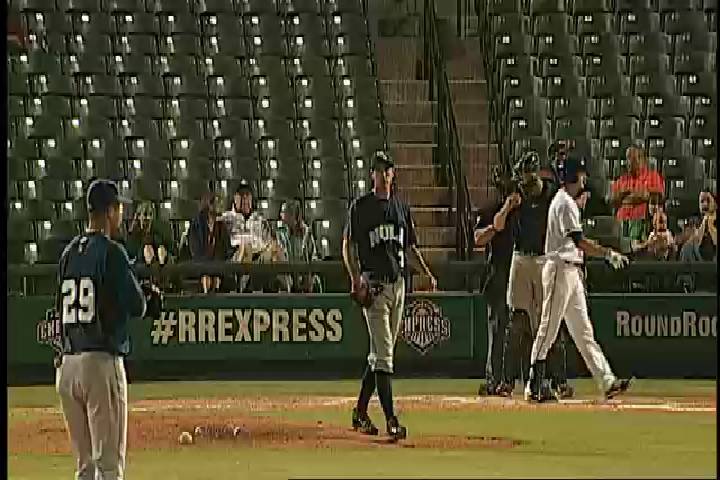 By Josh Jackson / MiLB.com | May 28, 2014 1:29 AM ET
Top Marlins prospect Andrew Heaney has thrown just 11 innings at the Triple-A level, but he's seen enough to know pick up on the differences between the Pacific Coast League and the Southern League.
"You're not going to get away with hardly any mistakes up here," he said. "You can set yourself up to get away with mistakes if you make right pitches in the right situation, but it's not going to happen very often."
Heaney, baseball's No. 25 prospect overall, didn't make any mistakes Tuesday. He threw six innings of one-hit ball to earn his first career shutout in New Orleans' rain-shortened 9-0 win at Round Rock's Dell Diamond.
"It felt really good. I had everything working for me, and it was a nice night for me," said the 22-year-old lefty. "I just felt good."
Heaney (1-0) struck out seven without walking a batter and threw 55 of his 78 pitches for strikes. In his prior PCL start, he went five innings without a base on balls, and he walked 13 over 53 2/3 Double-A innings this season.
"[My command]'s been a big help lately. I've really put a lot of emphasis on pounding the strike zone lately," he said. "You don't ever want to give up walks, but I've been working to not give in on 3-1 or 3-2. I want to make guys beat me. You try and stay out of deep counts, but they are going to happen sometimes. It's OK to let them beat me, but not beat myself."
The lone hit Heaney surrendered -- a single by the Express' Bryan Petersen -- came in the third at-bat of the game. Heaney has no regrets about the 1-1 offering Peterson lined back up the middle.
"I made a decent pitch," he said. "It just wasn't good enough and the guy put a good swing on it."
Heaney, whom the Marlins drafted out of Oklahoma State with the ninth overall pick in the 2012 Draft, then retired 16 in a row. He struck out the side in the fourth and the first batter of the fifth.
He was poised to continue working in the seventh when a heavy rain prevented him from making a pitch in the inning.
"Earlier, it was just kind of maybe a tiny drizzle. But even then, it wasn't really raining," he said. "At the end of our half of the inning and when I got out to the mound, it was just spitting a little bit. Then it starting coming down hard."
After a delay of over 30 minutes, the game was called.
Heaney will head into his next start with an 0.82 ERA and an awareness, but not a fear, that eventually he will make a mistake.
"It's not just if you leave a fastball over the plate. It's if you leave the changeup up or don't get the right movement on the slider," he said. "And they're not just going to poke it for a single. They're going to hammer it out. It's bound to happen. It's not like I'm escaping it. All I can do is keep executing pitches."
Third-ranked Marlins prospect Jake Marisnick singled to extend his hitting streak to nine games. Juan Diaz was a triple shy of the cycle with two RBIs and two runs scored.
Josh Jackson Is a contributor to MiLB.com. This story was not subject to the approval of the National Association of Professional Baseball Leagues or its clubs.
View More