2021 High-A playoffs coverage
Hot Rods race to second title in three seasons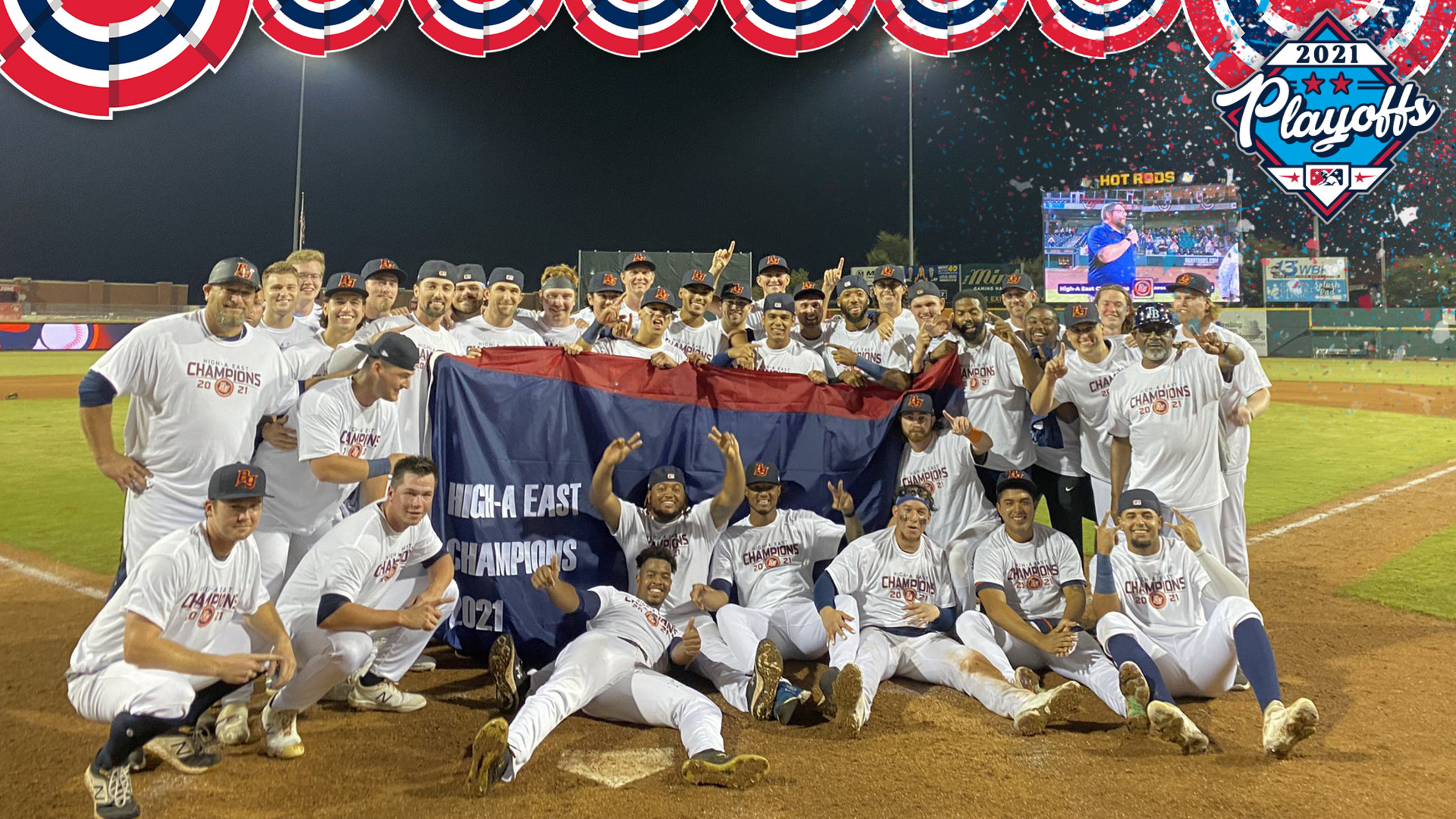 Bowling Green claimed the inaugural High-A East championship after winning the Midwest League crown in 2018. (Bowling Green Hot Rods)
Sept. 28 Very few things rival a winner-take-all contest, so it was only appropriate the High-A East Championship Series went the distance. In a season best described as a long-distance race, it's appropriate a team named after an automobile came out on top.
Sept. 28
Very few things rival a winner-take-all contest, so it was only appropriate the High-A East Championship Series went the distance. In a season best described as a long-distance race, it's appropriate a team named after an automobile came out on top.
Buoyed by a five-run fourth inning, High-A Bowling Green bested Greensboro, 6-3, to claim the High-A East title in front of its home fans on Tuesday night.
Jordan Qsar plated the go-ahead runs with a single and Grant Witherspoon homered for the third time in the series as the Hot Rods picked up their second championship. The franchise won the Midwest League crown in 2018.
"It was a fun series to manage and one that was great from a personal standpoint and a developmental standpoint," Bowling Green manager Jeff Smith said. "As managers, these are the types of games we want our players in. It was two great teams competing, going back and forth, and that's all you can ask for. I've got nothing but good things to say about Greensboro and the entire organization."
After outlasting the Grasshoppers on Monday night to stave off elimination, the Hot Rods jumped ahead in the opening frame on Witherspoon's solo jack. The 25-year-old led regulars from both teams at the plate with a .421/.476/1.000 slash line, four extra-base hits and six RBIs. Full story
Sept. 27
There was no tomorrow for Bowling Green, and the Hot Rods played like it.
It was the prototypical team effort as six different players drove in at least one run and five pitchers combined to propel Bowling Green past Greensboro, 7-5, in Game 4 of the High-A East Championship Series at Bowling Green Ballpark. The teams combined for 22 hits -- with six going for extra bases -- and three lead changes.
"It was like a boxing match out there, just back and forth -- exchanging blows -- the entire night," Hot Rods skipper Jeff Smith said. "We struck, they came back. We hit, they came back and hit. Just back and forth all game. We had some great at-bats with two strikes that prolonged innings, and everyone just chipped in and did their part. It was a gritty performance by the whole team."
Curtis Mead and Alika Williams paced Bowling Green's offense with three hits apiece. Mead, Tampa Bay's 14th-ranked prospect, capped a three-run frame in the sixth with a two-out RBI single to right. The 20-year-old also legged out his first triple of the postseason to lead off the fifth.
Williams, the 25th-ranked prospect, laced a pair of doubles -- including a game-tying two-bagger in the second. The No. 37 overall selection in last year's Draft also scored twice. The second baseman also contributed on defense in the third.
The biggest single swing of the night for the Hot Rods came from Jordan Qsar, who launched his third homer in as many games to provide a three-run cushion for Bowling Green in the third with a rocket that traveled 427 feet. The 25-year-old has six RBIs this series. Full story
Sept. 26
With no margin for error and its season on the brink, High-A Quad Cities managed to keep its championship hopes alive with a walk-off victory on Saturday. There was far less drama a day later, but the celebration proved to be even sweeter.
Four hurlers combined on a two-hitter and the River Bandits scored three early runs to help the club take home the High-A Central crown with a 5-0 win over Cedar Rapids at Modern Woodmen Park on Sunday night.
It was the first championship for Quad Cites since 2017 and its third in the last eight seasons overall.
After Logan Porter kept his team alive with a walk-off homer in the ninth inning a night earlier, the Royals' prospect got things going in the opening frame in Game 5 with an RBI single. John Rave followed with an RBI double and the River Bandits were off and running. Nick Loftin extended the lead to 3-0 with an run-scoring knock in the third. It was the only hit in the game for the No. 10 Royals prospect, who finished his first postseason 6-for-21 (.286) with a homer an four RBIs.
Tucker Bradley went deep in the fourth and tacked on the fifth and final run with a sacrifice fly an inning later. Full story
In other High-A playoff action:
Greensboro 6, Bowling Green 5
The Grasshoppers were the last ones standing following a back-and-forth affair that put the club on the brink of a High-A East title. Nick Gonzales, Lolo Sanchez and Andres Alvarez all went deep for Greensboro. Gonzales, MLB.com's No. 63 overall prospect opened the scoring with a two-run shot in the first, but Bowling Green rallied to tie the score and moved ahead, 5-4. Alvarez's homer in the sixth evened things up and Blake Sabol plated the go-ahead run an inning later with a single. Grant Witherspoon hit a two-run homer and Jordan Qsar went deep for a second straight game, tallying three RBIs for the Hot Rods. Gameday box score
Sept. 25
With one swing Saturday night, Logan Porter forced a decisive Game 5 in the High-A Central Championship Series.
Tied 1-1 in the bottom of the ninth inning, the Kansas City prospect smacked the second pitch he saw over the left-field wall to give Quad Cities a 2-1 win over Cedar Rapids in Game 4 at Modern Woodmen Park.
"As soon as [Porter] hit it, guys were running down from the bullpen while the ball was still in the air," River Bandits manager Chris Widger said. "It was nice to see them get so excited. They've been playing a little bit tight in this series, I think trying to do a little bit too much, so to see them actually be able to have fun and enjoy something and be able to celebrate together, I'm hoping we can carry that into tomorrow."
It was a scoreless game until the fifth, when 16th-ranked Twins prospect Aaron Sabato cracked a homer to left-center to get the scoring started. Quad Cities struck back in the bottom of the frame. William Hancock worked a two-out walk and Maikel Garcia drove him in with a double.
After quieting the Kernels in the sixth, the River Bandits ran into trouble in the seventh, when two singles and an intentional walk loaded the bases for Cedar Rapids with one out. Royals No. 27 prospect Will Klein entered the game and struck out the next two batters on eight pitches.
"I felt that it turned a little bit towards us right there," Widger said of Klein's performance. "With him coming in and getting us out of that seventh inning, seeing the confidence he had. … I mean, he's got as good of stuff as anybody in baseball. I think that's what gave us confidence and a little bit of momentum."
The game remained knotted going into the final frame, and the River Bandits sensed opportunity when Klein retired Sabato for the second time with the go-ahead run on second. Porter needed just two pitches to send the series to Game 5.
"After our pitchers went out and did their job, [Porter] came in knowing that if we score a run, it's over. So the pressure is on the other team," Widger said. "That's the advantage of the regular season when you go out and play as well as we did, it gave us the advantage to be able to play at home [in Game 4] and have that last chance."
Three River Bandits pitchers combined on the winning effort, fanning 13 batters while surrendering one run on seven hits and five walks. Klein earned the win with 2 2/3 innings of one-hit, six-strikeout ball. Kernels starter Sawyer Gipson-Long allowed one run on three hits and two walks with nine strikeouts over 4 2/3 innings.
Sept. 24
After a Thursday night slugfest in the series opener, Bowling Green and Greensboro sent a pair of prized pitching prospects to the mound in a Friday matinee for Game 2 of the High-A East Finals.
The results were pretty much as could be expected, with the starters combining for 16 strikeouts over 11 total innings. Second-ranked Pirates prospect Quinn Priester wound up the winner in the Grasshoppers' 4-2 victory, having allowed one run on a solo homer and scattered three hits and a pair of walks over five frames while piling up seven punchouts. The best-of-5 series is tied, 1-1.
Taj Bradley, the Rays' No. 6 prospect, took the loss despite fanning nine and holding the 'Hoppers to two unearned runs on two hits.
Tough as it is to top such a performance, Priester was working with a 2-0 advantage when he took the hill in the top of the second inning, and he didn't allow a hit until Roberto Alvarez homered to lead off the third. The 21-year-old right-hander set down the next three in a row and shrugged off a leadoff hit in the fourth and an Alvarez single in the fifth. He threw 53 of 89 pitches for strikes.
Priester led the High-A East in ERA (3.04) WHIP (1.24) and BAA (.225) while going 7-4 with 98 strikeouts 97 2/3 innings across 20 starts for Greensboro.
Matt Gorski slugged a two-run double in the bottom of the seventh to pad the Grasshoppers' lead.
Bradley was 12-3 with a 1.83 ERA and 123 strikeouts over 103 1/3 innings across 23 games -- 22 starts -- between Low-A Charleston and Bowling Green.
Game 3 is slated for Sunday at 7:35 p.m. ET.
In other High-A playoff action:
Eugene 5, Spokane 0
Backed by a strong start from Ryan Murphy and a power display from the offense, the Emeralds clinched their third title in five seasons with a 5-0 shutout of the Indians in Game 4 of the High-A West Finals at Avista Stadium. Murphy worked around a pair of hits and two walks while striking out seven over five frames, and the offense was powered by a trio of long balls. First, top Giants propsect Marco Luciano launched a two-run shot in the fifth, and then Ismael Munguia and Brett Auerbach went back-to-back in the eighth to cap the scoring. Full story
Cedar Rapids 8, Quad Cities 4
The Kernels popped to within a victory of the High-A Central title after defeating Quad Cities 8-4 in Game 3 at Modern Woodman Park. Cedar Rapids was powered by the long ball as seven of the Kernels eight runs came via the homer. Edouard Julien led the way with a pair of roundtrippers. DaShawn Keirsey launched a go-ahead two-run blast in the second and Alex Isola capped a four-run fourth with a three-run shot to left. The River Bandits were led by catcher Logan Porter, who reached base three times with a pair of knocks and a walk while driving in two runs. Gameday box score
Sept. 23
With his club's back against the wall, Brenton Doyle came out swinging.
The No. 7 Colorado prospect homered and drove in two runs to lead High-A Spokane past Eugene, past Eugene, 6-1, on Thursday night at Avista Stadium. Rockies No. 19 prospect Grant Lavigne added three singles for the Indians, who staved off elimination as the road team playing in its home ballpark.
Following a blowout loss in Game 1 and a heartbreaker in Game 2, Doyle got Spokane going immediately in Thursday's win-or-go-home contest. The 23-year-old plated the first run in the opening frame with a groundout and helped put the game away in the eighth with his first postseason home run. Spokane scored four times in the seventh and eighth to break open a tight affair.
The long ball was Doyle's first in 57 at-bats dating back to Aug. 29. Although the Virginia native didn't clear the fences in September, he still hit over .300 to put a cap on a strong first full-season campaign. Doyle batted .279/.336/.454 with 34 extra-base hits, 16 homers and 47 RBIs in 97 games and has carried that success into the playoffs.
Through Spokane's first three games against Eugene, the 2019 fourth-round Draft pick has three extra-base hits and six RBIs. Full story
In other High-A playoff action:
Bowling Green 10, Greensboro 8
After two days of rainouts, the High-A East Finals finally got under way. And a lot of offense came with it. Grant Witherspoon and Evan Edwards homered for the Hot Rods, but the big hit came with one out in the ninth. Curtis Mead, the Rays' No. 14 prospect, lined an RBI single to tie the game and Bowling Green took the lead when there was an error on the play. Aaron Shackelford and Will Matthiessen went yard for the 'Hoppers, but the Hot Rods' Trey Cumbie and Angel Felipe held them scoreless in the final 3 1/3 frames. Full story
Sept. 22
Nick Loftin's major contribution to Quad Cities in the regular season wasn't his slugging ability.
But a home run by the Royals' No. 10 prospect on a three-RBI night helped the River Bandits tie up the High-A Central Championship Series with a 6-0 win over the host Kernels on Wednesday.
After Maikel Garcia walked and stole second base in the first inning, Loftin launched a soaring fly ball to left field. The Baylor product had hit 10 in the regular season, tied for sixth-most on the ballclub.
"He's been swinging the bat really good lately," Quad Cities' first-year skipper Chris Widger said. "He hasn't hit a lot of homers, but he's had some big ones for us."
The 32nd overall pick in the 2020 Draft tied Michael Massey for the River Bandits' lead with a .289 batting average. Loftin scored 67 runs and drove in 57 over 90 games.
"You have to remember it's his first full year playing professional baseball, the learning curve is quick," Widger said. "Most guys have a chance to go to short-season or Rookie ball and have that half-season to break in with. ... With COVID, he never had that opportunity.
"He asks a lot of questions and he's a smart guy. He's going to get nothing but better, especially as he puts on some weight in the training room."
Quad Cities scored at a steady pace in Game 2. Garcia popped a solo homer in the third and John Rave crossed the plate in the fourth on a double-play ball. Loftin padded the lead with an RBI groundout and pinch-hitter Rubendy Jaquez singled in a run.
That was plenty of offense for a pitching staff that held Cedar Rapids to three hits. Anthony Veneziano, on a strict pitch count due to a shoulder issue, struck out four while allowing two hits and a walk over the first 3 2/3 innings. Nathan Webb fanned five and gave up a hit in 2 1/3 frames and Zach Phillips struck out three in two perfect innings. Will Klein, Kansas City's No. 27 prospect, closed out the win on a flyout and two strikeouts.
Widger was confident the quartet would be able to unconventionally get the job done. "We hated to take [Veneziano] out because he's been our guy all year," he said. "Webb, that was the best he's thrown all year. Phillips got sent down because our Low-A club needed a lot of help. And everyone knows what Klein can do, 97-100 mph with that curveball."
In other High-A playoff action:
Eugene 3, Spokane 0
After amassing a combined 22 runs in Game 1 of the High-A West Championship Series, it took until the ninth inning for any runs to cross the plate in Game 2. But it was the Emeralds who eventually scored three times to take a commanding 2-0 lead in the best-of-5 Finals. Franklin Labour singled in the game's first run with two outs. Then Ismael Munguia, who has amassed nine hits in the first two games of the series, doubled in the other two. Meanwhile, starter Conner Nurse scattered five hits and a walk while striking out eight over seven innings. Taylor Rashi struck out the side in the eighth and Chris Wright allowed a hit and a walk but closed out the shutout in the ninth. Gameday box score
Bowling Green-Greensboro, PPD
Sept. 21
Ricardo Genovés and Eugene started off the High-A West Championship Series in Spokane, but it seemed more like the Emeralds' city.
That might have been particularly true for the Giants' No. 18 prospect, who homered 13 times over 103 games in the regular season, but smacked two long balls and a double to power Eugene's 15-7 victory in the Finals opener. But it wasn't much of a surprise to first-year Emeralds manager Dennis Pelfrey because of the work his backstop puts in on a day-to-day basis.
For the past three weeks, Genovés has been working hard on his swing in the batting cages. "He's really committed to the plan and it showed up tonight," Pelfrey said. "He hit one [homer] to the opposite field and one to dead center. ... He almost had a third, he got robbed of the third."
The Emeralds, who finished the regular season just a half-game ahead of the Indians, built an 8-0 lead with one out in the first inning. After top San Francisco prospect Marco Luciano tripled in a run, Genovés smacked one of the club's three long balls that frame to right field off southpaw Helcris Olivarez (Colorado's No. 14 prospect). Full story
In other High-A playoff action:
Cedar Rapids 2, Quad Cities 1
Jair Camargo launched a go-ahead solo homer to right field in the bottom of the eighth inning en route to the Kernels' victory in Game 1 of the High-A Central Finals. The River Bandits struck first in the second on an RBI single by Eric Cole, but Cedar Rapids answered right back in the bottom of the frame on a run-scoring double by DaShawn Keirsey. The Kernels' pitching trio of Louie Varland, Osiris German and Zach Featherstone held Quad Cities in check the rest of the way. Gameday box score
Bowling Green-Greensboro, PPD