Assad, Remillard claim league honors for May 6-12
Pelicans hurler, Dash infielder post impressive weeks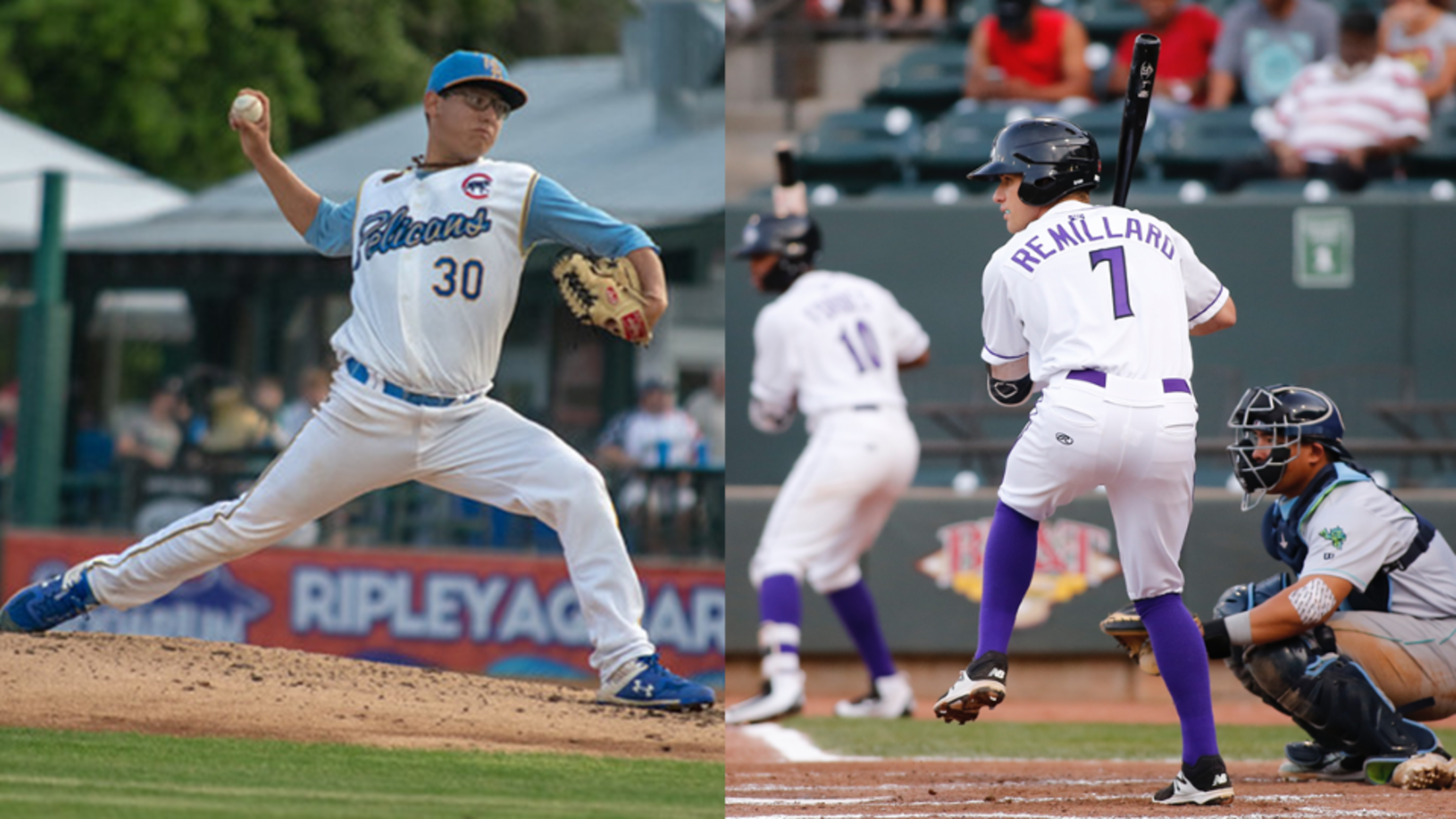 (Photos via Joe Dwyer (MiLB.com) and Chris Robertson (KZONEimages))
WINSTON-SALEM, N.C. (May 13, 2019) - Myrtle Beach right-hander Javier Assad and Winston-Salem infielder Zach Remillard have earned the Carolina League's Pitcher and Player of the Week honors, respectively, for May 6-12, the league office announced Monday.One week after making national headlines with a soccer-esque putout, Assad recorded one of
WINSTON-SALEM, N.C. (May 13, 2019) - Myrtle Beach right-hander Javier Assad and Winston-Salem infielder Zach Remillard have earned the Carolina League's Pitcher and Player of the Week honors, respectively, for May 6-12, the league office announced Monday.
One week after making national headlines with a soccer-esque putout, Assad recorded one of his best professional starts against the league's best team. On Thursday at Down East, Assad allowed just three base runners, one hit and two walks, over six shutout innings. The 21-year-old left with a 4-0 lead, but the Wood Ducks rallied for a 7-4 victory.
In his first season at the High-A level, Assad has logged a 2.70 earned run average in six starts, with his last two being his best. One outing before his award-winning performance in Kinston, Assad blanked Salem over six innings en route to his first Carolina League win. For his professional career, Assad has a 3.90 ERA in 52 appearances.
Remillard's first weekly honor in the Minor Leagues stemmed from his league-leading 10 hits over five impressive games, during which he hit .556 with a 1.508 OPS. Remillard also led the CL in total bases (16), while his five RBIs were good for a share of third place.
The former national champion at Coastal Carolina has been a key offensive cog for the Dash in his second season at this level. Over 32 games, Remillard boasts a team-leading .303 batting average, which is 12th-best in the league. He is also tied for 10th with 37 hits and 14th with 19 runs scored.
The Dash and Pelicans will kick off the week with a four-game series against one another in Myrtle Beach, with the opener of the four-game series coming on Monday at 7:05 p.m. Assad is scheduled to start for the Birds on Wednesday.