Bears win NY-Penn crown in first season
Bucs No. 21 prospect Hughston hits go-ahead homer in ninth inning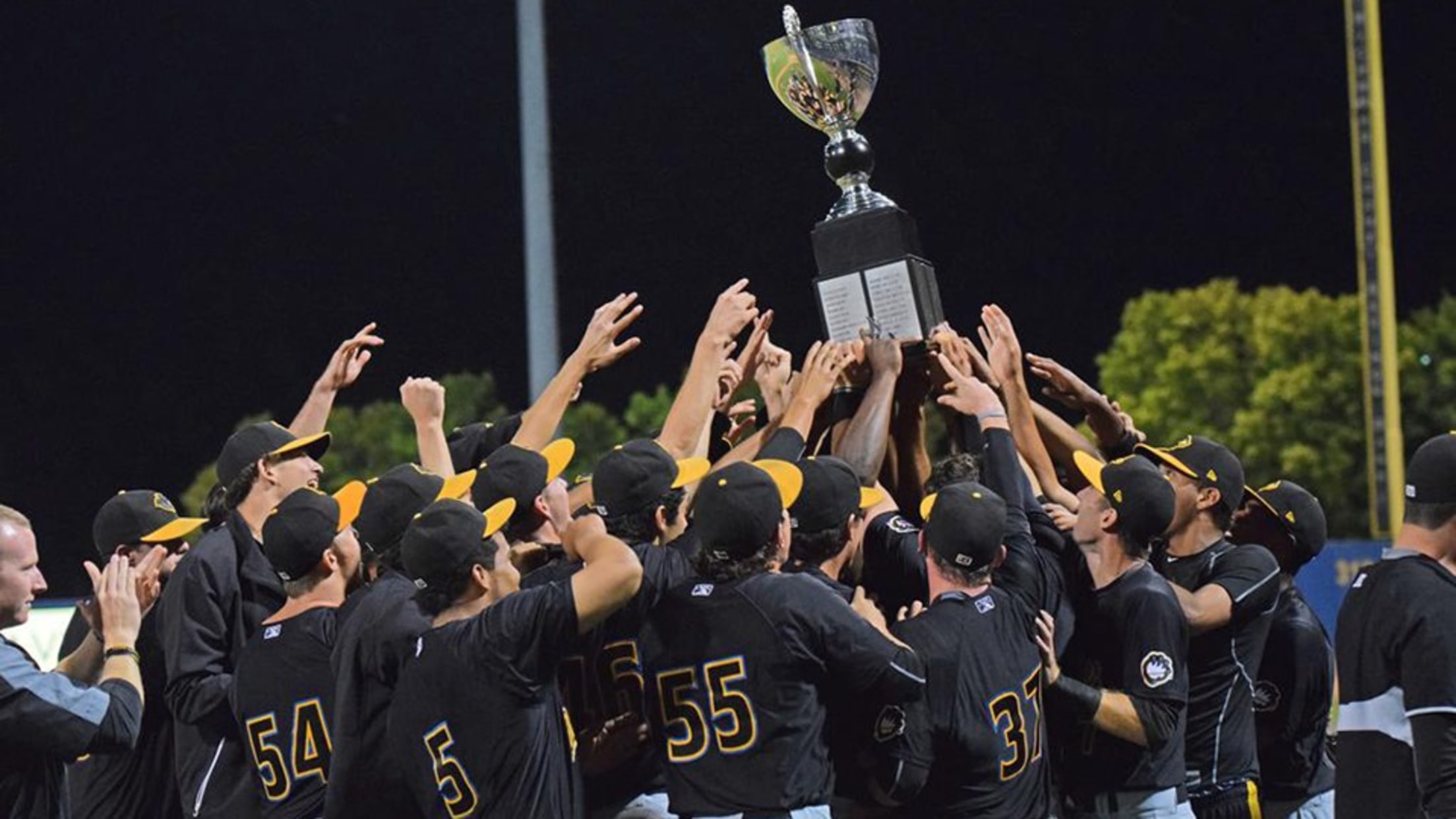 The Black Bears relocated from Jamestown, New York, following the 2014 season. (West Virginia Black Bears)
Black Bears manager Wyatt Toregas wasn't nervous when the Wild Card race tightened or when his team was losing in the seventh inning on Tuesday. But with the New York-Penn League championship three outs away, his palms began to sweat. The pain left over from an ecstatic high-five following Casey
Black Bears manager Wyatt Toregas wasn't nervous when the Wild Card race tightened or when his team was losing in the seventh inning on Tuesday. But with the New York-Penn League championship three outs away, his palms began to sweat.
The pain left over from an ecstatic high-five following Casey Hughston's go-ahead homer in the top of the ninth turned to nerves as Toregas watched Jhalan Jackson ground out to third baseman Ke'Bryan Hayes. And before Hayes' throw settled in first baseman Carlos Munoz's glove, the skipper got the celebration started.
"It's really hard to put into words. Mass chaos out here when we won, guys going crazy, gloves and hats flying everywhere, dog pile. The guys deserved it, they earned it," Toregas said. "They worked hard this whole season. They got to a point where they felt unstoppable and invincible out there."
Toregas joined the celebration after West Virginia rallied for a 3-1 victory and a two-game sweep of Staten Island, capturing the New York-Penn League championship at Richmond County Bank Ballpark.
For much of Tuesday night, it appeared no celebration would take place. Staten Island starter James Kaprielian, the Yankees' No. 5 prospect, held the Black Bears to three hits and two walks while striking out six over 6 1/3 scoreless innings. West Virginia's Dario Agrazal struck out nine over five frames but gave up a solo homer in the fifth to Jackson.
"I felt like something big was going to happen," Toregas said. "We've been doing it all year and we got to the point now where we just expect it. We know somebody's going to do something big and something's going to happen to get us back in the game."
As soon as Kaprielian -- the 16th overall pick in this year's Draft -- exited, the Black Bears tied it on a solo shot off James Reeves by Munoz, the Appalachian League MVP. That also relieved the tension in the dugout, Hughston said.
With one out in the ninth, Hayes singled to right. With two homers in 65 games since the Pirates selected him in the third round of the Draft, Hughston said he was just looking to get on base and pass the baton. Instead, the 21-year-old Alabama native took a 1-1 fastball from Josh Roeder (0-1) and "absolutely crushed it" to right-center for a go-ahead jack.
"I didn't even remember hardly any of it, honestly. It was like almost like a blink-of-an-eye thing," Hughston said. "I was standing in the box and then I just touched home plate after I rounded the bases, so it was [an] unreal, crazy experience for me. I couldn't believe it and I still can't now."
Toregas congratulated Hughston, who responded with a high-five so hard he "almost ripped my arm off coming around third."
The blast made a winner of Julio Eusebio (1-0), a New York City native who had family in attendance. After recording the final two outs in the eighth, he struck out the first two batters in the ninth. And with "Don't Stop Believing" blaring on the sound system, Eusebio needed one more pitch to close it out.
"I threw my glove up and just ran to my brothers," Hughston said. "I don't know how to ... I can't take it all in right now, it still feels pretty nuts. But I'm glad I could do it with this team. We really bonded over the three months we played."
The sweep marked the first time in seven appearances that Staten Island did not win the Championship Series. The title instead belongs to Toregas, who wrapped up his first year as a manager.
"I feel like when I got these guys, they were babies; they're my babies is what they are. When we got them, they're drooling all over themselves and you watch them grow, you teach them some things," he said. "The next thing you know, they're turning into men. And right now, they're kings; they're the kings of this league."
Kelsie Heneghan is a contributor to MiLB.com. Follow her on Twitter @Kelsie_Heneghan.