Blue Jays' Pearson shines in scoreless debut
No. 8 overall prospect yields pair of hits and walks in five innings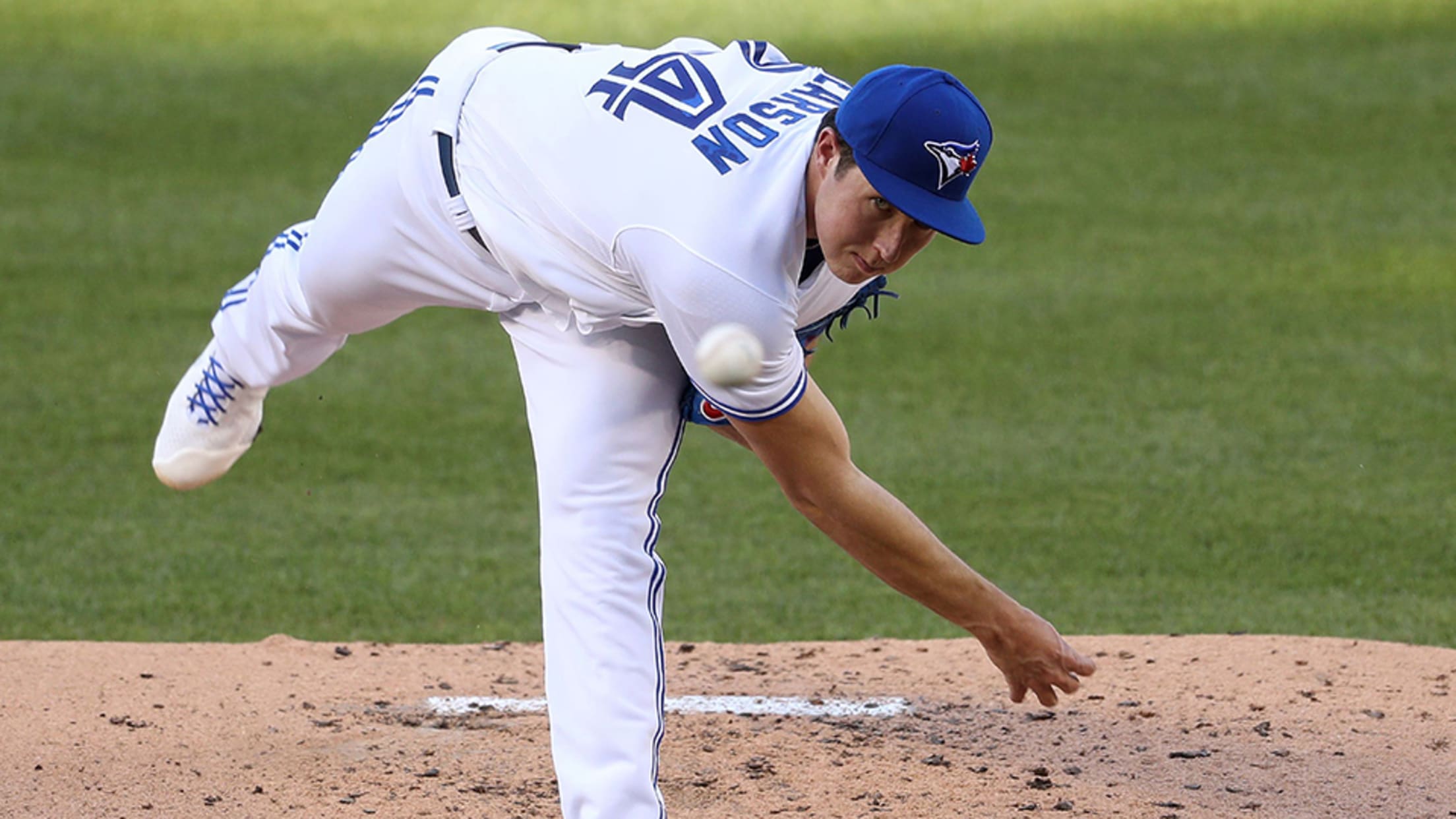 Nate Pearson recorded 10 outs with his slider over five scoreless innings in his first Major League outing. (Patrick Smith/Getty Images)
The circumstances of Nate Pearson's debut in the Majors likely defied his expectations. But his performance in what became a home game for the Blue Jays in an empty Nationals Park in Washington, D.C. certainly fit his scouting report. "He gave us a chance, it was outstanding. He was fun
The circumstances of Nate Pearson's debut in the Majors likely defied his expectations. But his performance in what became a home game for the Blue Jays in an empty Nationals Park in Washington, D.C. certainly fit his scouting report.
"He gave us a chance, it was outstanding. He was fun to watch," Toronto skipper Charlie Montoyo told reporters after the game.
MLB.com's No. 8 overall prospect yielded two hits and two walks while striking out five over five scoreless innings on Wednesday. The Nationals went on to win, 4-0, in 10 innings, but Pearson -- who was limited to five innings or 80 pitches -- didn't factor into the decision after dueling three-time Cy Young winner Max Scherzer in his first Major League outing.
"It was awesome being able to go against Max Scherzer. I knew it was going to be a good duel. He threw really well tonight, and obviously, it was cool to see him competing out there," Pearson said. "It's definitely something I'll look back on my debut and say that I was matched up with Max Scherzer and I held my own for five innings."
Pearson was quick to show off his 80-grade fastball, topping out at 98.7 mph and using a 98.5-mph heater to freeze No. 21 overall prospect Carter Kieboom for the final out of the fourth. But the top Jays prospect also leaned heavily on his plus slider, using the pitch to retire 10 Nationals, including a strikeout of the first batter he faced, Trea Turner.
"I had a little bit of everything working. Fastball command was there at times when I needed it. Still wasn't where I wanted it to be," he said. "But, man, my slider was on tonight and it was my big pitch. Got me out of a lot of jams. ... I threw all four pitches for strikes tonight, so that's always good in my book."
Talk about picking the corner. Nate Pearson gets Carter Kieboom looking with a 99 mph fastball🎯🔥pic.twitter.com/RY3khg7983

— Minor League Baseball (@MiLB) July 29, 2020
Things did not go as smoothly for the 23-year-old in his final exhibition tuneup last week at Fenway Park in Boston. Pearson yielded four runs in the first inning in that contest, but dealt with much less traffic Wednesday. Although he only allowed five baserunners, the right-hander still needed to strand a runner in scoring position in three separate innings.
"He knows what he's doing," Montoyo said. "He can throw his breaking pitches when he's behind in the count. You're not going to see 2-1 fastball. ... That's impressive to me for a young guy that he can do that. Just like the other guy [Scherzer] on the other side."
Pearson worked out of trouble to leave Adam Eaton on base after the outfielder drew a one-out walk and stole second in the opening frame. Asdrubal Cabrera rolled over a slider to second to strand a pair in the third, and Eric Thames failed to score after a leadoff double in the fourth.
The final inning for the 6-foot-6, 250-pound fireballer might have been his most impressive. Pearson dispatched Andrew Stevenson and Victor Robles on strikes with a heavy dose of off-speed pitches, then got Turner to fly to right to conclude his outing. He threw 75 pitches, 48 for strikes, but didn't utilize his changeup or curveball much until the second time through the order.
"We sat down and we like went over the scouting report and the lineup. There's a few guys that hit changeups pretty well and had trouble with the sliders," Pearson said. "So we were like, you know, let's just go at them with my dominant stuff. And we did that for the first time or the first two times through the order."
The first-round pick out of JC of Central Florida in 2017 pitched across three levels of the Minors last year. He reached Triple-A Buffalo for the first time in his career, sporting a 3.00 ERA in 18 innings over the final three starts of his season.
"[Wednesday's start was] just all the veteran guys just telling me, it's the same game you're when you were in the Minors. Just go out there and dominate and do the same thing you've been doing the whole time," Pearson said. "That's exactly what I did. When I throw a good pitch, I know it's going to be a swing-and-miss or I'm going to ring him up, just act your normal self and just be confident."
Pearson was limited to 1 2/3 regular-season innings for Class A Advanced Dunedin in 2018 after he fractured his right arm on a comeback liner. He made up for lost time with 20 1/3 innings in the Arizona Fall League after the season before heading back to Dunedin at the start of 2019.
He sported an 0.86 ERA in six Florida State League starts before being promoted to Double-A New Hampshire in May. Pearson missed some time with the Fisher Cats due to an undisclosed injury, but still posted a 2.59 ERA in 16 starts in the Eastern League.
The Florida native finished the year with an overall 2.19 ERA, 0.89 WHIP, .176 average-against and 10.5 K/9. Overcoming a litany of injuries to finally achieve his goal of pitching in the Majors, Pearson made sure to enjoy his debut.
"I was taking it all in in the first inning. Just looking around taking mental pictures of where I was at," he said. "Just thinking about the long three years I went through, the injuries, all the adversity I went through, and just to be able to overcome all that and to be here, and I knew all my friends and family were watching from back home. It was very special for me."
Kieboom struck out both times he faced Pearson, but recorded his third hit of the season on a single up the middle in the seventh. Toronto's 30th-ranked prospect Jordan Romano stranded a pair after Kieboom's knock and struck out a pair in a 1-2-3 eighth.
In other action:
White Sox 4, Indians 0
Top White Sox prospect Luis Robert created some breathing room for the South Siders with a two-RBI single up the middle in the ninth that capped the team's scoring. The game's No. 3 overall prospect has hit safely in all six of Chicago's games this season and is batting .368/.400/.579 with a homer, a double, a pair of RBIs and two runs scored. Box score
Rockies 5, A's 1
Colorado's ninth-ranked prospect Sam Hilliard punched a base hit into right in the fourth that put the eventual go-ahead run into scoring position. Top A's prospect Jesus Luzardo (No. 12) tossed 3 2/3 innings in relief and was touched up for three runs -- one earned -- on four hits and a pair of walks while fanning five. The southpaw's ERA over two appearances this season rose to 1.35. Oakland's second-ranked prospect Sean Murphy (No. 33) had a hit in three at-bats. Box score
Dodgers 4, Astros 2 (13 innings)
Los Angeles' No. 18 prospect Edwin Rios -- who went deep four times for the Dodgers last year -- belted a tiebreaking, two-run blast to right to lead off the 13th inning. Dustin May (No. 23 overall) gave up a run on three hits and a pair of walks with three punchouts in 3 1/3 innings. His ERA sits at 2.35 after two starts. Dennis Santana notched his first MLB win since June 1, 2018. Los Angeles' No. 16 prospect struck out four and walked two over the final 2 1/3 innings. Cristian Javier performed admirably while filling some big shoes in his big league debut. In place of an injured Justin Verlander, the Astros' sixth-ranked prospect yielded a run on two hits and a walk while striking out eight over 5 2/3 innings. Javier struck out the side in the opening frame and retired 12 consecutive Dodgers after Corey Seager's second-inning solo shot. No. 5 Bryan Abreu induced a pair of flyouts to close out the win. Astros No. 27 Blake Taylor got reigning MVP Cody Bellinger to pop out on the infield for the final out of the sixth, then worked around A.J. Pollock's one-out double to keep his line scoreless in 1 1/3 innings. Box score
Reds 12, Cubs 7
Top Cubs prospect Nico Hoerner delivered a pair of singles, including a two-run knock in the seventh, in four at-bats. The 50th overall prospect also scored twice, struck out twice and improved his average to .389 in 18-at-bats this season. Cubs No. 23 prospect James Norwood got his only opponent, Eugenio Suarez, to bounce to second to get out of a jam in the sixth. Box score
Red Sox 6, Mets 5
New York's third-ranked prospect Andres Gimenez (No. 83 overall) recorded his first two Major League hits. Gimenez lined a single to the opposite field in the second, then drove a fly ball over Jackie Bradley Jr.'s head in center for a run-scoring triple in the sixth. Gimenez has appeared in all six of the Mets' games this season, but Wednesday was his first start. Amed Rosario was given the day off, allowing Gimenez to play his natural position of shortstop rather than second base, where he'd played every other game this season. Box score
Mariners 10, Angels 7
Evan White did not record a hit, but the fourth-ranked Mariners prospect reached base on a fielder's choice in the fourth and came around to score Seattle's first run on a single by Kyle Seager. Kyle Lewis continued his torrid start by going 3-for-5 with an RBI and a run scored. The No. 10 Mariners prospect has hit safely in all six of the club's games this season and is 11-for-24 with a quartet of multi-hit efforts, five RBIs, five runs and three walks. Seventh-ranked Justin Dunn allowed three runs -- two earned -- on a hit and three walks while punching out a pair over three frames in his first start of the year. The right-hander did not factor into the decision. For the Angels, No. 23 prospect Jared Walsh reached on a fielder's choice in the sixth and scored on a two-RBI double by Brian Goodwin. Box score
Rangers 7, D-backs 4
Nick Solak extended his hitting streak to three games with an RBI knock in the eighth. The fifth-ranked Rangers prospect has gone 4-for-10 with a pair of RBIs over his last three games. Righty Jonathan Hernandez (No. 25) earned his first win of the season after yielding two runs on a pair of hits and whiffing two in a frame of relief. Arizona's 26th-ranked prospect Kevin Ginkel worked around a walk in a hitless seventh. Box score
Brewers 3, Pirates 0
Milwaukee's No. 13 prospect Devin Williams recorded a strikeout in a 1-2-3 eighth. Williams sports a 2.70 ERA in three appearances spanning 3 1/3 innings this season. Box score
Tigers 5, Royals 4
Right-hander Bryan Garcia, Detroit's No. 15 prospect, notched his first Major League win after retiring the side in order in the seventh. Kansas City's No. 29 prospect Tyler Zuber tossed a perfect ninth. Box score
Twins 3, Cardinals 0
St. Louis' No. 13 prospect Kodi Whitley extended his hitless streak to 2 2/3 innings after tossing 1 2/3 frames of scoreless relief. The right-hander whiffed a pair in his second appearance of the season. Box score
Giants 7, Padres 6
San Diego's No. 19 prospect Edward Olivares picked up two more hits to improve to .444 in nine at-bats this season. The 24-year-old outfielder also scored, drove in a run and walked. No. 17 Jake Cronenworth walked and went hitless in three at-bats. No. 29 David Bedner yielded a run on two hits in 1 1/3 innings. Box score
Gerard Gilberto is a contributor to MiLB.com. Follow and interact with him on Twitter, **@Gerard_Gilberto**. Rob Terranova is a contributor to MiLB.com.