Toolshed: Spring Training camps to watch
Ten groups worth following as top prospects showcase talents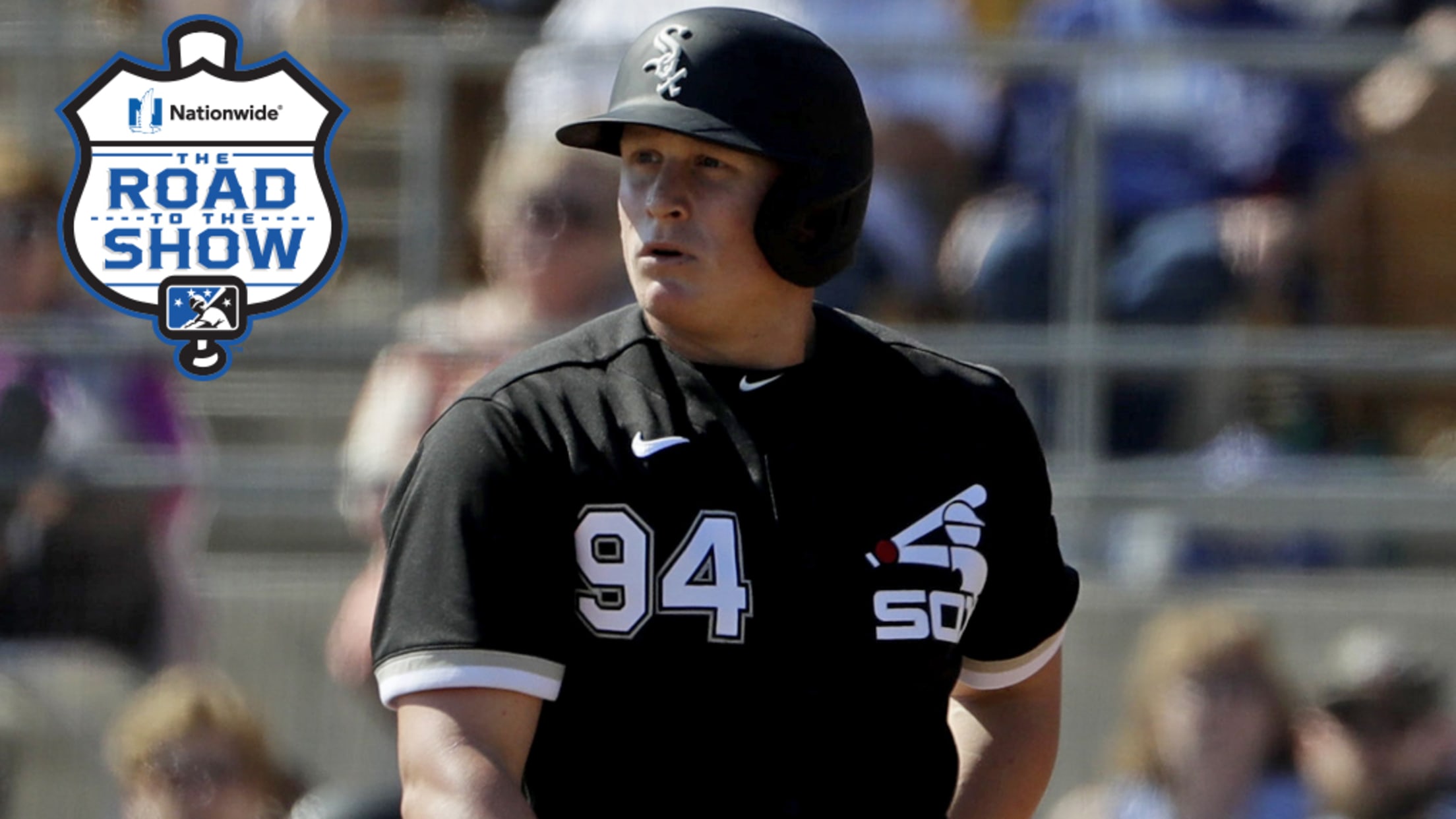 Pitchers and catchers have been in Arizona and Florida a while. Position players have officially joined them in earnest. Look around you. It's decidedly spring. To celebrate the official opening of Spring Training and return of full-squad workouts, Toolshed presents 10 camps across the Cactus and Grapefruit Leagues that prospect
The Road to The Show™: Simeon Woods Richardson
Maturing right-hander preparing to lead on Jays farm and beyond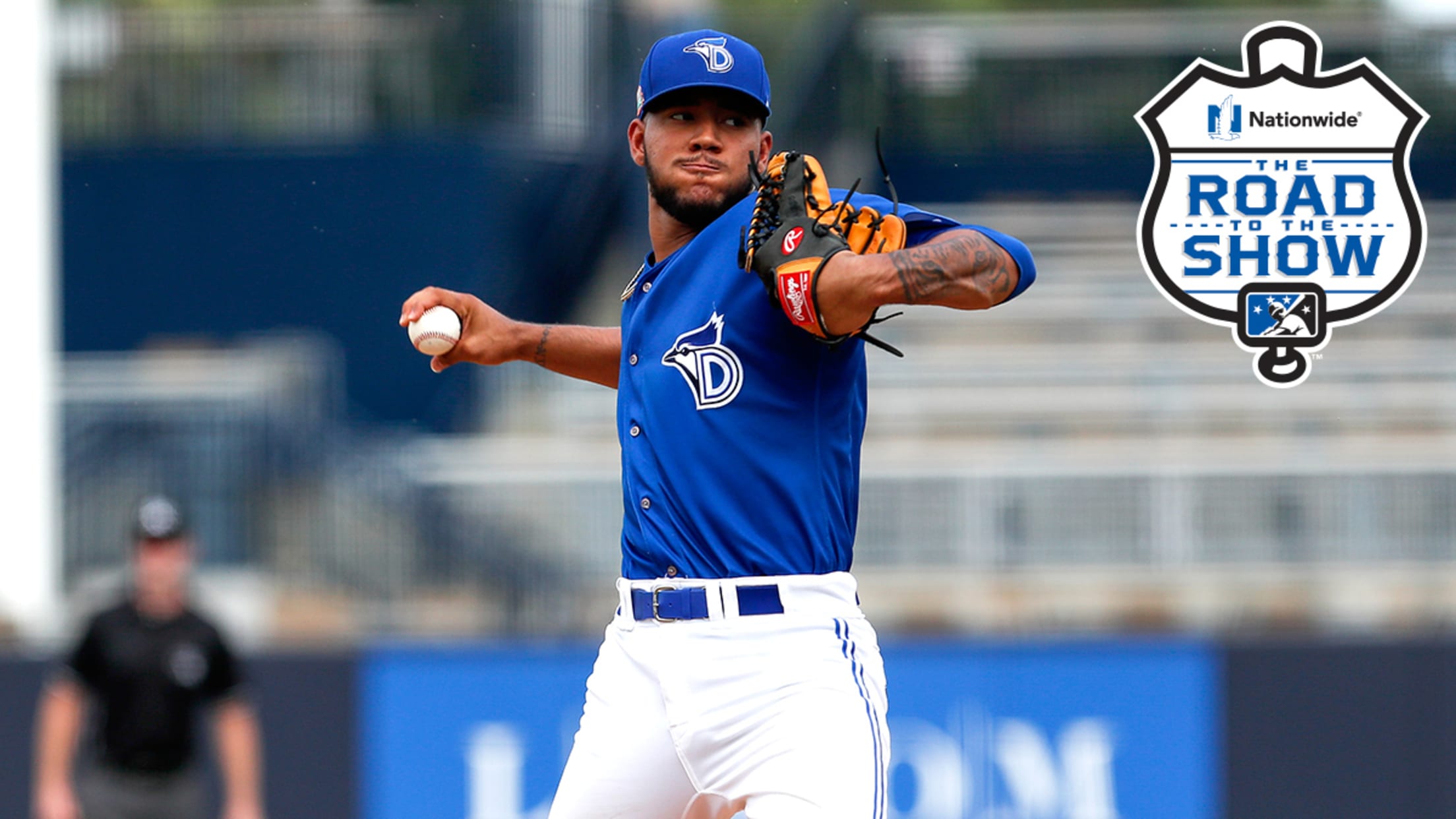 Each week, MiLB.com profiles an elite prospect by chronicling the steps he's taken to reach the brink of realizing his Major League dream. Here's a look at Toronto Blue Jays right-hander Simeon Woods Richardson. For more player journeys on The Road to The Show, click here. Heading into the 2018
The Show Before the Show: Episode 296
Blue Jays' Groshans shares spring expectations, 2020 growth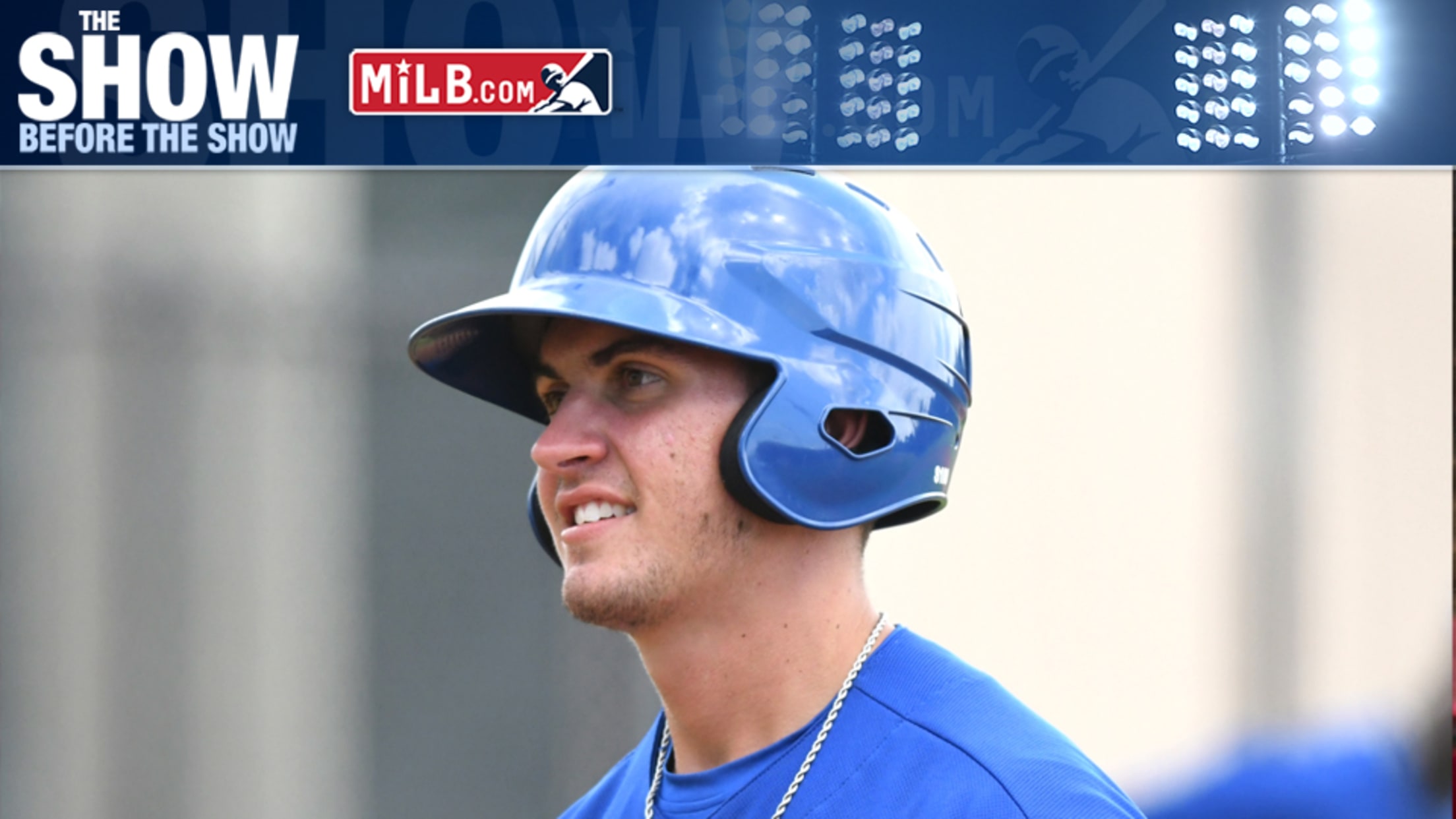 Check out the latest episode of The Show Before the Show, MiLB.com's official podcast. A segment rundown is listed below, in case you want to skip to a particular section. Like the podcast? Subscribe, rate and review "Minor League Baseball podcast" on iTunes. The podcast is also available via Spotify,
Mets net trio of arms from Jays for Matz
Righties Diaz, Winckowski, Reid-Foley head to New York in swap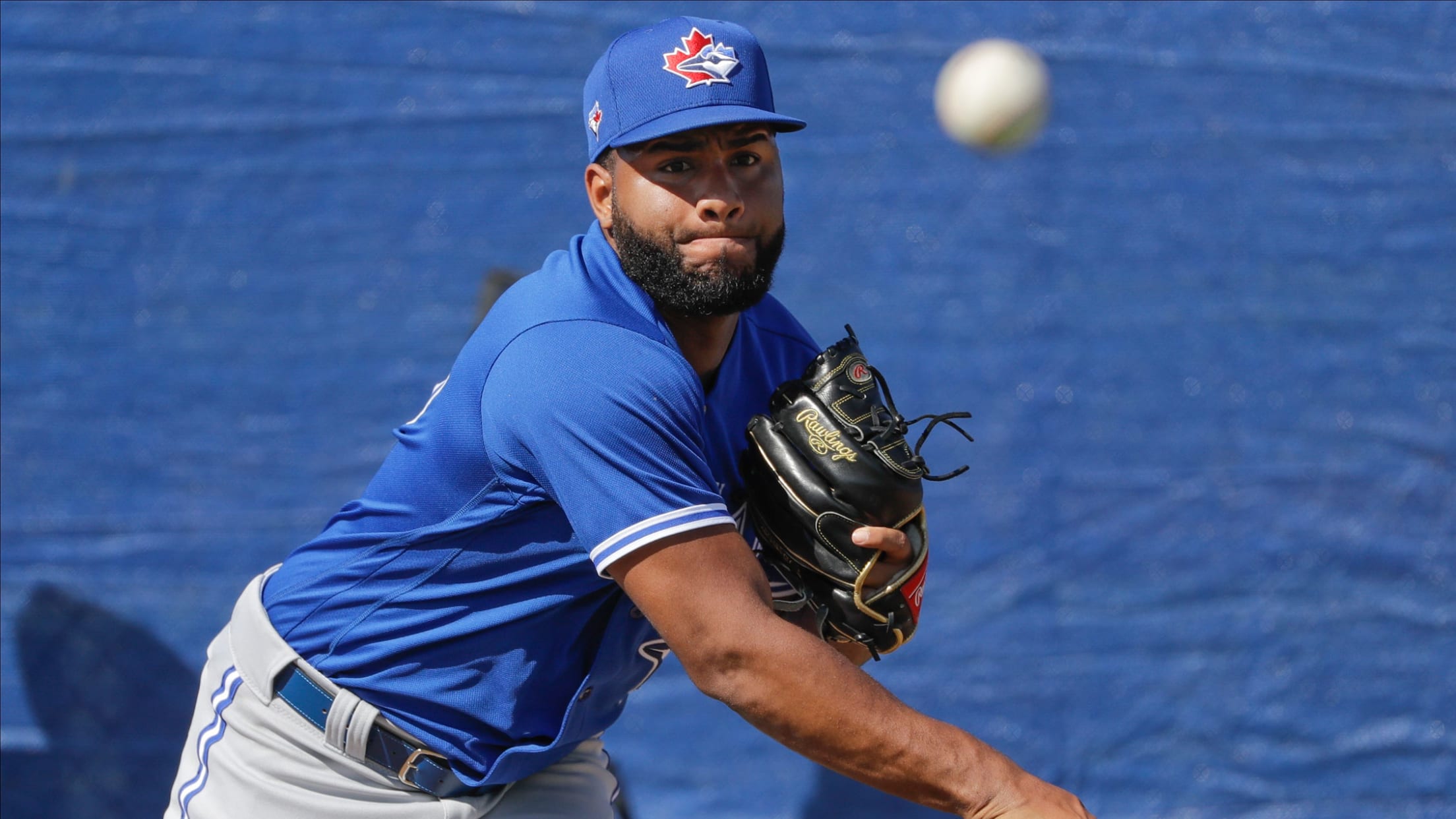 A little over a week after the Mets parted with Endy Rodriguez to acquire big league hurler Joey Lucchesi, a trio of young arms are joining the system. The Blue Jays announced a trade Wednesday night sending No. 26 Toronto prospect Yennsy Diaz, No. 27 Josh Winckowski and fellow right-hander
2021 Prospect Projections: AL East rookies
How Steamer600 views O's, Sox, Yanks, Rays, Jays rookies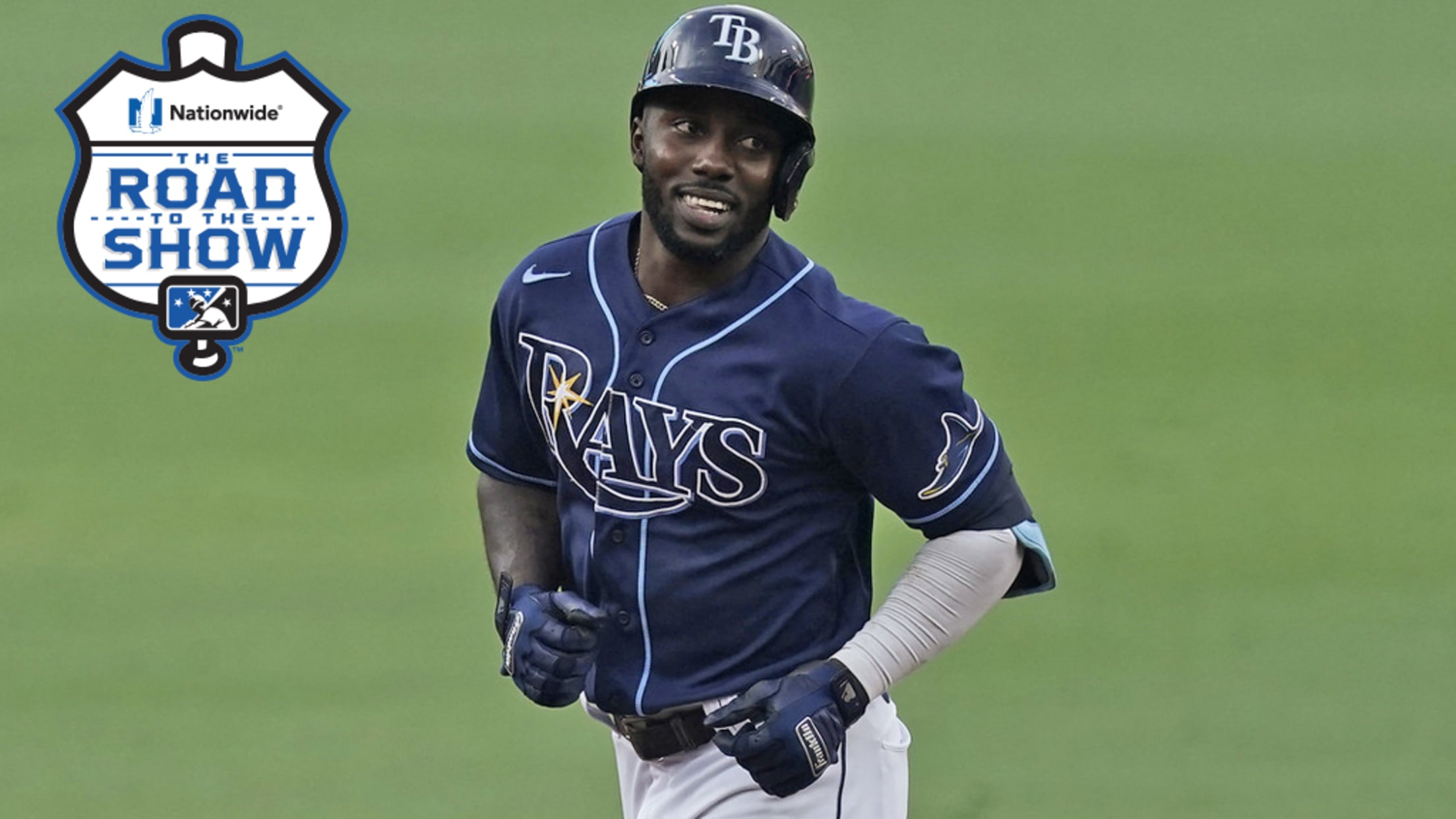 This is the first in a six-part Toolshed series that uses FanGraphs' Steamer600 projections to look at how prospects would fare over a full Major League season in 2021. The system bases its forecast on 600 plate appearances for position players, 450 plate appearances for catchers, 200 innings for starting
The Road to The Show™: Jordan Groshans
Blue Jays infield prospect blends skill and aggression at plate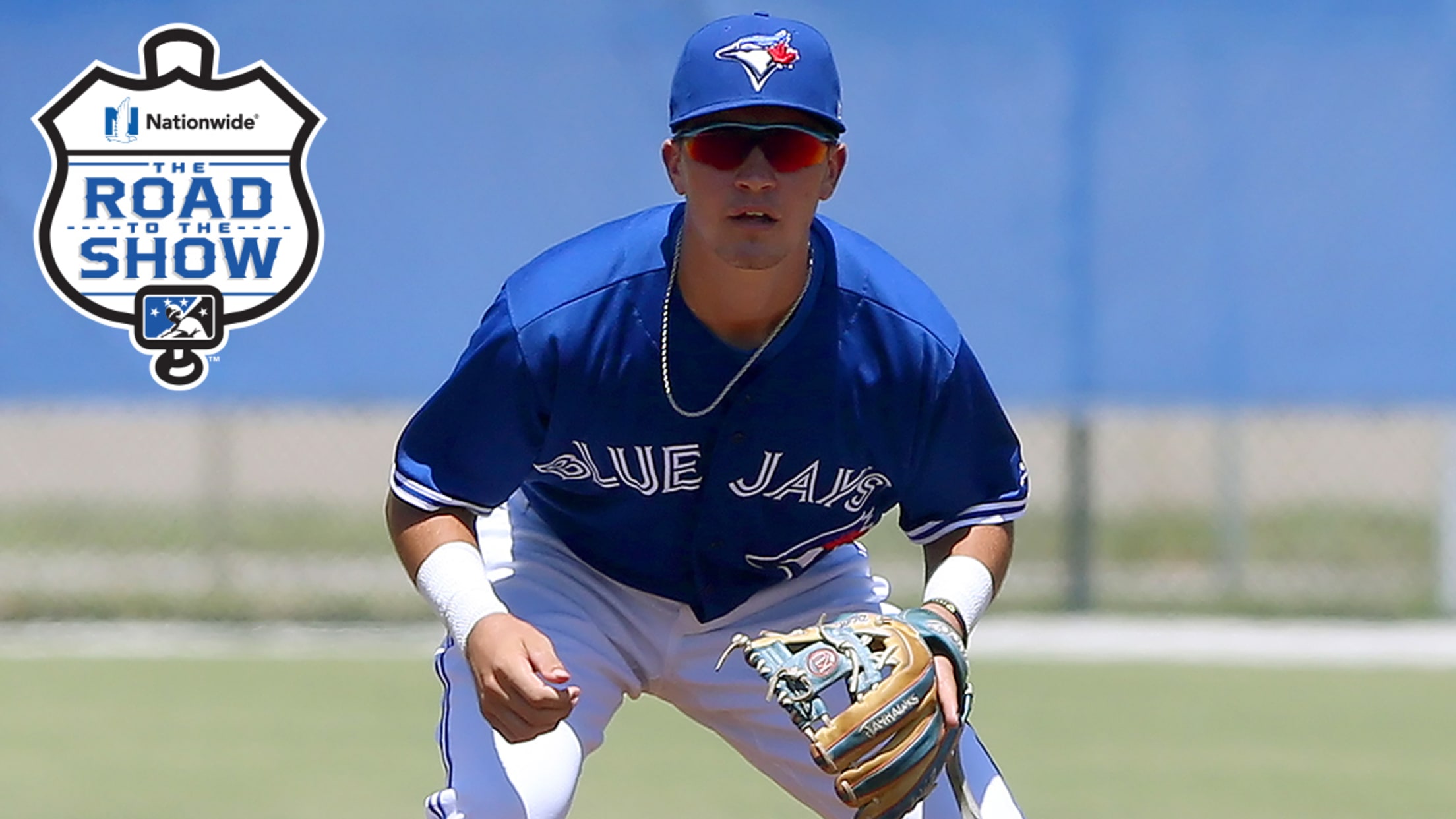 Each week, MiLB.com profiles an elite prospect by chronicling the steps he's taken to reach the brink of realizing his Major League dream. Here's a look at Toronto Blue Jays infielder Jordan Groshans. For more player journeys on The Road to The Show, click here.
Martin ready to compete, win with Blue Jays
First-round pick's work ethic impressed at alternate site, fall camp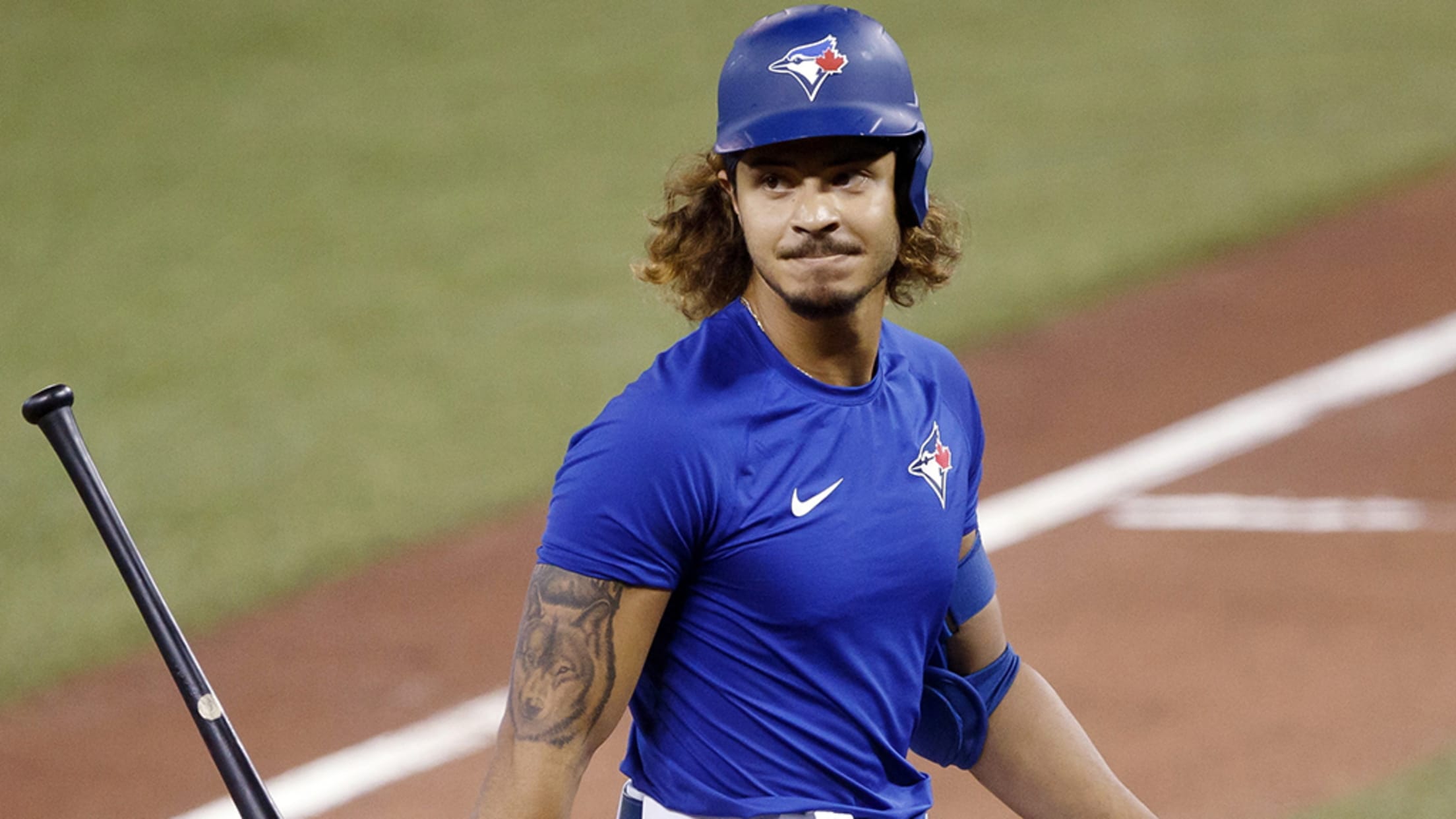 When Vanderbilt's season ended prematurely on March 11 after a win against Toledo, it not only closed the book on Austin Martin's college career, but it also began the longest stretch of his life without a competitive baseball game. Even after going fifth overall in the Draft to the Blue
State of the System: Toronto Blue Jays
Pearson, Martin soaring among balanced group of prospects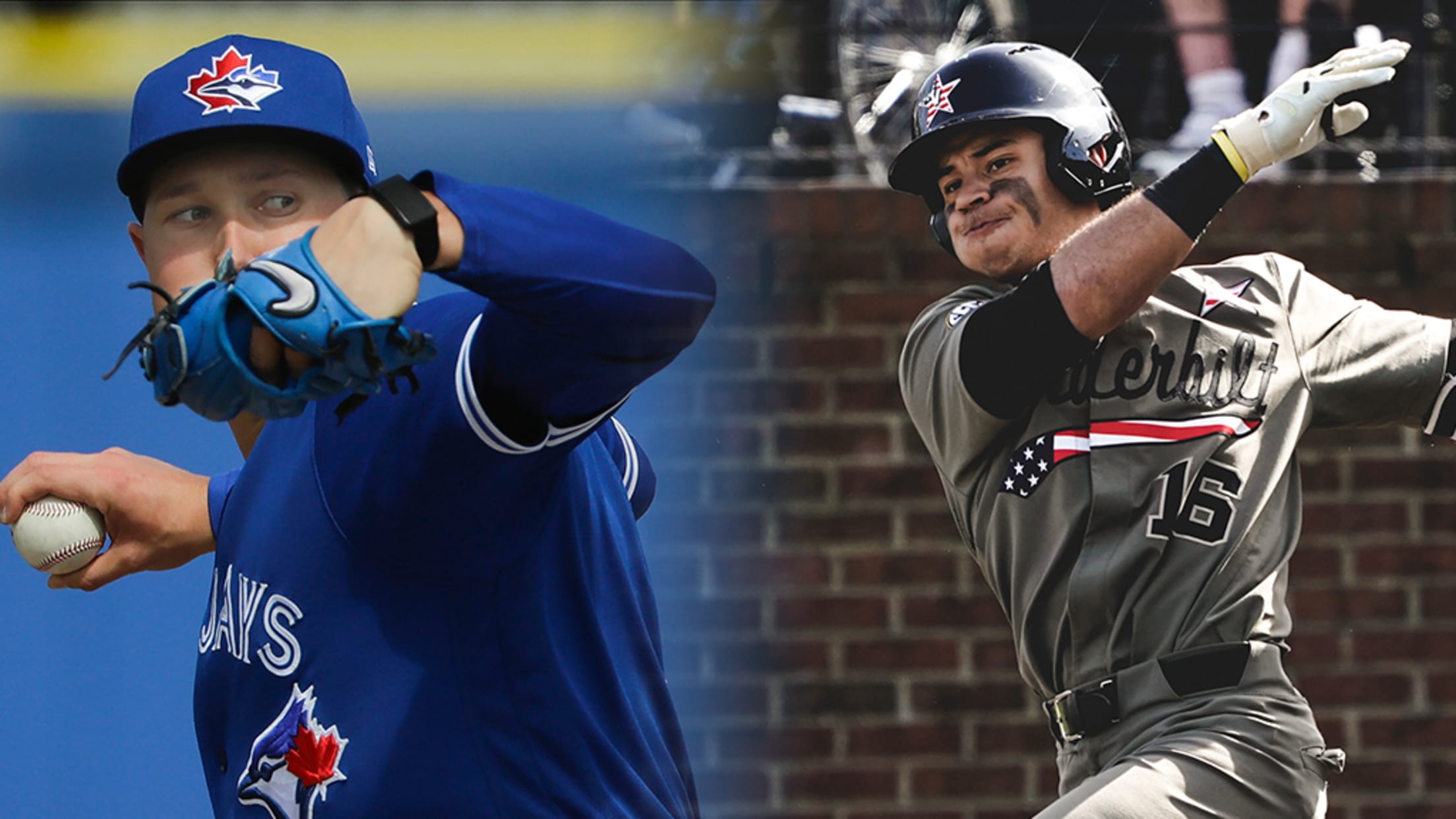 Starting in October and running through the end of the year, MiLB.com's State of the System series will evaluate the strengths and weaknesses of each Major League organization, highlights prospects who've made the biggest strides in 2020 and offers a peek at 2021.
Toolshed: 10 most fun callups of 2020 season
Revisiting quick risers, late bloomers who made way to Majors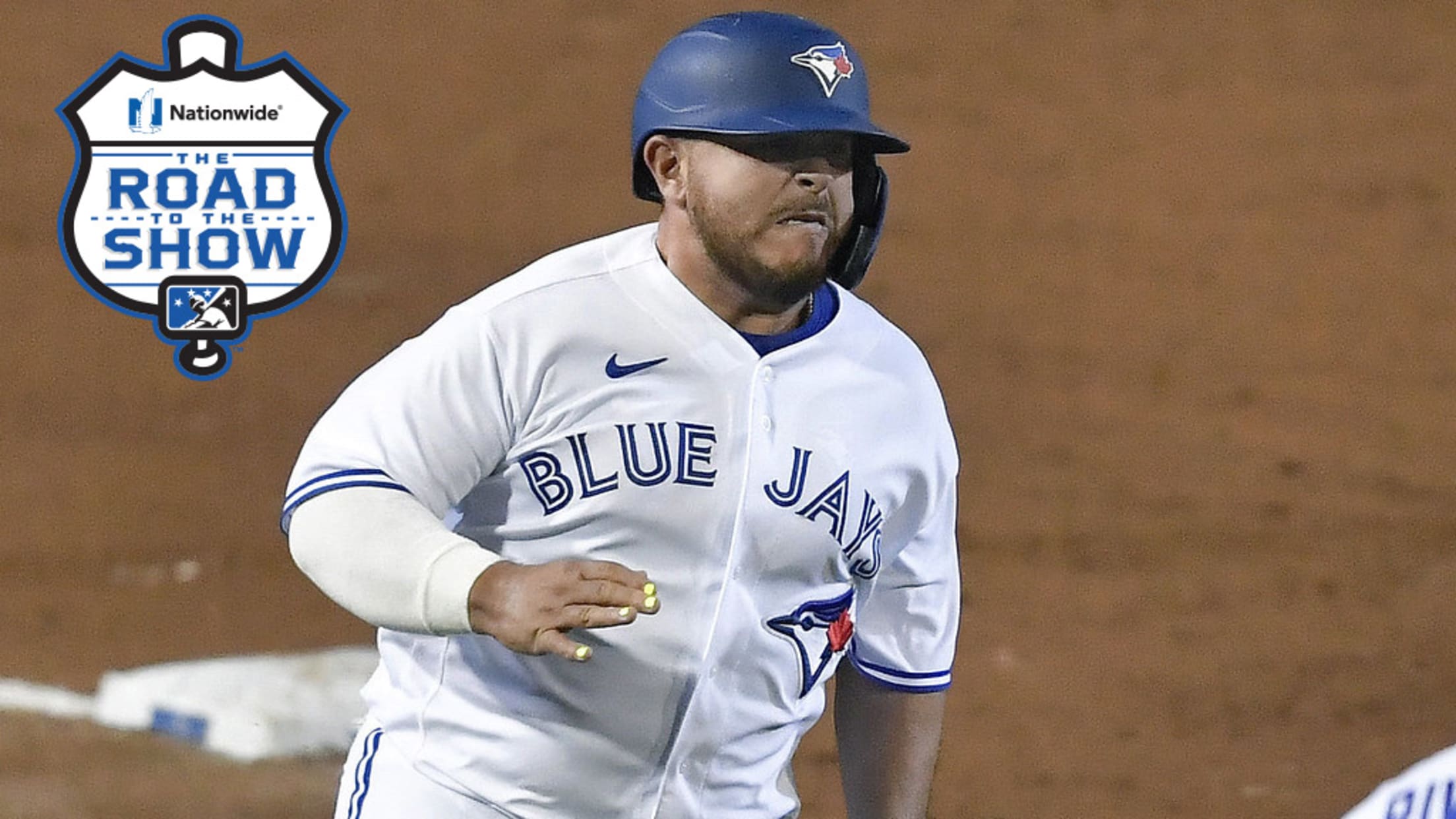 There were 210 Major League debuts (and perhaps still counting) during the 2020 season. This week, Toolshed looks back at the 10 most fun first callups of the 2020 season, listed in chronological order of debut date. To be clear, this isn't focused on how they did in their first
Jays' Pearson blazes his way into record books
No. 7 overall prospect hurls 101.5 mph heater, sets club mark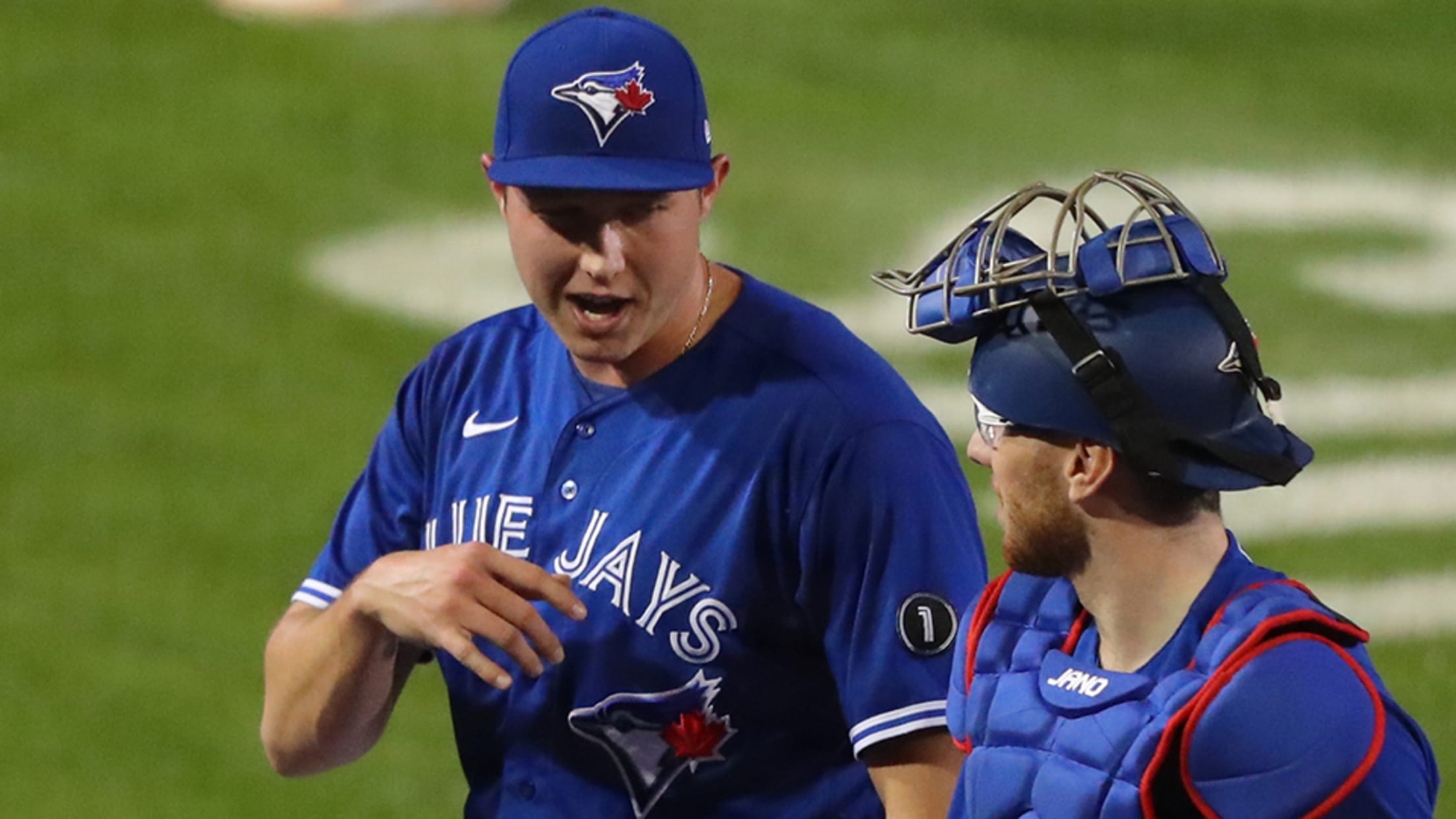 It's no secret that Nate Pearson throws hard. Through three Minor League seasons and a handful of appearances in the bigs this year, the top Blue Jays prospect put on display one of the best fastballs in the game and in the Toronto organization as a whole. Now, after just
Kirk powers Jays with perfect night at plate
Sixth-ranked Jays prospect homers, doubles in first multi-hit game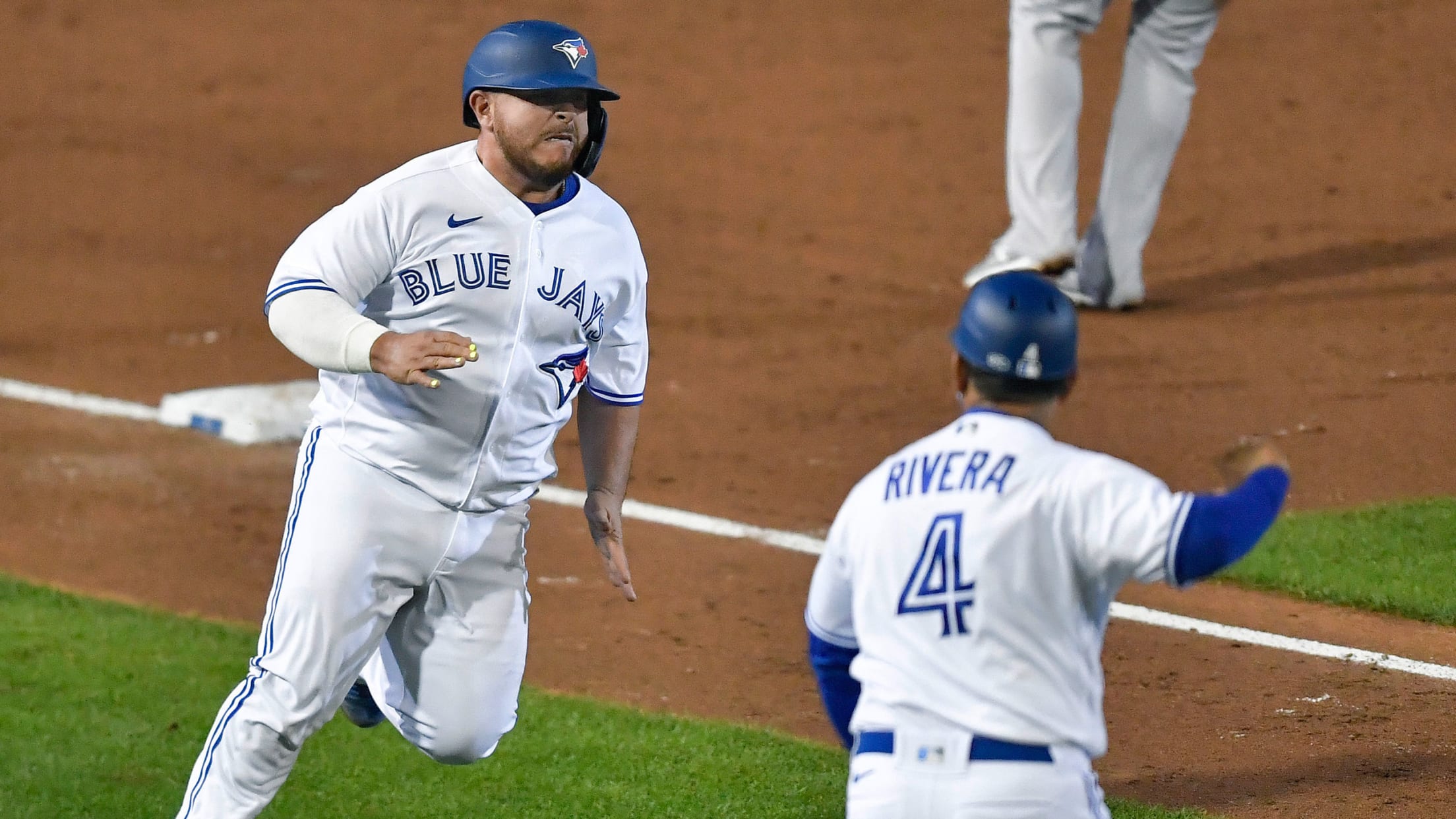 Alejandro Kirk hadn't played above Class A Advanced before he was brought up on Sept. 12. The sixth-ranked Toronto prospect had two hits in the Majors heading into Monday's game. By the end of the night, he had tripled that number. Kirk went a perfect 4-for-4 -- smacking a homer
Cut it out: Rochester rooters finally take their seats
Frontier Field, serving as Jays' alt site, adds cardboard supporters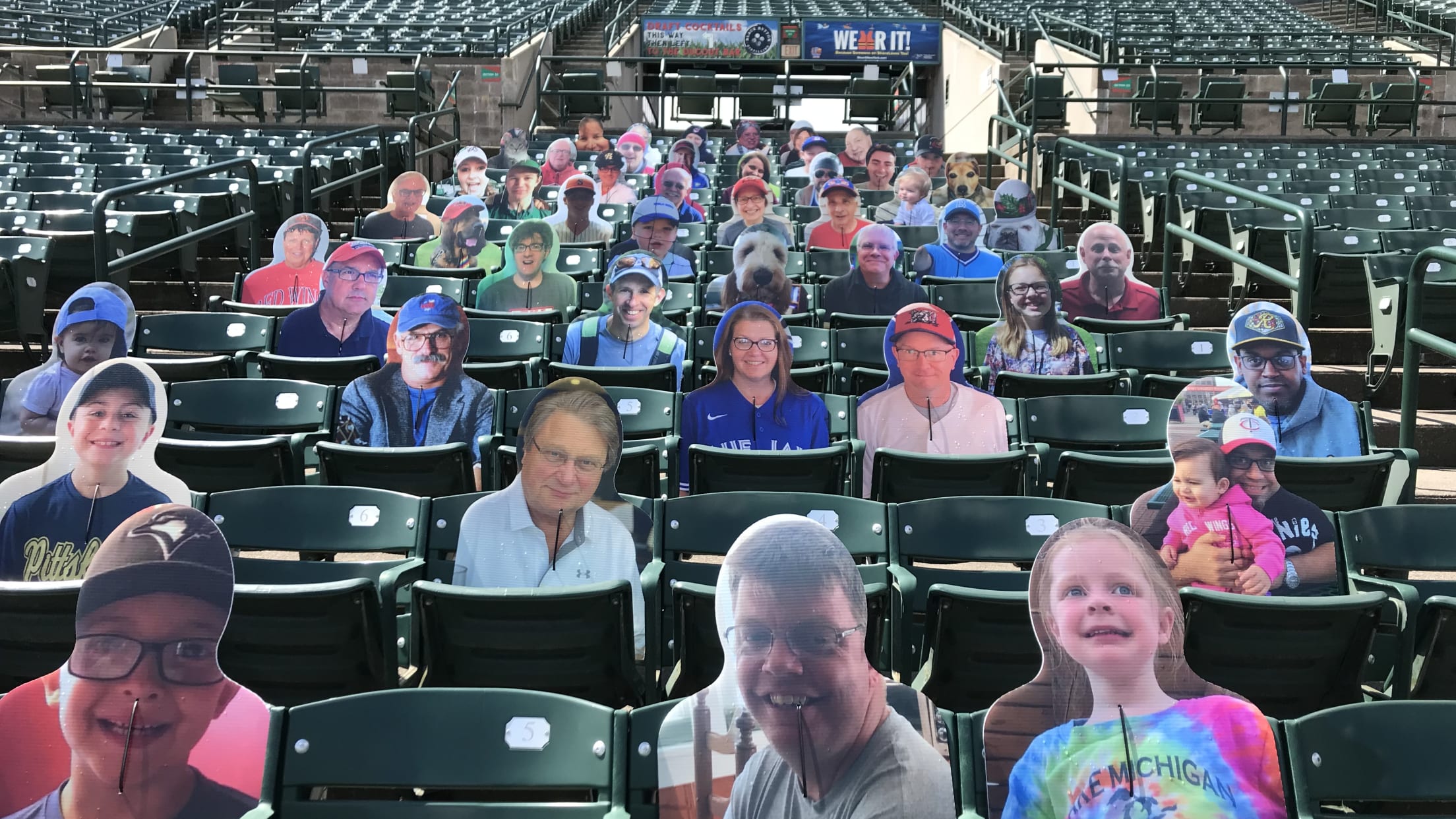 To be a Rochester Red Wings fan in 2020, you've got to be cut out for the job. The Red Wings, Triple-A affiliate of the Minnesota Twins, welcomed their first crowd of the year on Aug. 21. This Frontier Field gathering, eclectic yet inanimate, was in the form of approximately
Pearson heads to IL with elbow problem
Top Blue Jays prospect felt tightness after start on Tuesday
The Blue Jays suffered a setback Wednesday, placing top prospect Nate Pearson on the injured list with elbow tightness.
Romano sharp as Majors return to Buffalo
Jays No. 30 prospect has yet to allow a hit in eight innings in '20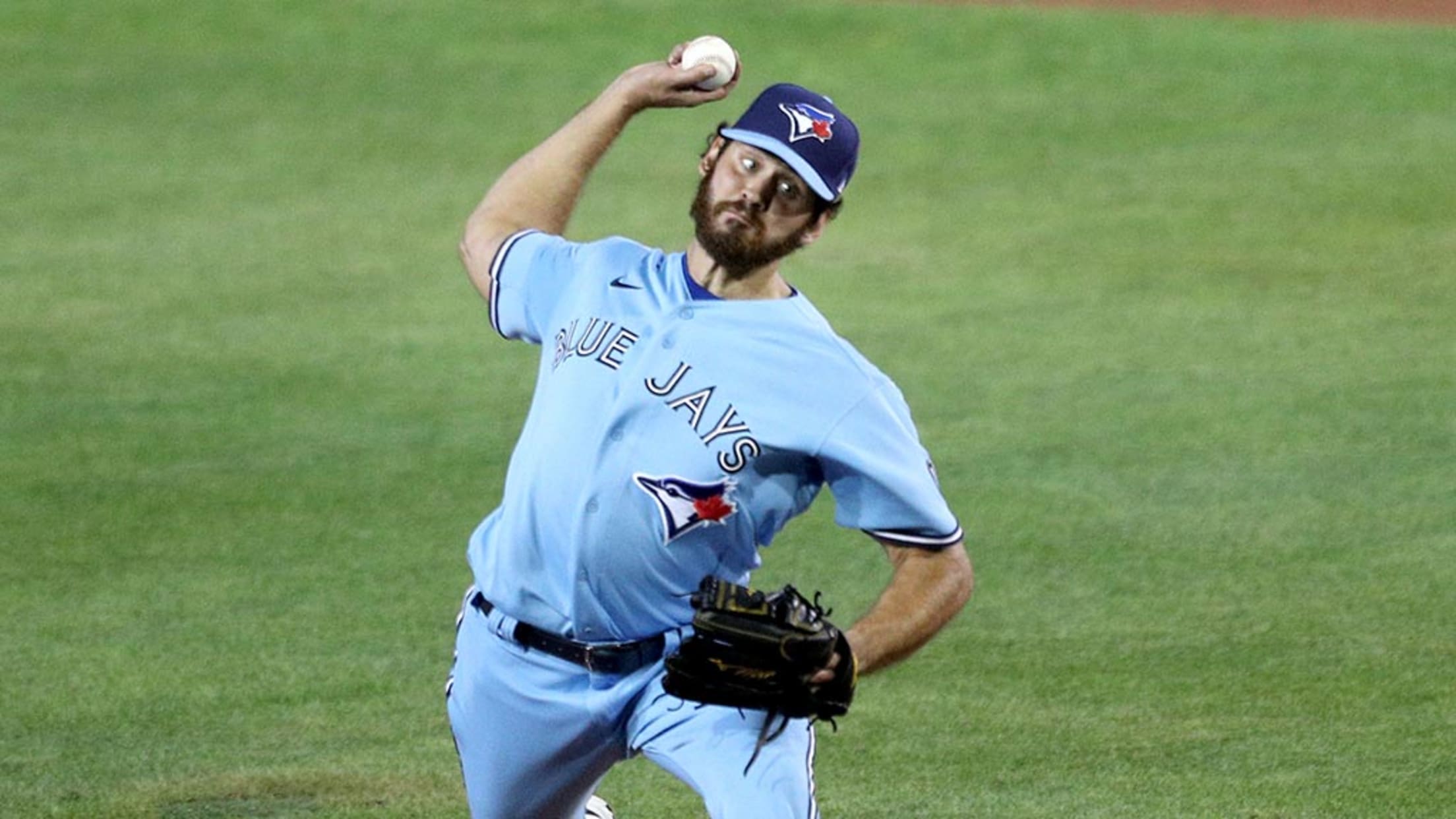 The wait was well worth it. Hosting a Major League game for the first time in 105 years, Triple-A Buffalo's Sahlen Field experienced a little bit of everything Tuesday night. With a number of former Bisons competing in their former home, the Blue Jays bounced back from a late Marlins
Toolshed: What Buffalo move means for bats, arms
Blue Jays' new home could tilt advantage to pitchers, righty hitters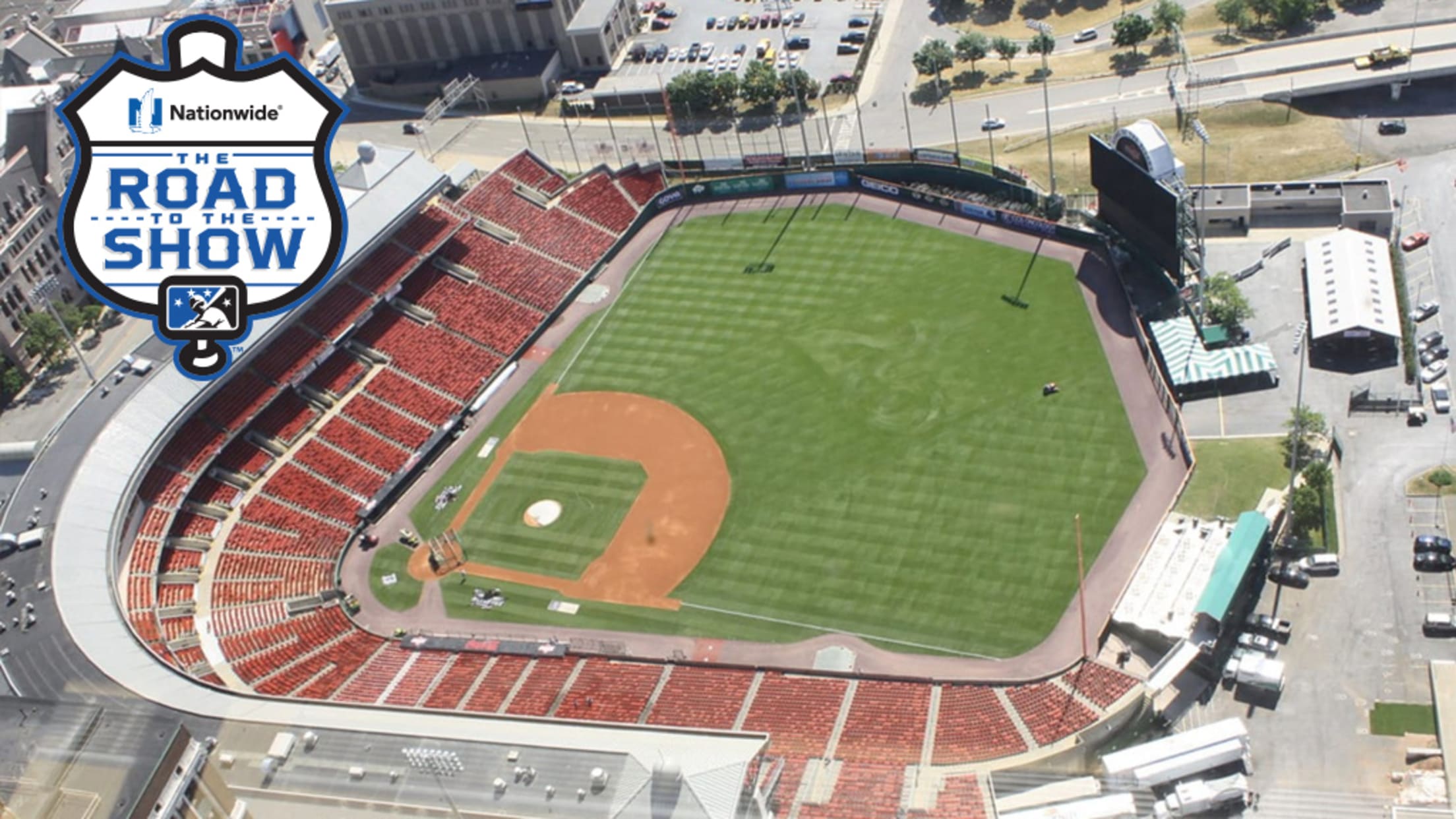 Buffalo's Sahlen Field is preparing for its closeup, and in a few ways, that's been some time coming. Last Friday, the Blue Jays announced they would be using Buffalo as its home for the 2020 Major League season, beginning on Aug. 11 with a game against the Marlins. The club
The Show Before the Show: Episode 269
Bisons exec Buczkowski explains Buffalo's prep to host Blue Jays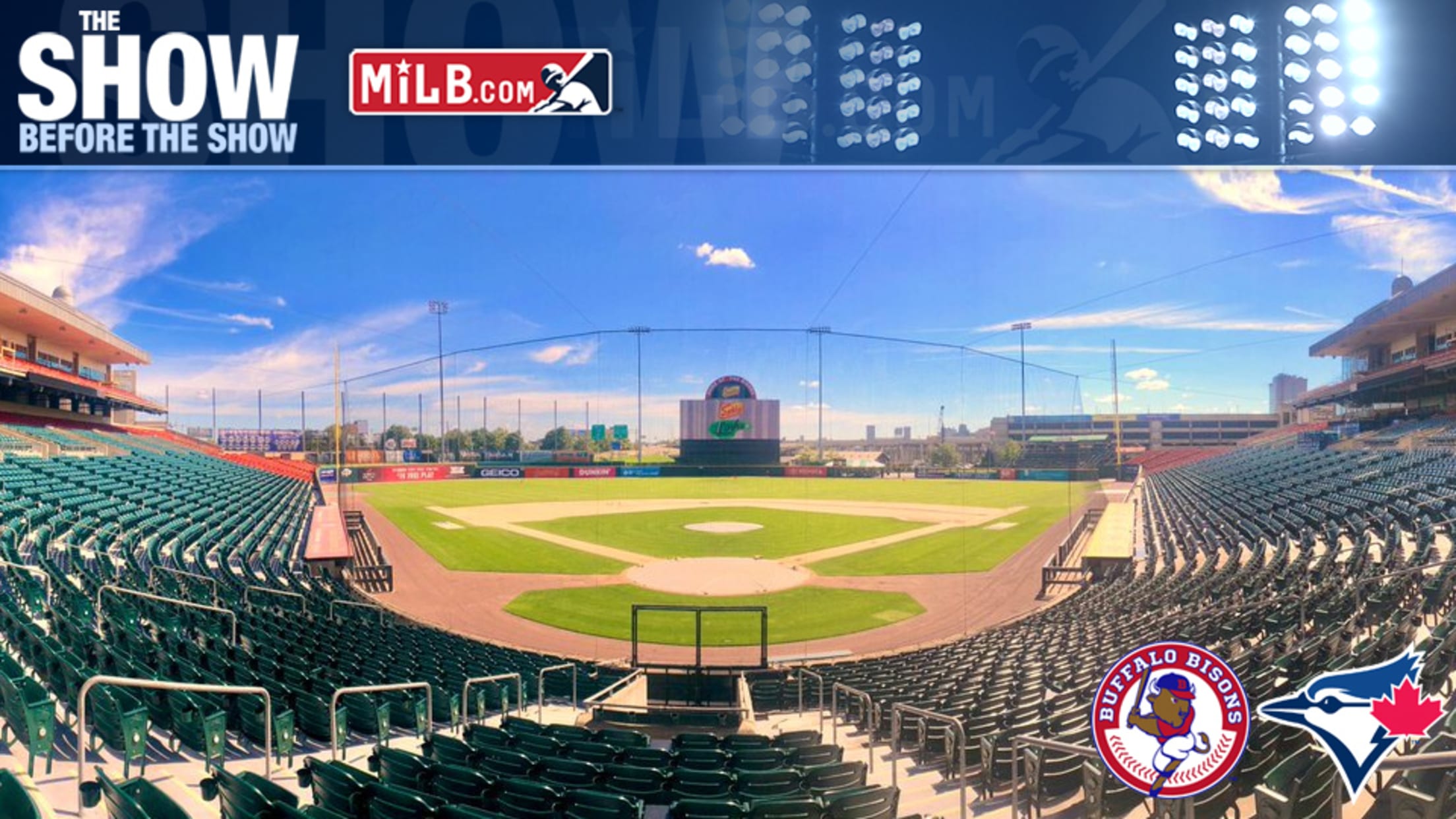 Check out the latest episode of The Show Before the Show, MiLB.com's official podcast. A segment rundown is listed below, in case you want to skip to a particular section. Like the podcast? Subscribe, rate and review "Minor League Baseball podcast" on iTunes. The podcast is also available via Spotify,
Blue Jays' Pearson shines in scoreless debut
No. 8 overall prospect yields pair of hits and walks in five innings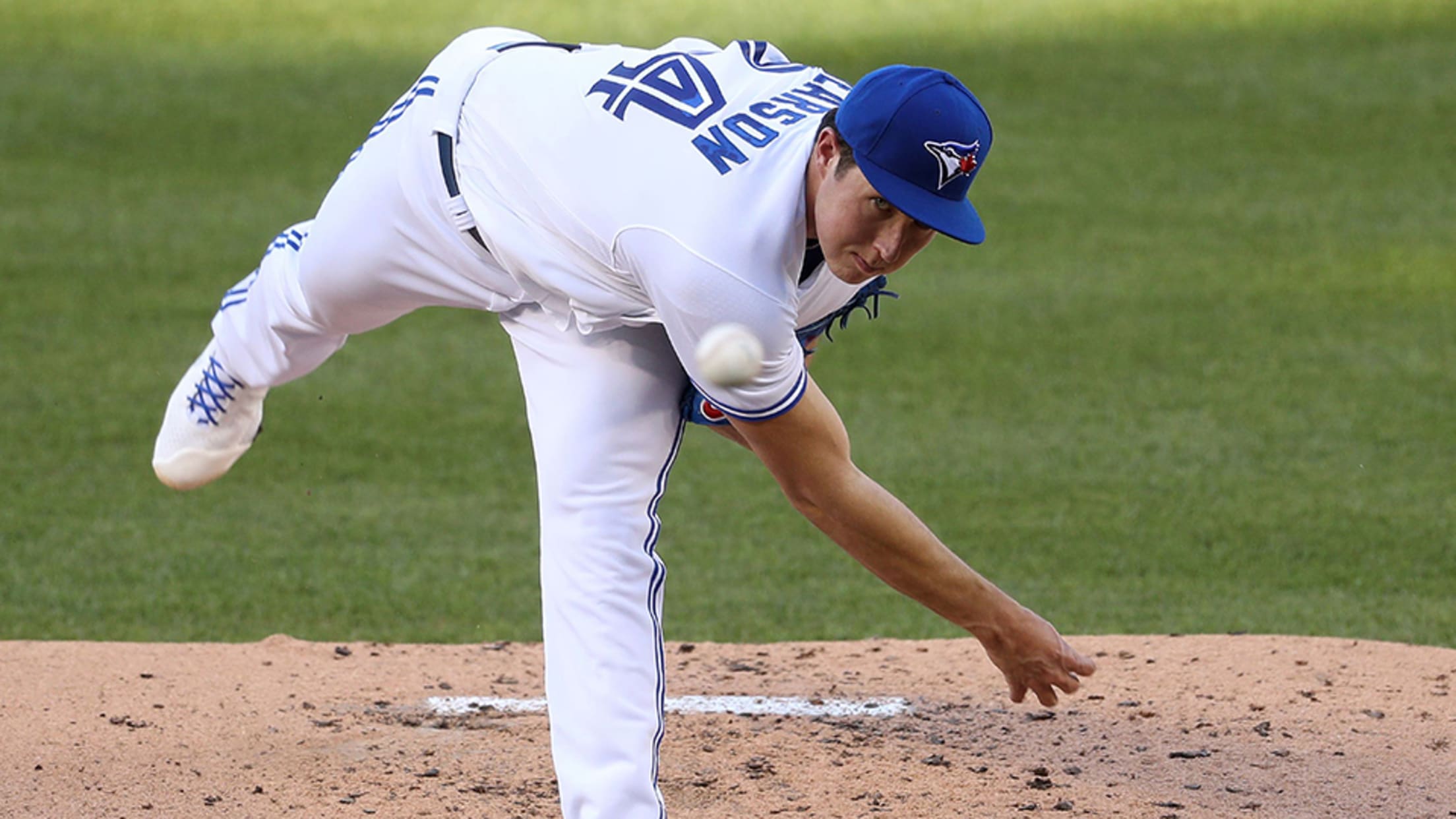 The circumstances of Nate Pearson's debut in the Majors likely defied his expectations. But his performance in what became a home game for the Blue Jays in an empty Nationals Park in Washington, D.C. certainly fit his scouting report. "He gave us a chance, it was outstanding. He was fun
Waful left lasting impression in Central New York
Lifelong Syracuse resident, former team president was a local icon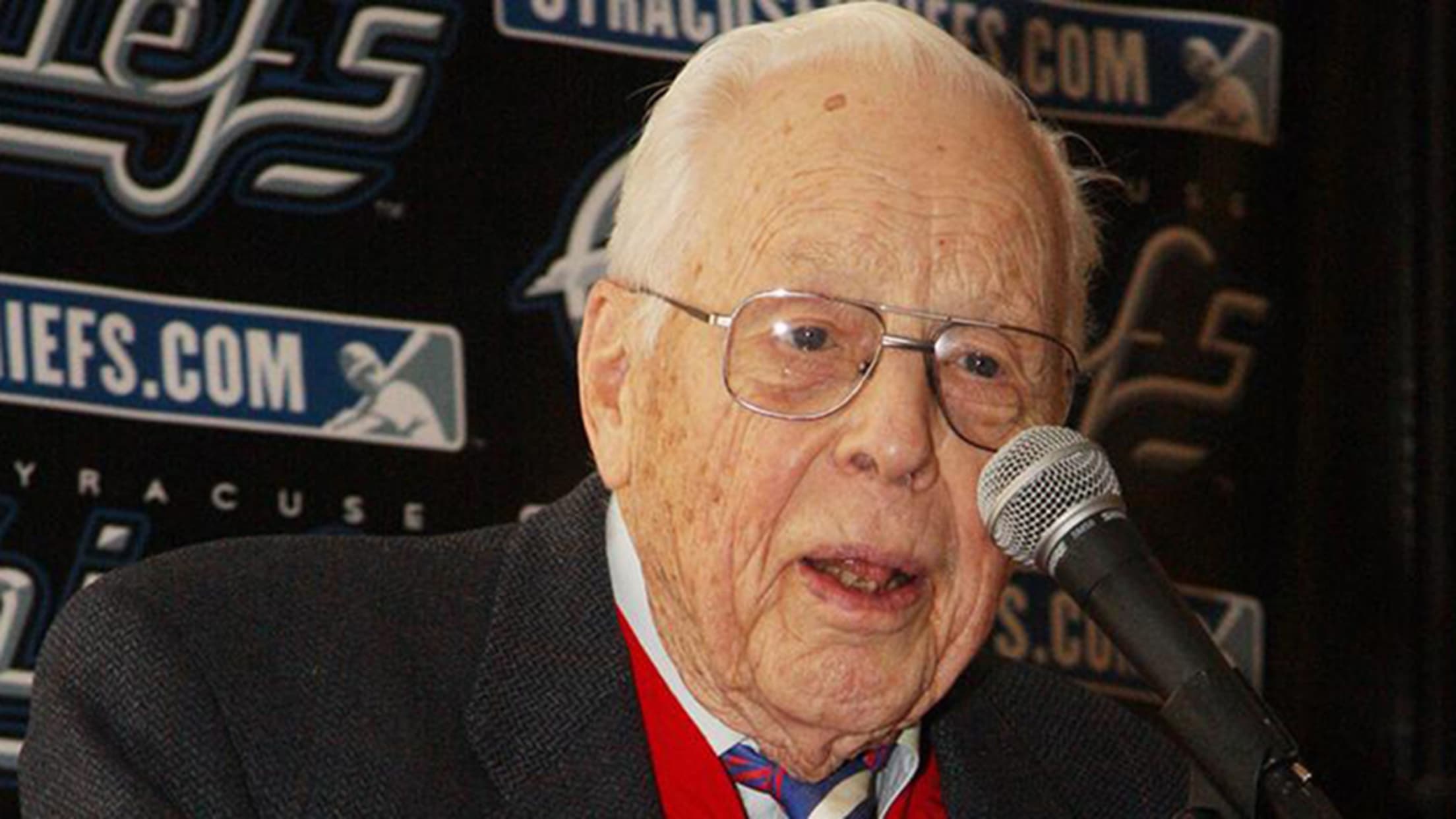 It was a life well lived and one that touched tens of thousands in the Syracuse area. When Don Waful died last September at the age of 103, he left a legacy of charity, friendship and charm that will far supersede his century on this Earth. Born in Newark, New
Pearson will start for Blue Jays on Wednesday
Toronto to summon top prospect for MLB debut against Nationals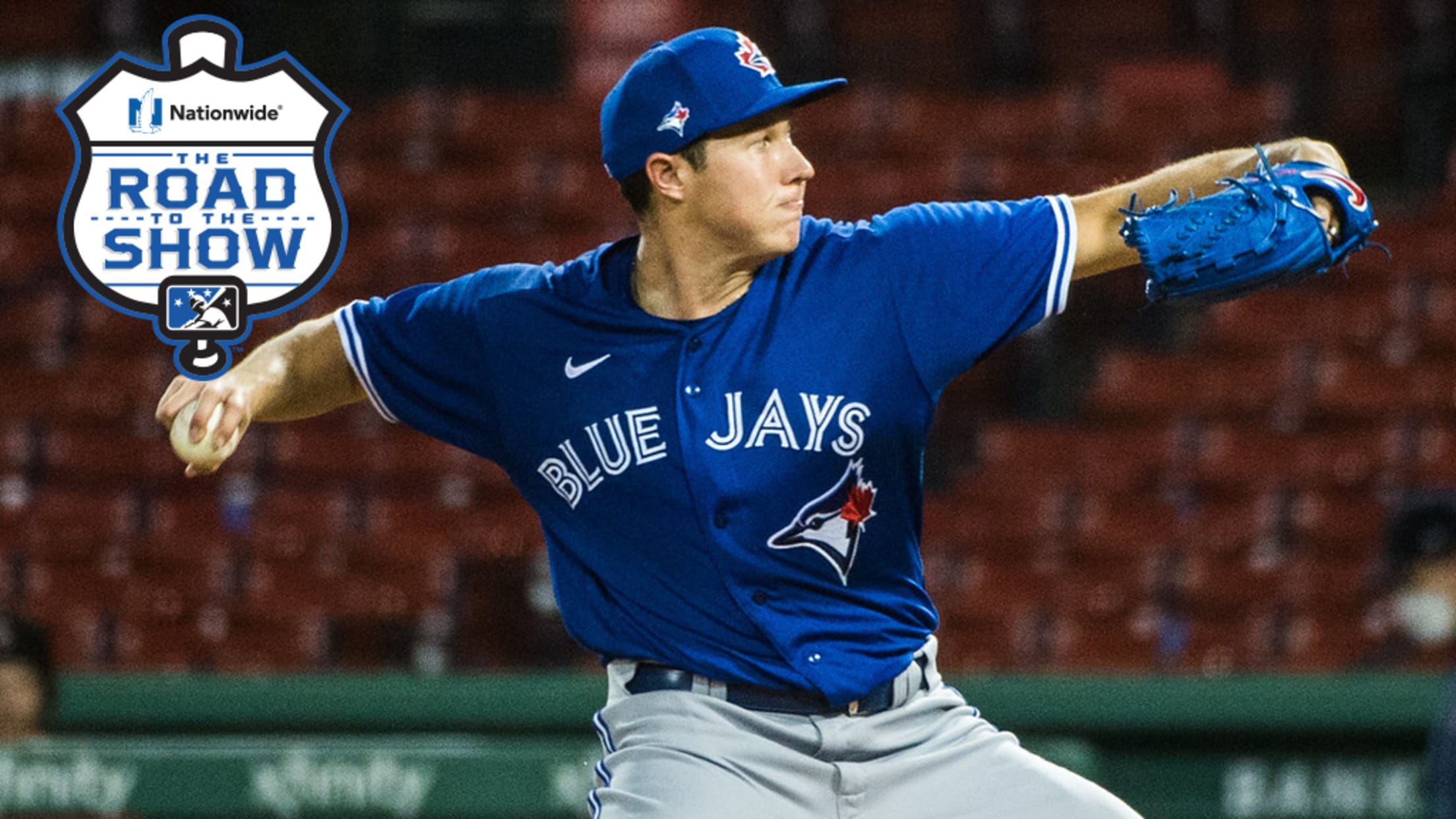 We now have a liftoff date for one of the game's top pitching prospects. The Blue Jays are calling up top prospect Nate Pearson for his Major League debut against the Nationals on Wednesday, according to MLB.com's Keegan Matheson. Pearson has been on the Toronto taxi squad since the 2020
Blue Jays to use Buffalo as 2020 home
Triple-A park to host Major League club for majority of home games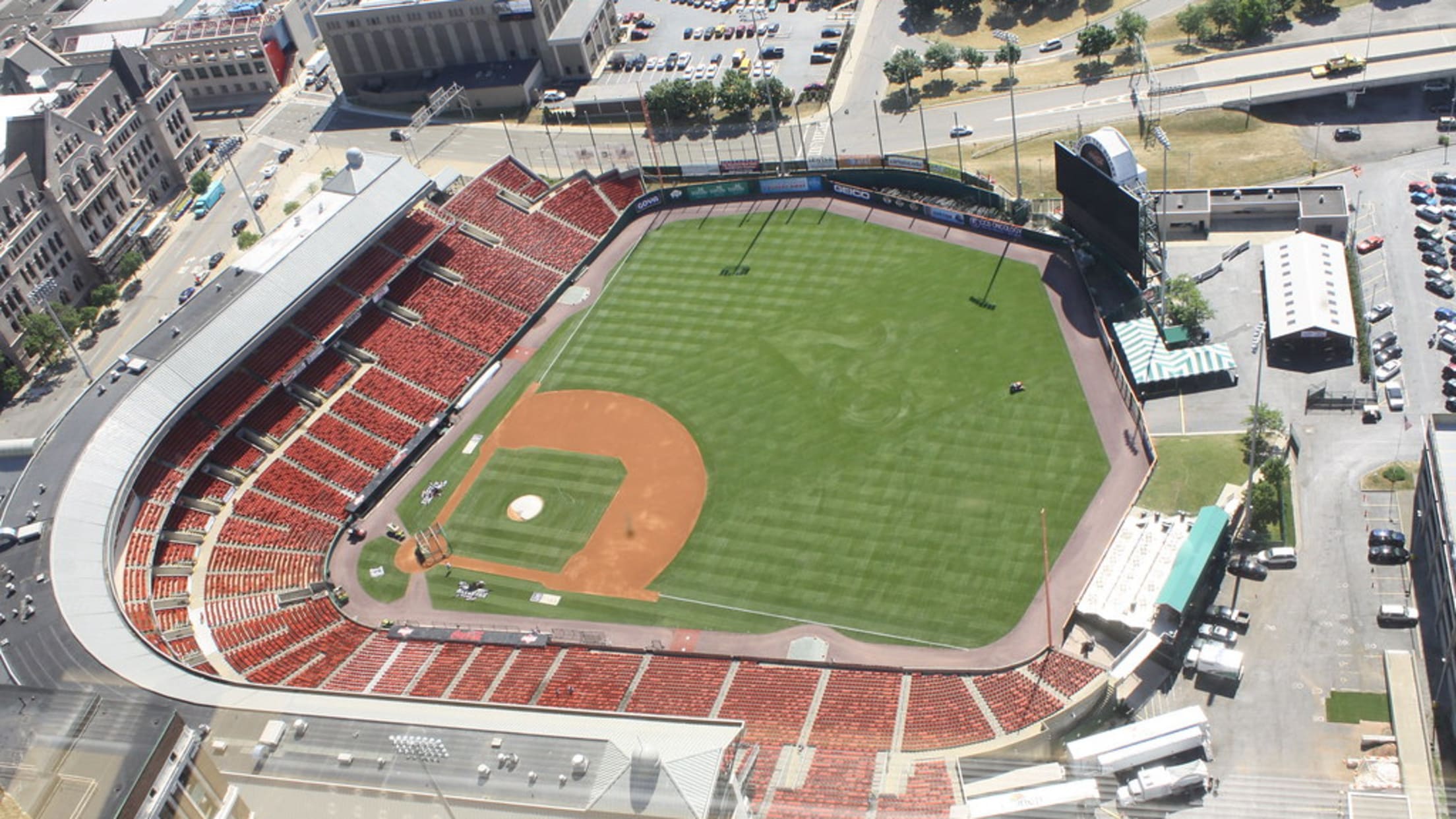 Major League Baseball is coming to a Minor League ballpark. The Toronto Blue Jays will use Triple-A Buffalo's Sahlen Field for a majority of its 30 home games during the 2020 season, the Major League club officially announced Friday. The decision came after the Canadian government did not grant the
Prospects in the Blue Jays' 2020 player pool
Pearson, Woods Richardson ready to soar north of the border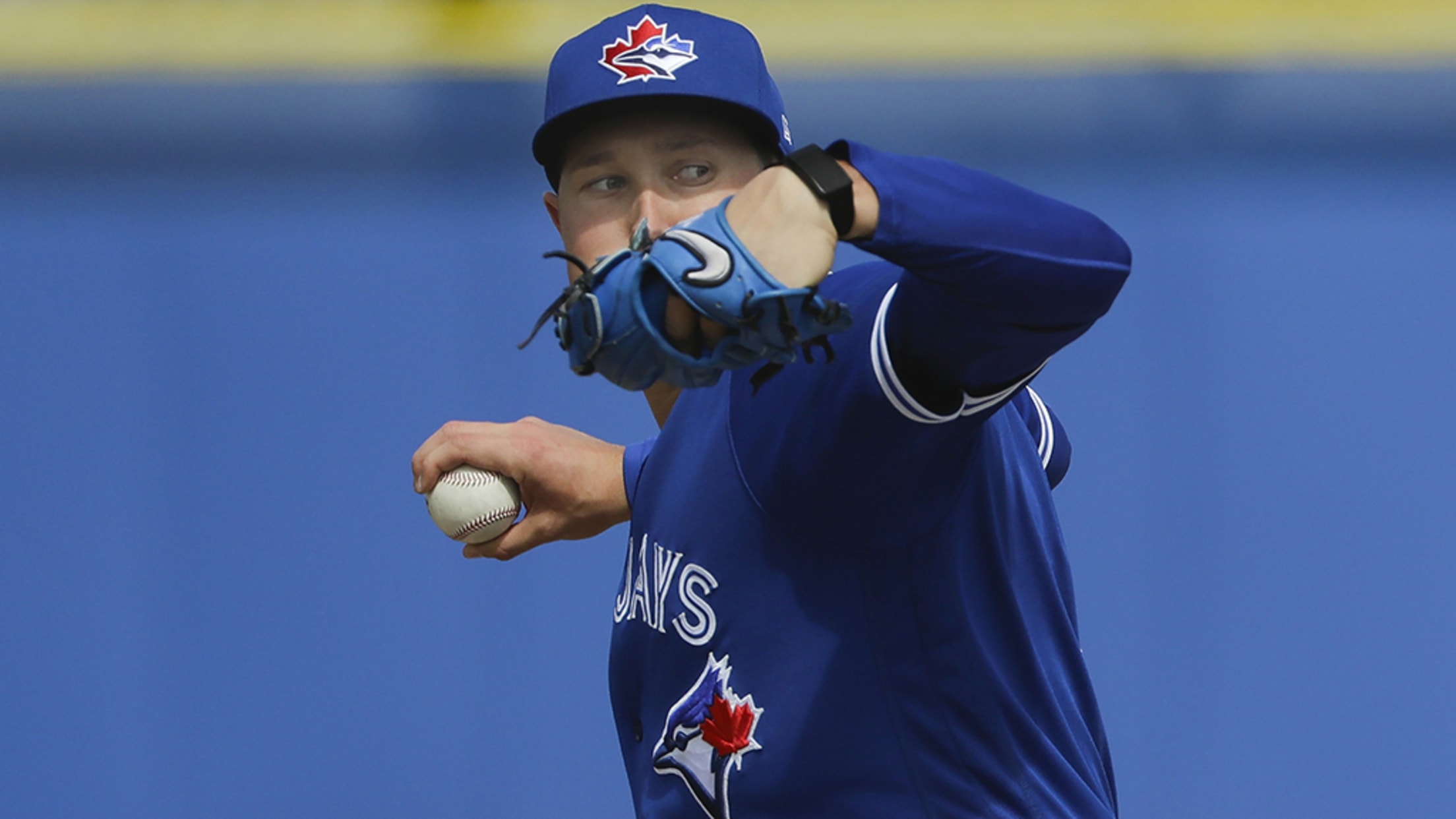 As part of the new rules for the 2020 Major League season, each of the 30 organizations will maintain a 60-man player pool for the duration of the campaign. Some members of the player pool will feature on the active Major League roster while others will work out at an
2020 Draft recap: Toronto Blue Jays
Jays' haul includes best pure hitter in top pick Martin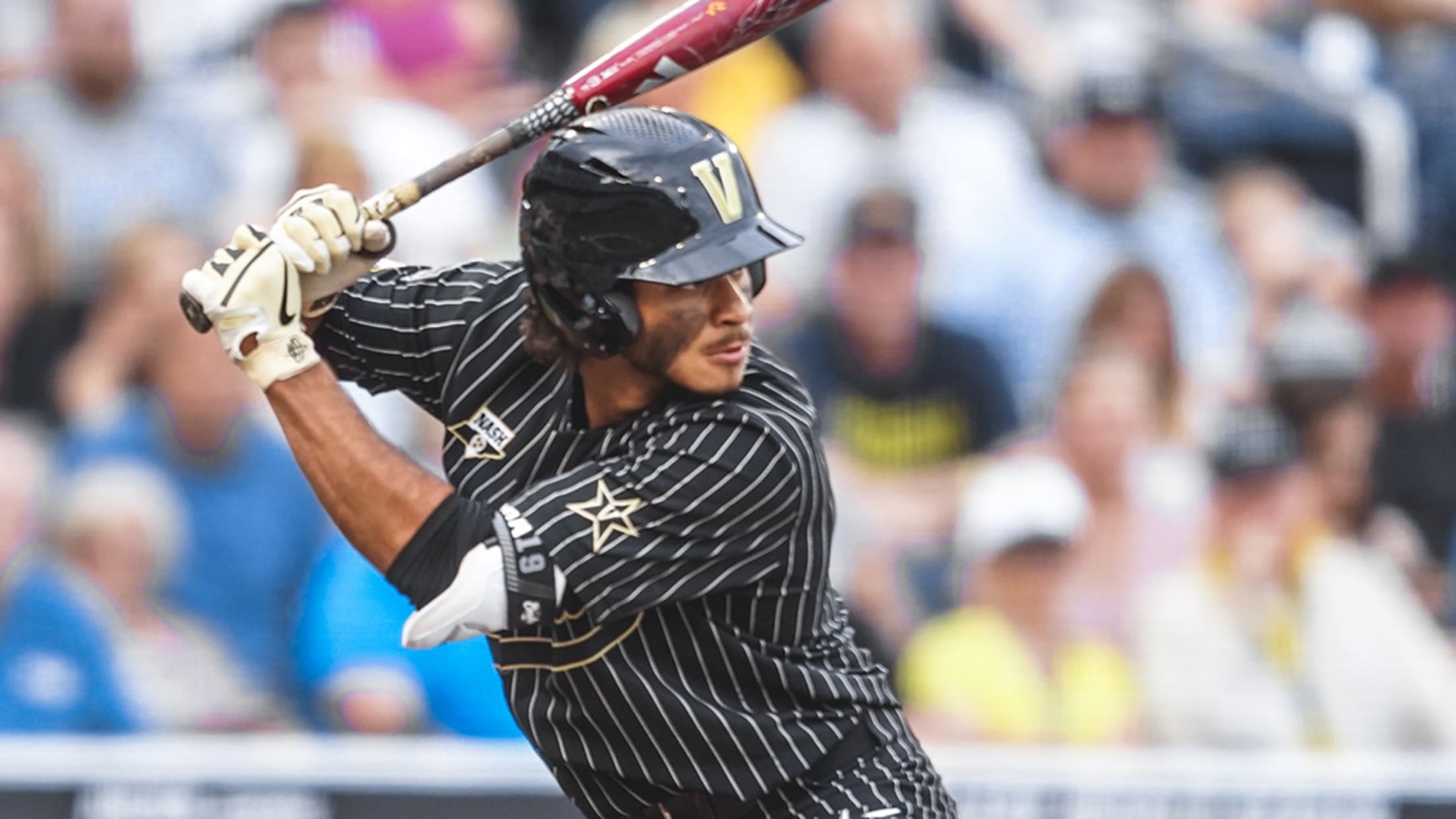 Following the five-round 2020 MLB First-Year Player Draft, MiLB.com takes an organization-by-organization look at each pick with help from team scouting executives.
Best streams of 2019: No-hitters
Bisons' Zeuch joins elite company; Anderson fans 14 in gem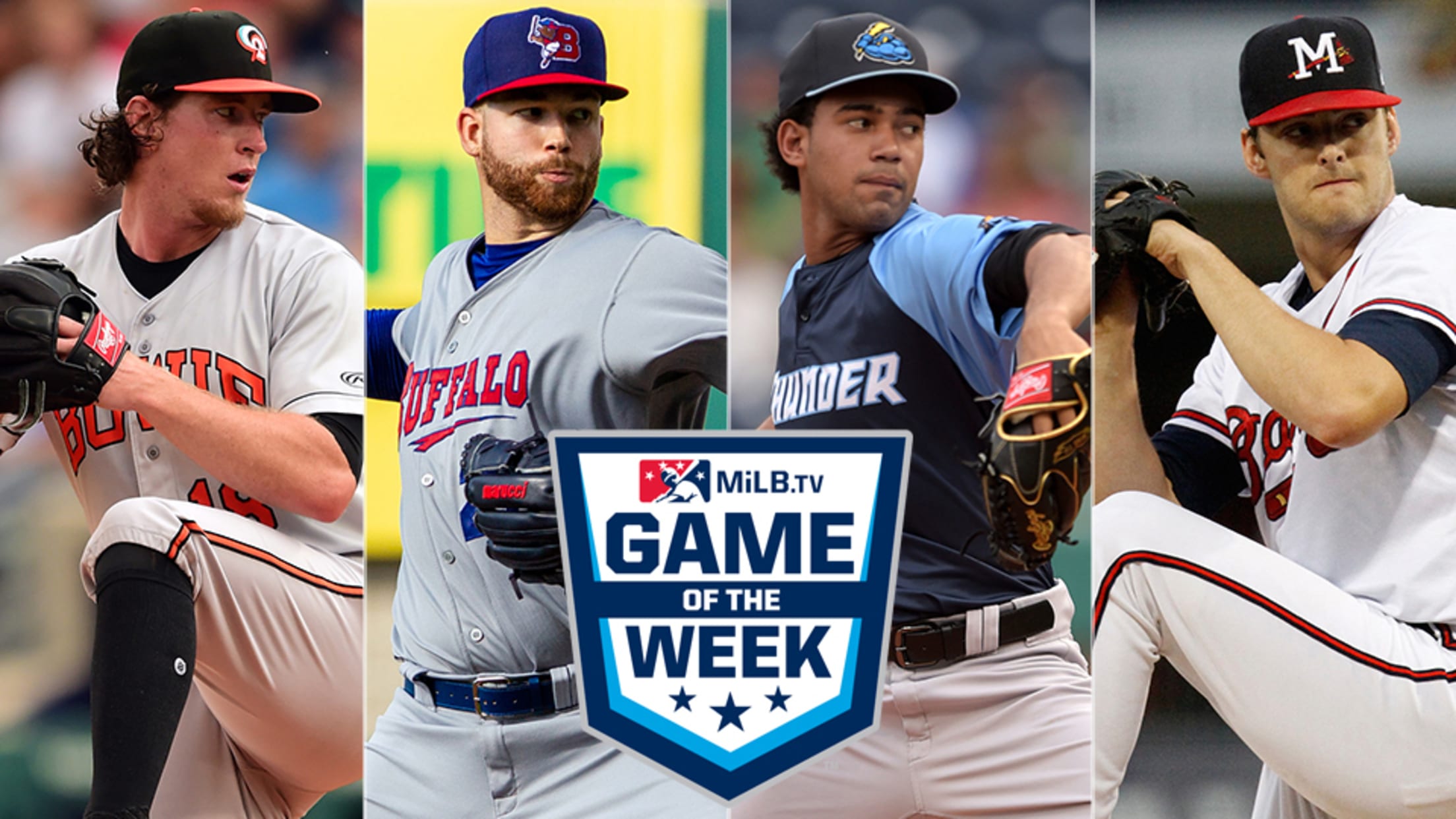 Is there anything more nail-biting than the final innings of a no-hit bid? There are few things that bring the tension, drama and superstition out of players and fans alike when a pitcher is vying for some history on the mound. In 2019, there were more than a few memorable
Ready and waiting: Jordan Groshans
No. 75 overall prospect staying simple during hiatus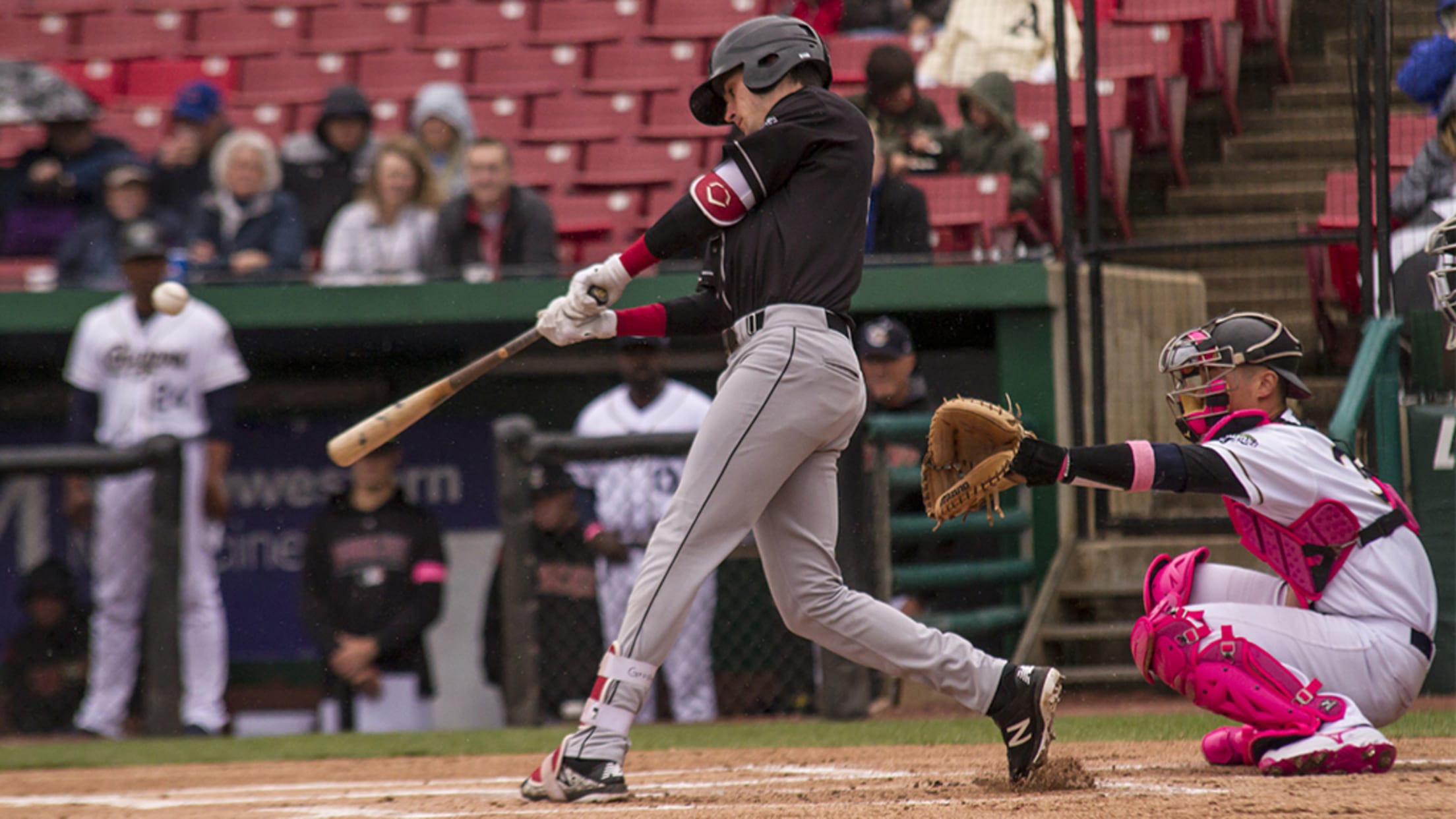 Players at all levels of the Minor Leagues missed significant playing time in 2019 due to injury only to have their return interrupted by the global pandemic. Each week, MiLB.com checks in on an elite prospect's road back from injury. This week, we focus on Toronto Blue Jays infielder Jordan