De Jong, Indy deliver first no-no of season
Relievers Brice, De Los Santos finish off milestone for the Indians
The first no-hitter for the 2022 season is in the books, and it belongs to Triple-A Indianapolis.
The first no-hitter for the 2022 season is in the books, and it belongs to Triple-A Indianapolis.
Right-handers Chase De Jong, Austin Brice and Yerry De Los Santos combined on the 15th such feat in franchise history in a 5-0 victory over St. Paul at CHS Field. It was the first no-no for the Indians since 2012.
De Jong, not only had to navigate one of the most potent lineups in the Minors, but also the frigid Minnesota climate. At the time of the first pitch, the temperature was 38 degrees Fahrenheit. But the 28-year-old worked around a pair of walks and fanned nine over seven frames for the Pittsburgh affiliate.
"I think the biggest thing for me tonight was fighting the elements. It was pretty cold out there, we were all huddled around the heater inside the dugout," De Jong said. "But once I could get into a groove out there, I had all four pitches working for me and I have to give a lot of credit to catcher [Jason Delay]. On a night when it was real easy to check out because of how cold it was, he called a flawless game. He was on every single pitch, I didn't shake him off one time.
"And for the guys to finish it off, that's pretty special. My first time being a part of one of these and to be able to achieve this as a team tonight ... you gotta just celebrate these moments."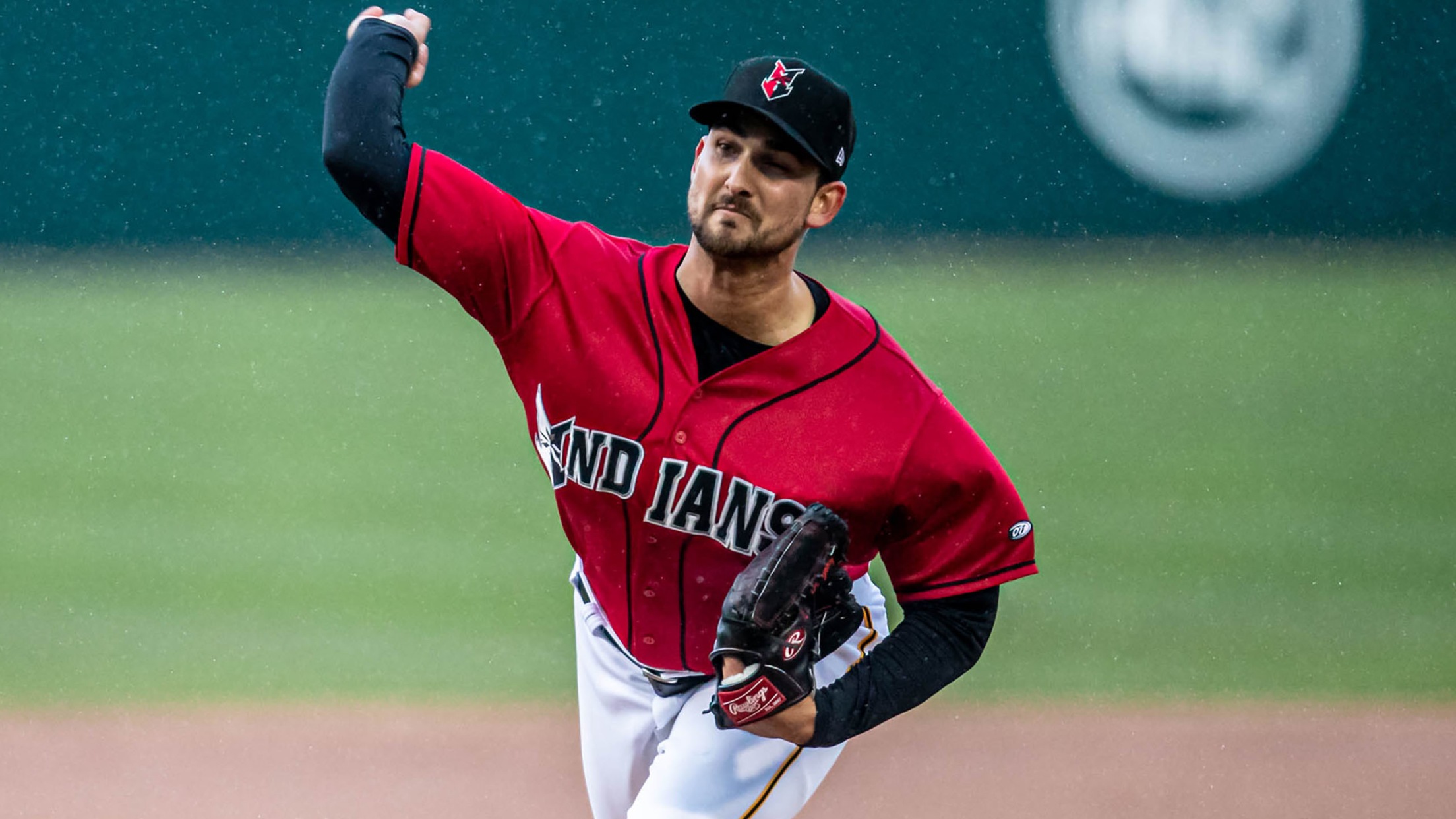 The 28-year-old recorded his first two outs on three pitches before winning a seven-pitch battle against Jake Cave, freezing the Twins farmhand on a 3-2 pitch for a called strike three to end the inning. De Jong retired the first seven Saints before yielding a walk to 30th-ranked Twins prospect Jermaine Palacios with one out in the third. The Long Beach, California native still faced the minimum through three after whiffing Jose Godoy and nabbing Palacios on a 2-6 caught stealing to end the inning.
After a two-out walk to Cave in the fourth, De Jong retired the final 10 batters he faced -- striking out six. He exited the game after throwing 80 pitches -- 49 for strikes.
"I fully understood that I had an 80-pitch limit coming into tonight," De Jong said. "I'm coming off of knee surgery, and I signed kinda late so I had an abbreviated Spring Training. So I was more than happy and just proud to do my part and pass the baton to the next guy. But, again, the biggest kudos to Delay. I only had to be on for seven innings, he had to do it for nine, and he managed that lineup and got us all through it. Can't say enough about the job he did."
De Jong posted a 2-0 record and 3.60 ERA over four starts for the Indians last season. He amassed 28 strikeouts while walking eight over 20 frames before his campaign was cut short due to injury.
Brice took the ball in the eighth and made quick work of it. The 29-year-old set down all three batters he faced and whiffed one. He threw eight of his 16 pitches for strikes.
De Los Santos was called on to close the game. After a lineout by Palacios on the second pitch, the closer fanned Godoy on three pitches and finished off the milestone by getting MLB Pipeline's No. 94 overall prospect Jose Miranda to swing through strike three.
"I was fully aware of the situation I was coming into, but it didn't change my mind-set at all," De Los Santos said. "I knew what I needed to do to get my job done and that was just go out there and attack and execute every pitch I wanted to throw. That was my lone focus, just getting that next out until it was over ... and me and Delay had a good rhythm out there. It was a good connection, we were on the same page the whole time."
The game marked the first time that St. Paul played in April as well as the first time an opponent no-hit the franchise over nine innings since it became affiliated with Minor League Baseball in 2021.
Rob Terranova is a contributor to MiLB.com. Follow him on Twitter @RobTnova24.