First Blue Wahoos Movie & Fireworks Night A Smashing Success
1,000 fans safely enjoy a community movie night and fireworks show at the ballpark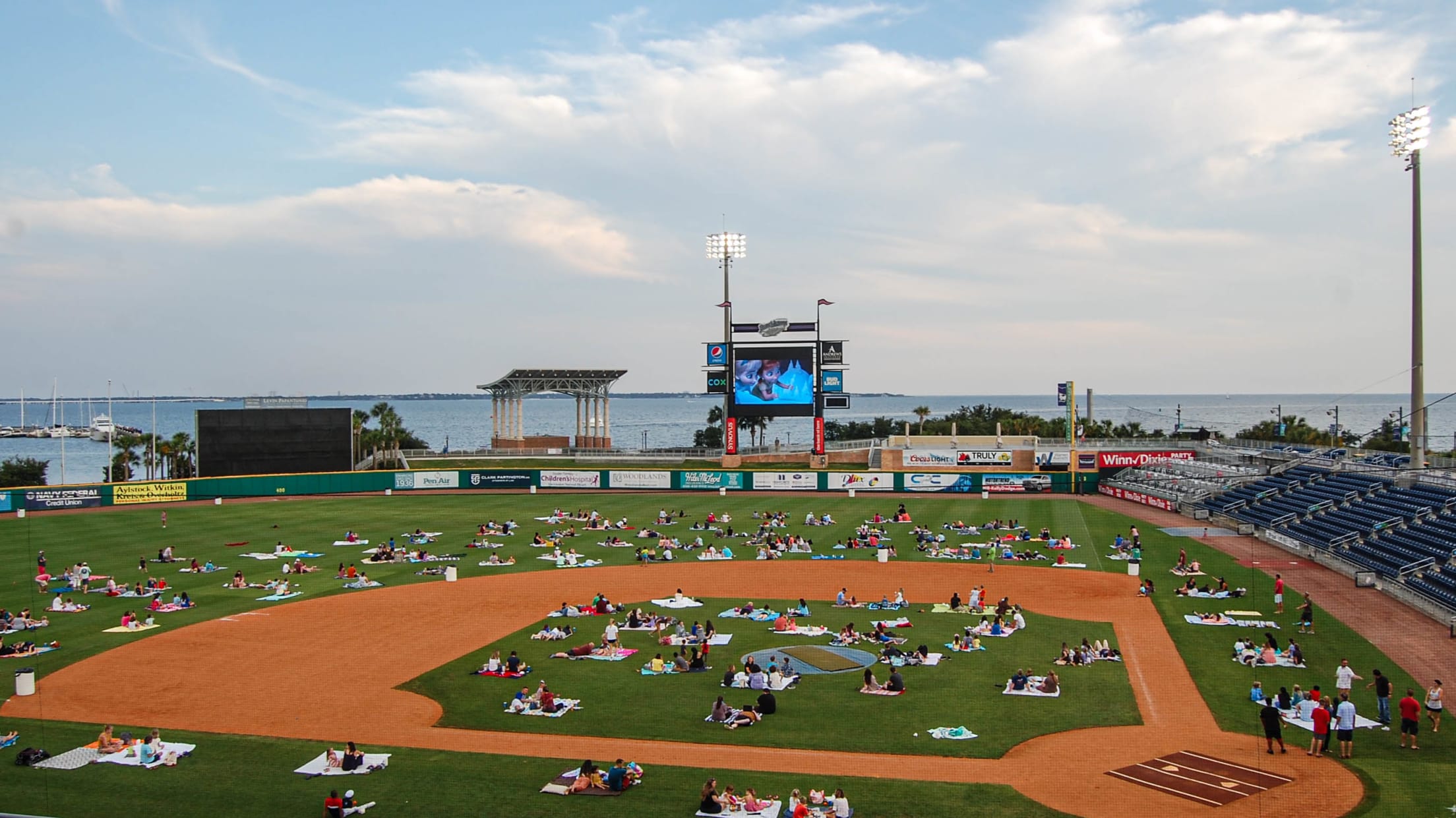 1,000 fans spread safely across the field and stands at Blue Wahoos Stadium for the team's first Movie & Fireworks night. (Daniel Venn)
Having moved to Pensacola only three weeks ago, Andrew and Jessica Benyo wanted to surprise their two children with a special night out. A movie night. Watching Disney's Frozen 2. But not at a theater. Instead, it was under a beautiful sunset, then star-lit sky Saturday night at Blue Wahoos
Having moved to Pensacola only three weeks ago, Andrew and Jessica Benyo wanted to surprise their two children with a special night out.
A movie night. Watching Disney's Frozen 2. But not at a theater.
Instead, it was under a beautiful sunset, then star-lit sky Saturday night at Blue Wahoos Stadium, as water glistened off Pensacola Bay as backdrop.
And then, a fireworks display above the field to cap the night.
"This was awesome," Jessica said. "We told them we were going see a movie, but we didn't say it was here. You could not have asked for a better night."
"What a great idea this was," added Andrew Benyo, who is now stationed in Pensacola with the U.S. Coast Guard.
Their review was a shared experience from the 1,000 in attendance at the Blue Wahoos first movie night. All of the tickets were sold in advance. The Blue Wahoos emailed surveys following the event to those purchasing tickets. The feedback was overwhelmingly positive, with the event receiving a stellar 9.5 out of 10 Fan Satisfaction score from attendees.
The Blue Wahoos will hold the next movie night on Saturday (June 6) with showing of Abominable – a Universal Pictures animated adventure movie. The ticket availability will again be limited and are available now at this link. Tickets are $5 and $4 for military members and children ages 3-12. Toddlers under 3 are admitted free.
Movie watchers are permitted to sit on blankets anywhere on the field – adhering to a six-foot distance minimum -- or they can choose to sit in the chair-back stadium seats.
The stadium and field expanse allow for easy physical distancing.
"We bought our tickets two weeks ago, because we were nervous it would sell out," said Erin Edmondson, who attended the movie with her husband Chad, their children, and a close friend's family.
They had seen the movie multiple times.
"These are some Frozen 2-Lovin' kids," Erin Edmondson said, laughing.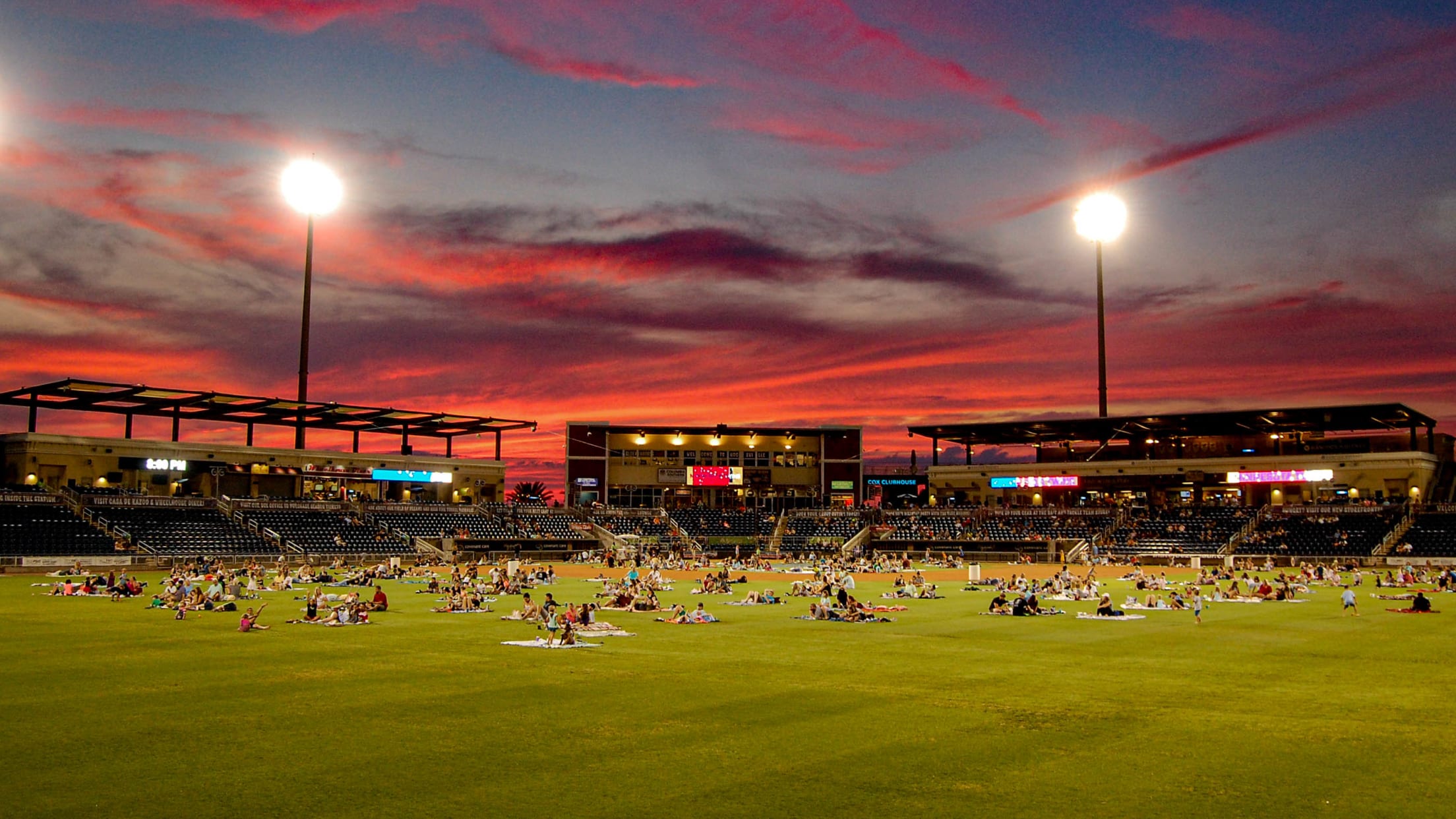 Saturday was the largest attendance event at Blue Wahoos Stadium since 2019 and the largest so far held by a Minor League team since the season was delayed. The movie showing was also the first ticket gathering at the bayfront ballpark since early March, before the COVID-19 pandemic shuttered stadiums, movie theaters and all other public entertainment venues.
"We're big Disney people and we've seen Frozen 2 before, but this is just the cool thing of being able to get out of the house at this time and being able to support the local community," said Frank Sneed, who was sitting on the rightfield grass with his son Nate while his wife and daughter purchased food at the stadium concessions.
"We're thrilled to be able to support the Wahoos, the stadium, it will be fun night," he said before the movie began.
The Sneeds were among the first to arrive when stadium gates opened at 6 p.m. in anticipation of the 7 p.m showing.
The family night was made possible by presenting sponsor Covenant Care, as well as Pen Air Federal Credit Union, Hill-Kelly, and WEAR.
"We thought it was a great opportunity to remind everybody of the work we have done, particularly our nurses, to keep everybody safe," said Jeff Mislevy, Covenant Care president and chief executive officer. "This town has welcomed me more than any place I have ever been. "
"Just to be in the middle of this and be part of it… is something very special for us."
Mislevy said Covenant Care treats 2,000 or so patients per-day with 1,000 employees through its region locations which stretch from Mobile to Tallahassee.
Being connected with the Blue Wahoos and the organization's decision to host a movie night under newly-approved state guidelines enabled Covenant Care to share its own message.
"What a beautiful night and it's just nice to see everybody come together," Mislevy said. "I know we are all trying to be safe and it's a great opportunity for us to help everyone remember what our nurses and our clinical staff have been doing in the last couple months to keep everyone safe."
Saturday's event provided an opportunity for Kennya Slaughter and her 11-year-old son, Kaidyn, to be together in a festive setting. Like so many of the attendees, she first saw the post of a Blue Wahoos Movie Night on the team's Facebook page.
"I am always on Facebook looking for events for me and my son," she said. "Anything that is cost-efficient and reasonable for us to attend, I try to make sure he's involved with me.
"I got the tickets without paying attention to what was playing. I was not sure he would want to go to a movie sort of geared for younger kids. But went I went home and told him, he said. 'Yeah, I'll go.'
"I think it was the fact it was about getting out. What we have all been through as far as being locked in the house."
Blue Wahoos team owners Quint and Rishy Studer attended Saturday's event along with their grandson. Looking around a scene with concession vendors, children playing, families socializing, team mascot Kazoo posing for photos, it reinforced the stadium's purpose as a multi-use facility.
"I'm just thrilled," Quint Studer said. "When we built this, we got so much criticism from naysayers who said it will never be used for anything else besides baseball, that we will never have anything else out here. And now look at what we have going on here. (Saturday) is another great example of what this is all about.
"This stadium, to me, has become a neighborhood. People miss their neighborhoods. Even before the pandemic, they miss neighborhoods. And they miss main street. I always wanted this concourse to be our main street and this is be our community park."
Since mid-March, when Major League Baseball shut down spring training and put the entire 2020 season into an uncertain scenario, the Blue Wahoos have been arguably the most creative franchise in Minor League Baseball, creating numerous events to allow fans to enjoy the ballpark safely.
Those experiences have included an Airbnb which became an international phenomenon, an on-field disc golf course designed by team co-owner Bubba Watson, popular Trivia Nights and Thirsty Thursdays, and seven-day-a-week food service.
The movie nights will be scheduled throughout June and the summer.
"We started with a Disney movie, Frozen 2, because with any Disney movie showing, tickets must be capped at 1,000," said Shannon Reeves, the Blue Wahoos events director. "That 1,000 limit is all the time, not just now with the COVID-19. So we felt like it would be a good starting place for us – start slow and work up.
"We're so excited to do this and provide a safe way for families to have a fun night out."
Families seemed appreciative.
"We're coming back," said Jessica Benyo.