Quartet combines on another Bulls no-hitter
Reyes, Pinto, Alvarado, Milner hurl second club feat in 33 days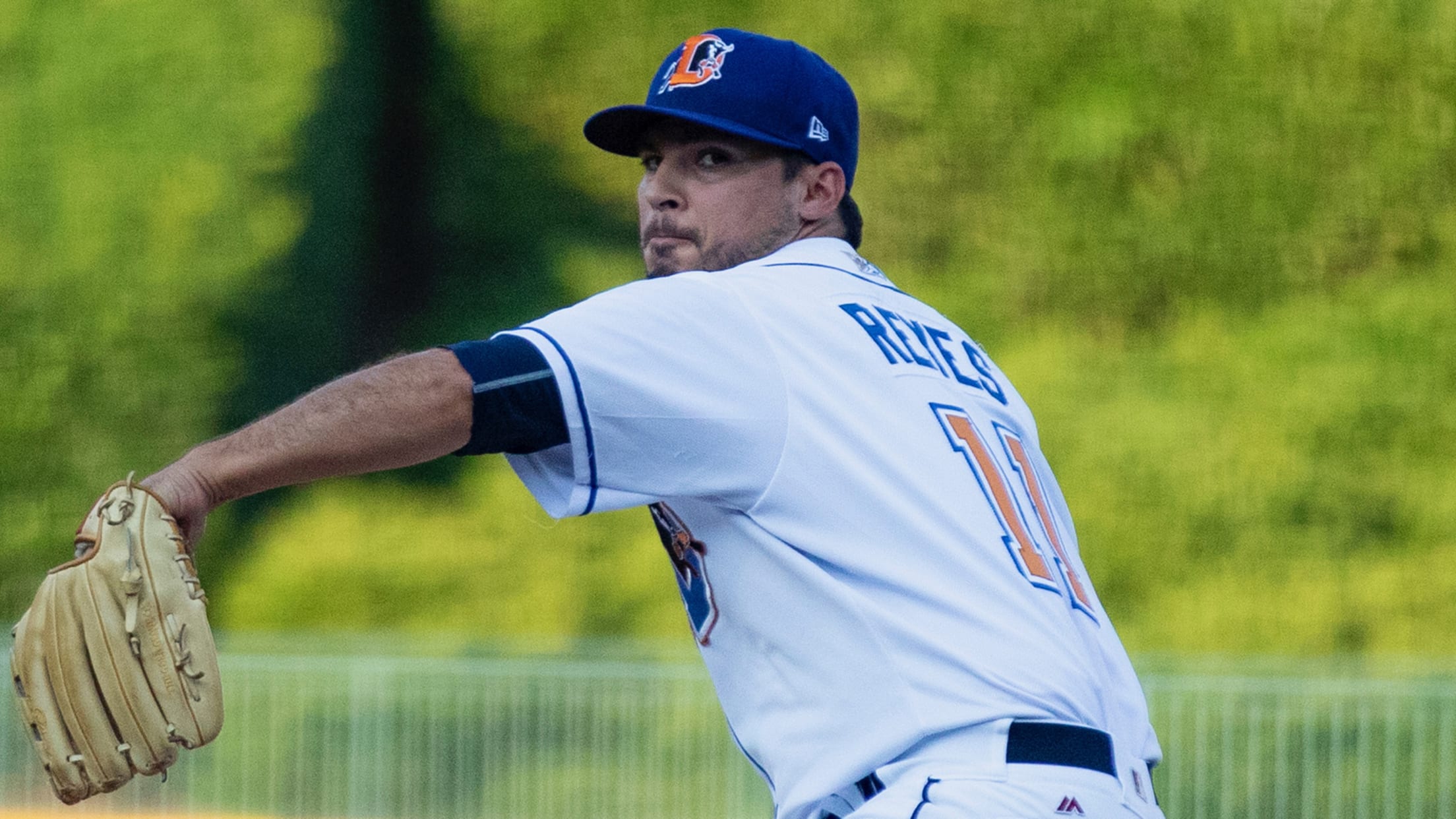 Arturo Reyes struck out four and walked one over the first three innings of the no-hitter. (Patrick Norwood/Durham Bulls)
The Triple-A Durham pitching staff rose to the occasion -- and then some -- against a Syracuse lineup with plenty of Major League experience Wednesday. Rays pitchers Arturo Reyes, Ricardo Pinto, José Alvarado and Hoby Milner combined on the Bulls' second such feat in 33 days in a 2-1 victory over
The Triple-A Durham pitching staff rose to the occasion -- and then some -- against a Syracuse lineup with plenty of Major League experience Wednesday.
Rays pitchers Arturo Reyes, Ricardo Pinto, José Alvarado and Hoby Milner combined on the Bulls' second such feat in 33 days in a 2-1 victory over the Mets at Durham Bulls Athletic Park. The four pitchers totaled 11 strikeouts and walked three over nine innings, following a Durham trio's seven-inning no-no on July 5 against Gwinnett.
In about the sixth inning, Milner realized in the bullpen that the team had a chance at another milestone. By the time he was getting loose with his warmup tosses, he tried to keep that aspect of the game out of his mind. Priority No. 1 was getting the save. With a perfect ninth, the southpaw ensured his eighth save and the no-hitter in one fell swoop.
"It was awesome, it was the first-ever nine-inning no-hitter that I've ever seen in person," Milner said. "For me personally, though, it felt like a one-run lead in the ninth because that was what it was. I wasn't out there making sure they didn't get a hit, I was making sure that they didn't score a run, more importantly. And they just so happened to not get a hit."
Bulls pitching coach Rick Knapp had quite the balancing act with plenty of external factors at play during the bid. He knew before play commenced that rehabbing Alvarado (right oblique strain) would need to get into the game in the later innings and had a couple of different pitch counts to keep an eye on as well
Gameday box score
"It's a little nerve-wracking, quite honestly, because we know what we have to do as far as getting other guys in the game," Knapp said. "I'm glad it worked out. That's the challenge in Triple-A these days, man, you have to juggle with who has to pitch and when they have to pitch."
The Durham hurlers faced a Syracuse starting nine with a lot of Major League experience. Eight of the nine position players who started the game have played in The Show, combining for 4,348 games between them. But for the Bulls, who have faced many talented lineups in the International League this year, it was just another day at the office.
"You look at their lineup and we're certainly respectful of who they are," Knapp added. "We have some pretty good guys on our side of the field that are throwing it with plenty of Major League experience on the other side of the ball. It gets mutual respect. They have a freakin' Major League lineup out there for some team. But we were able to execute pitches and that's the bottom line of it."
Reyes retired the first six hitters in order before issuing a leadoff walk in the third to Rymer Liriano. But the right-hander set down No. 17 Mets prospect Ali Sanchez, Braxton Lee and Rajai Davis to end the inning and his time on the mound. He tossed 23 of his 36 pitches for strikes.
The 27-year-old allowed a season-high eight runs -- with two homers -- in 3 1/3 innings against Charlotte last Wednesday. So the plan for Reyes was to get his confidence up in a two-inning opener role so he could be back on the mound by the weekend. But when the Gonzaga product pitched the first two frames on only 18 pitches, he earned another inning.
"Part of this is to not get too far away from this pitch, this batter, this inning. And sometimes when you're looking to go six or seven [innings], [Reyes] has been the workhorse of the club and he's been putting pressure on himself," Knapp said. "Hey, just go out there and get six outs. And he threw 18 pitches and it's like great, 'Hey, you earned another inning.'"
Pinto (8-4) entered the game in the fourth and posted the longest outing of the bunch with 4 2/3 innings. The right-hander worked three scoreless frames before running into some trouble in the eighth. After walking Liriano and plunking Sanchez, Davis plated Syracuse's run on a groundout.
But Alvarado came in and induced an inning-ending groundout from Danny Espinosa.
Milner took the ball for the final inning and finished the game with aplomb. After a strikeout of Rubén Tejada and a popout by Dilson Herrera, the southpaw fanned pinch-hitter Travis Taijeron to close out the Minors' 25th no-hitter of the season. With the rise in home runs and offense at the Triple-A level this season, the closer didn't take anything for granted in that last half of the frame.
"It doesn't matter if you're facing the three-hole for Columbus or the three-hole for Syracuse, they could be the three-hole for someone in the big leagues in a year or two anyways," Milner said. "In Triple-A, we're using big league balls now, it doesn't matter who it is, it feels like a big leaguer no matter what. ... Everybody's got the ability to punish you."
In the middle of all the action was Durham catcher Michael Perez, who celebrated his 27th birthday behind the plate. He caught all nine innings and chipped in a hit and awalk. Milner made sure to add a cherry on top of his backstop's special day.
"I did tell him happy birthday and what a birthday present for him, getting a no-hitter," Milner said with a laugh.
Andrew Battifarano is a contributor to MiLB.com. Follow him on Twitter, @AndrewAtBatt.