Jones leads youthful crop of Angels All-Stars
Outfielder continues ascent; first-rounders Thaiss, Adell also shine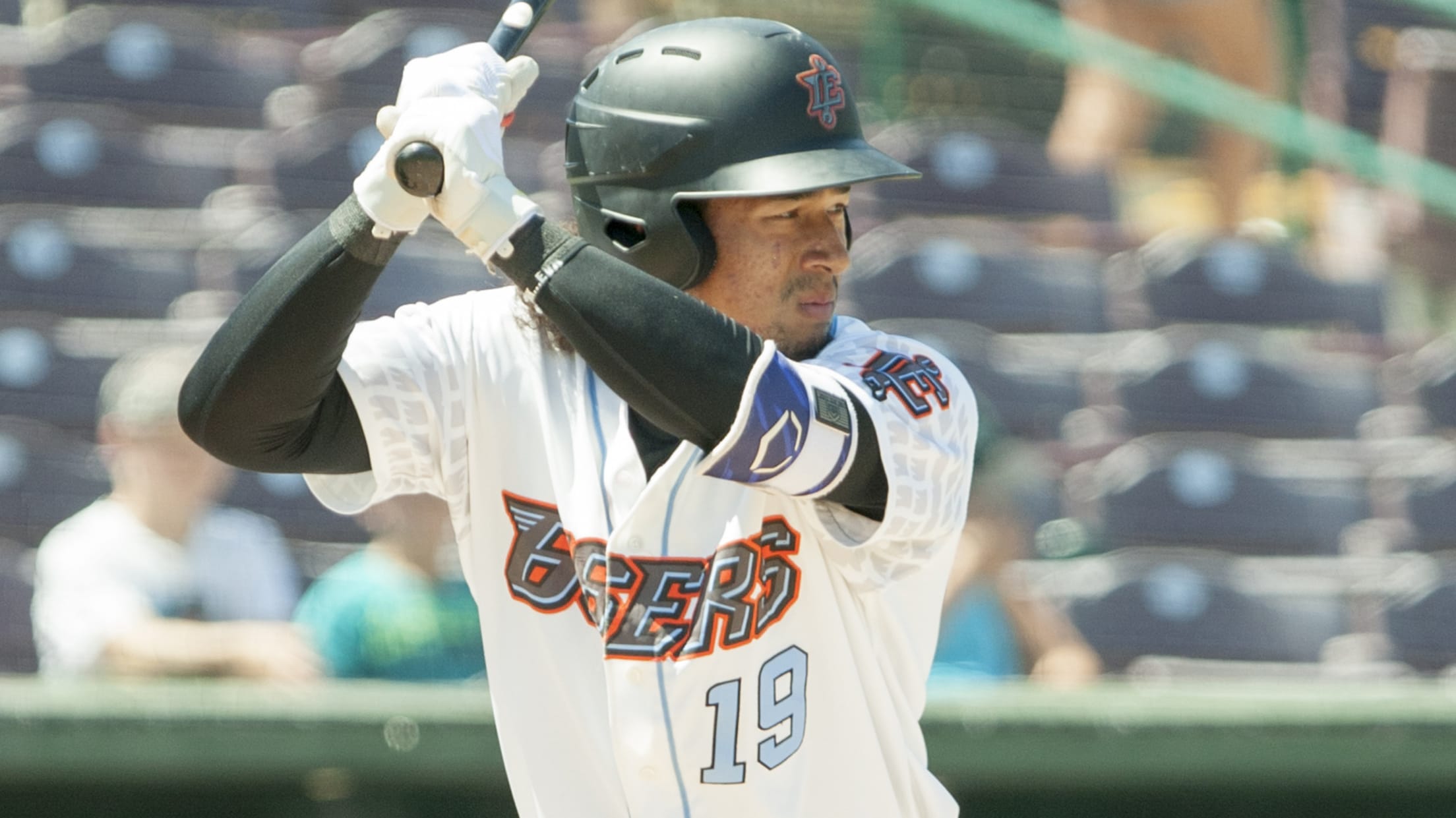 A second-round pick in 2015, Jahmai Jones has stolen 47 bases in 66 attempts over the past two seasons. (Donn Parris/MiLB.com)
This offseason, MiLB.com is taking a look at the most outstanding campaigns by players in each system across Minor League Baseball and honoring the players -- regardless of age or prospect status -- who had the best seasons in their organization.The Angels' farm system may not bear fruit in the
This offseason, MiLB.com is taking a look at the most outstanding campaigns by players in each system across Minor League Baseball and honoring the players -- regardless of age or prospect status -- who had the best seasons in their organization.
The Angels' farm system may not bear fruit in the big leagues for at least another year, but there are some tantalizing pieces in play nonetheless.
Leading the way is Jahmai Jones, one of several recent Draft picks that have helped restore what was a barren prospect pipeline in the recent past. The 20-year-old outfielder is largely indicative of the system as a whole: toolsy and athletic, but also young and probably a year or two from the Majors. In fact, of the club's 12 Organization All-Stars, only one played more than four games at Triple-A last season.
However, the club's prized youngsters continued their development in 2017. First-round pick Jo Adell helped Rookie-level Orem reach the playoffs with the Pioneer League's best record, while Jones, 2016 first-rounder Matt Thaiss and 2015 first-rounder Taylor Ward delivered solid seasons. The youth movement is getting closer for Los Angeles.

Angels Organization All-Stars
Catcher -- Taylor Ward, Inland Empire (54 games), Mobile (33 games):
Ward nabs his
second straight Angels Organization All-Star nod
after making significant progress in the batters' box in 2017. The 23-year-old hit .258 with nine home runs, 49 RBIs and a 60-to-57 strikeout-to-walk ratio across both levels, but really took off after the jump to Double-A Mobile. Ward produced a .286/.400/.387 slash line with the BayBears and walked more times than he struck out (22 to 17). He improved his OPS (.757) by 98 points over a season ago and continued to look sharp behind the plate, tossing out 28.1 percent of basestealers while posting a .989 fielding percentage.
First baseman -- Matt Thaiss, Inland Empire (84 games), Mobile (49 games): Like Ward, Thaiss really got going after making the jump to the Southern League in mid-July. The 2016 first-round pick hit just one home run with Mobile but batted .292 with a career-best.412 on-base percentage. He totaled the third-most RBIs (73) in the organization while hitting .274/.375/.395 with nine long balls across both levels. After the season Thaiss headed to the Arizona Fall League, where he's hit .277 with seven RBIs in 13 games for the Scottsdale Scorpions.
Second baseman -- Rey Navarro, Salt Lake (126 games): A 27-year-old Triple-A veteran, Navarro led the entire Angels system with 82 RBIs over 126 games in the Pacific Coast League. The native of Puerto Rico hit .278 with seven homers and seven steals. He led the Bees with 137 hits and tied with Dustin Ackley for the team lead with 27 doubles.
Third baseman -- Zach Houchins, Mobile (125 games), Salt Lake (4 games): Houchins batted .258 between the Southern League and a brief cameo in the Pacific Coast League while racking up the second-most dingers (14) and RBIs (79) among all Angels Minor Leaguers. The East Carolina University product saw limited time at first base as well and earned post-season All-Star honors in the Southern League.
Shortstop -- Manuel Guzman, Orem (60 games): The Angels signed Guzman as a Minor League free agent in January after he struggled during four seasons in the Twins' system. The 22-year-old broke out in the Rookie-level Pioneer League in his organizational debut. Guzman led the entire Angels system with a .360 batting average while smacking five long balls, driving in 40 runs and fanning just 28 times in 228 at-bats.
Outfielders -- Jahmai Jones, Burlington (86 games), Inland Empire (41 games): Fellow outfielder Jo Adell may have surpassed him as the Angels top prospect, according to MLB.com, but Jones remains arguably the most exciting prospect in the organization. The 2015 second-round pick made a major splash in 2017, compiling a .282/.348/.446 slash line with 29 doubles, seven triples, 14 homers and 47 RBIs. He tied for second among Angels Minor Leaguers in long balls while finishing second with 27 steals. He also produced the system's longest hitting streak with a 25-game run from July 27-Aug. 24.
"He's got a lot of energy on the field," Class A Advanced Inland Empire manager Chad Tracy told The Orange County Register back in August. "Very emotional. He's always clapping. He runs hard all the time. With a long season like this, it lifts people up. He's always looking like he's having fun.
"He's also three years ahead of the normal age. We haven't had a young prospect like this in a while. He's not afraid of the spotlight. The way he plays, it's like he welcomes that. In the Major Leagues, you have that every day, so that's a good sign."
Jo Adell, AZL Angels (31 games), Orem (18 games): Taken with the 10th overall pick in last year's Draft out of Ballard High School in Kentucky, Adell justified the hype in a brief stint in the Minor Leagues. He began by hitting .288 with four homers and 21 RBIs in the Rookie-level Arizona League. Once he made the jump to Orem, the 18-year-old got hot and produced a .376/.411/.518 slash line in a Pioneer League cameo. The Louisville native collected multiple hits in 23 of his 49 appearances.
"I was up for the challenge," Adell told the Courier Journal. "I went out and did what I could, stayed within myself and played pretty well. The big thing for me was getting to practice every day and working what I need to work on."
Ryan Vega -- Orem (64 games): After splitting 2016 between the Arizona League and the Pioneer League, Vega stayed in Orem for the duration of last season. The 2015 14th-round pick turned in the best numbers of his career with a .313 average and 20 extra-base hits. He averaged nearly an RBI a game as he racked up a team-high 58 for the Owlz. The 21-year-old finished sixth in the system in batting average.
Utility -- Torii Hunter Jr., Orem (52 games): The former two-sport star came to the Angels as a 23rd-round pick in the 2016 Draft after primarily playing wide receiver at Notre Dame. The 22-year-old son of former big leaguer Torii Hunter batted .352 in the Pioneer League while scoring 48 runs, plating 28 and swiping 13 bases in 15 tries.
"I found something that works for me at the beginning of the season," Hunter told MiLB.com in August. "Found an approach that works for me, found a timing mechanism that works for me and it just kind of took off from there."
Right-handed starter -- Jaime Barria, Inland Empire (11 starts), Mobile (12 starts), Salt Lake (three starts): Barria's breakout season spanned three levels, including two of the Minors' most hitter-friendly circuits in the California League and the Pacific Coast League. The 21-year-old went 7-9 with a 2.80 ERA, 31 walks and a career-high 117 strikeouts while logging the most innings (141 2/3) among all Angels Minor League pitchers.
"My curveball has helped me a lot," Barria told MLB.com while representing Panama at the Futures Game in July. "My problem used to be when I had to throw the curveball for a strike, but now I can command it. That's why I've struck out a lot of hitters this year."
Honorable mention: Grayson Long led the Angels with a 2.69 ERA and finished third with 125 strikeouts in 133 2/3 innings between Inland Empire and Mobile before getting dealt to the Tigers at the deadline for outfielder Justin Upton.


Left-handed starter -- Jose Suarez, AZL Angels (three starts), Burlington (12 starts): Suarez did not join the Bees until June, but he quickly asserted himself against Midwest League hitters when he did. The native of Venezuela finished 6-1 with a 3.28 ERA and walked 22 while piling up 90 strikeouts over 68 2/3 frames, an average of 11.8 per nine innings.
Relief pitcher -- Jackson Zarubin, Burlington (32 games), Mobile (1 game): Signed as an undrafted free agent in 2016, Zarubin was highly effective for Burlington despite recording just two saves. The right-hander went 7-1 with a 1.97 ERA. He walked 18, struck out 56 and posted a 1.28 WHIP. In his final appearance of the season, Zarubin tossed three one-hit innings of scoreless ball to pick up the win in his Double-A debut.